« previous post | next post »
Ian Barrere has sent in the following photograph of a one jiao (equal to ten fēn 分, a fēn being like a cent in our system) banknote and requested that I explain the languages printed on it: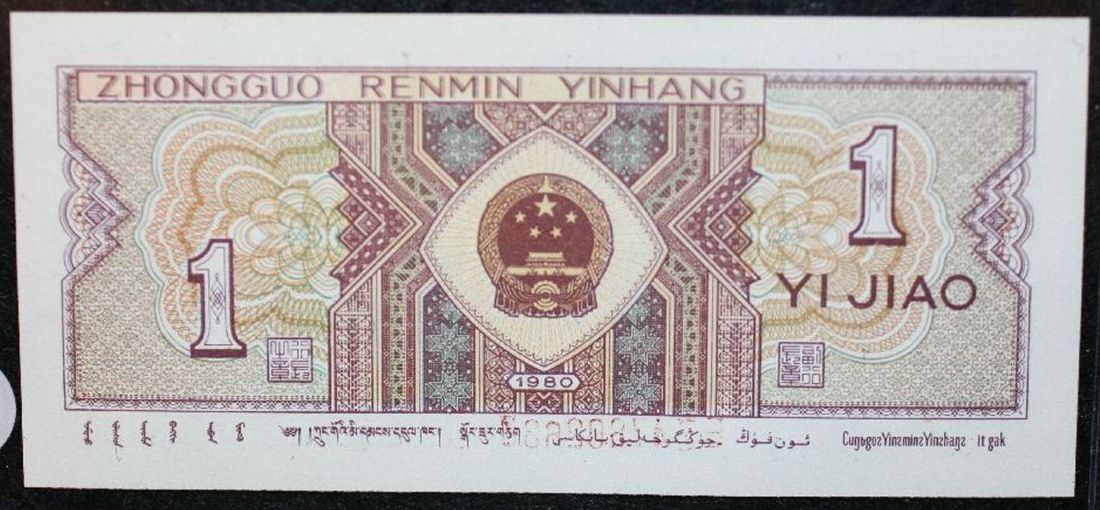 China has 56 recognized ethnic groups (there are many others that are not officially recognized), and each of them except the Hui (Muslim) people supposedly has its own distinctive language, although many of these are dying or already dead for all functional purposes. Since there are also hundreds of mutually unintelligible Sinitic topolects, one might say that there are far more than 56 different languages in China. Be that as it may, 5 of these have been chosen to be printed on Chinese national banknotes: Han, Mongolian, Tibetan, Uyghur, and Zhuang (after Han, China's largest minority, but one that few people outside of China have ever heard of [it is closely related to Thai]).
Before I dive into the identification and explication of the languages on the yi jiao (like ten cents) banknote pictured above, I should point out how ironic it is that — aside from the Mandarin, which is represented on this side of the banknote only in Hanyu Pinyin (Romanization) — all of the other languages belong to ethnic groups from the periphery whose lands a) for the most part were incorporated into the empire by the Manchus during the Qing Dynasty (in the latest instance [the Mongols had done it before during the Yuan Dynasty, but they were largely lost again under the Ming Dynasty — a return to "China Proper" — and had to be regained by the Manchus]), and b) constitute over half of the land area of what is now the People's Republic of China. See Peter C. Perdue, China Marches West: The Qing Conquest of Central Eurasia (Cambridge, Massachusetts: Harvard University Press, 2005).
Now, beginning with the Mandarin version, adding characters and tones, we have Zhōngguó rénmín yínháng yī jiǎo 中国人民银行 1 角 ("China People's Bank 1 jiǎo").
Incidentally, on the pronunciation of yuán 元 (the main denomination of the RMB ["People's Currency"]), which is composed of ten jiǎo 角, see the comments to this post: "Puns to Make You Yuan".
Next, on the bottom left, we have Mongolian:
dumdatu ulus-un arad-un bankki arban mönggü
OR
dumdadu ulus-un arad-un bangki arban mönggü
"Middle Country's people's bank ten silver (coin, money, etc.)"
Unlike the other three non-Sinitic versions, the Mongolian actually translates Zhongguo, albeit with a nice Russianism thrown into the mix. The word for China here is "Dumdadu Ulus", lit. "Middle Country". This calque translation of Zhongguo appeared in the nineteenth century, but only became widespread in Mongolian after 1911; in Khalkha Mongolian it was never used much and rapidly replaced by Khitad Ulus "(Han) Chinese Country".
Then comes Tibetan:
krung go'i mi dmangs dngul khang / sgor zur gcig
"People's Bank of China / one currency-unit part [lit. 'corner'] ('currency-unit part' = jiao)
Comments on the Tibetan by Bill Hannas:
The only identifiably Sinitic parts are the first two syllables: Drunggo (China). The fourth symbol (just before the second dot reading left to right) is the genitive case marker (like "ui" in Korean), which is purely Tibetan, as is everything else from "People's Bank" ("Mimang Ngulgang") through to "currency one-tenth" (i.e., 10 cents) at the end.
Now I say "purely Tibetan" but it doesn't take much imagination to see Chinese "hang" in Tibetan's "kang" (gang) and maybe even Chinese "yin" in Tibetan "ngul". Similarly, Tibetan "jig" (one) is clearly Chinese "yi". All numbers 1 through 10 in Tibetan are (distant) cognates with the Sinitic series. Of course, this doesn't mean Tibetan borrowed from Chinese but rather that the two shared important morphemes long ago.
After that follows Uyghur, which is the most problematic. I received the following Roman transcriptions of the Arabic script Uyghur:
on fung, zhongguo helq bankisi
on fung — Junggo Xäliq Bankasi
on fung, junggo xelyq bankasi
"Ten fen ('cents'), China People's Bank"
The third version is transcribed by Jun Sugawara in accordance to UKY (Uyghur Kompyuter Yeziqi). Jun notes:
It is interesting that the People's Bank still uses the old writing system. According to the present orthography (imla), the second vowel of "xelyq" should be spelled without two dots. We can observe this old style in Burhan's Wei-Han-O cidian (Uyghur-Han-Russian Dictionary) in the 50s.
Eric Schluessel explains:
In today's Uyghur, it would indeed be xälq (or khälq or khelq), but that's not what's written on the note: خەلیق. Jun has a point transliterating it with "y," since the "i" in xäliq is spelt with a double-dotted yod, reflecting pre-Kona Yeziq [VHM: pre-Arabic alphabet] orthography, instead of an undotted one. If we follow David Brophy's transliteration of Eastern Turki from "The Qumul Rebels' Appeal to Outer Mongolia," which is closer to the Encyclopedia of Islam's system, we get ḫäliq. But we could pretend that there is a clear distinction between front and back <i> and transliterate it as ḫälïq. We could remember that the word came from Arabic by way of Persian and write ḫalq, but that disregards the clear nativization of the word reflected in its spelling.
Yakup Mahire remarks:
I looked at one of the banknotes I use for teaching. It says:
on fung
ten cent
Jonggo xelyq banka-si
China people bank-3rd POSS
It was printed in the 1980s. At that time, the spelling system was not standardized. This was probably due to the fact that Uyghur had just returned to an Arabic-based script system from the Latin system (Latin new script system) that had been instituted early during the PRC. The old script system could be standardized by adding the different vowels such as o/u/ü/ö and how we used the Arabic Persian based words in Uyghur system. Such was the way in which the script system changed during the 1980s. It was precisely at that time when the old Latin script we used during the Cultural Revolution was switched to the new Arabic based Uyghur system. I remembered that it was slightly after 1980 that we completely switched to using the Uyghur Arabic-based script system.
[VHM: I travelled to Xinjiang frequently during that period, and I still remember how — in the Regional Museum — pieces of paper with handwritten Arabic script Uyghur were hastily pasted over the neatly painted Latin script Uyghur on labels for the display cases.]
Another point is that rising vowel harmony, in which a/e/ at the end of a syllable changes into I or mid-vowel é, was not used.
It should be bankisi instead of bankasi. If we look at the money that was printed after 1999 (the money that I have), the spelling system was changed to be the regular one that we use now.
Finally, the last and most mysterious version, Zhuang. I cannot duplicate the orthography here, but Bob Bauer has given a very detailed description and analysis:
The romanized Zhuang phrase exactly corresponds syllable for syllable with the Chinese.
This romanization appears to be the one that was first developed back in the mid 1950's. The letter "b" after "cung" marks the syllable with tone 1, mid tone 33, and the "reversed s" marks the syllable with tone 2, low falling tone. The "b" and "reversed s" were later replaced with "h" and "z", respectively.
The tonal systems of Zhuang and Cantonese are remarkably/strikingly similar with their neat splits into upper and lower registers.
For syllables with stop endings -p, -t, -k, the Zhuang romanization distinguishes between Upper Ru [VHM: "entering"] and Lower Ru by spelling syllables belonging to the latter category with -b, -d, -g. This means that "it gak" belongs to Upper Ru.
According to one of my sources on Zhuang, both the Wuming and Longzhou varieties have three words for "one", one of which is [it7] (7 = tone category seven with tone value of 55). The character 角 has three pronunciations, gaeu [kau1], gak [kak7], and gok [kok7] (the first item has a short vowel, as indicated by "ae"; the two stopped syllables have long vowels so tone 7 has a tone value 35). My Chinese-Zhuang dictionary notes that gak [kak7] is used in connection with money.
As for the topolectal origin of the pronunciation [kak7] for 角, it does not appear to be from a Yue dialect in Guangdong, since all of my references for the dialects in northern, western, and Pearl River Delta Guangdong mostly have rimes [ok] (where "o" equals "open o"), while a few have [oek] (where "oe" equals the open-mid front rounded vowel).
As for varieties spoken in Guangxi, one valuable source I have is on Pinghua, the classification of which is still not settled, is it Cantonese or a separate topolectal category? You find both analyses. This reference lists eight diapoints for which the pronunciation of 角 is [kak] and three diapoints have [kok] (where "o" = open o). I would conclude this pronunciation [kak] is one that is associated with Guangxi. I don't have much material on Yue dialects spoken in Guangxi, so this is about as much as I can say at this point.
For reference purposes only, here is the equivalent Cantonese:
zung1 gwok3 jan4 man4 ngan4 hong4 jat1 gok3
中国人民银行一角
The standard Zhuang language is described here.
As to what is written on the banknote to represent Zhuang, where every syllable is derived directly from Chinese, it is doubtful whether it accurately reflects the way any Zhuang people actually speak. This is what one scholar of the region has referred to as "the whole fake / improved ethnic language phenomenon. Whatever is written there may have only a limited relationship to the way Zhuang is spoken in real life. It's the same with Yi."
Before closing, I would like to compare the five languages on the reverse of Chinese money to the situation with regard to Indian money. Here, we find that on the back are displayed the denomination of the banknote in 15 of the 22 official languages of India.
The status of these official languages in India is quite different from that of the languages other than Mandarin — both Sinitic and non-Sinitic — in China. Every Indian citizen who submits a petition seeking redress of a grievance to a government official has a constitutional right to present it in any language used in India. Not only do the citizens of India have the right to use their own Mother Tongue, the various states that make up the Republic also have the right to use their own languages for official and judicial purposes. In China, there is only one official language: Modern Standard Mandarin (MSM) or Putonghua.
One wonders how the principles whereby India, the world's largest democratic republic, and China, the world's largest communist republic, persist as unified nations can be so different and yet both result in similar outcomes — or perhaps not, since the experiment for both is still young.
[Thanks to Bob Bauer, Bill Hannas, Matthew Kapstein, Johan Elverskog, Chris Atwood, Nicolo Di Cosmo, Jun Sugawara, Yakup Mahire, Eric Schluessel, Mark Bender, and Sara Davis]
---