« previous post | next post »
At the conclusion of "Barking roosters and crowing dogs" (2/18/18), I promised a more philologically oriented post to celebrate the advent of the lunar year of the dog.  This is it.  Concurrently, it is part of this long running series on Old Sinitic and Indo-European comparative reconstructions:
I will launch into this post with the following simple prefatory statement:
Half a century ago, the first time I encountered the Old Sinitic reconstruction of Mandarin quǎn 犬 ("dog"), Karlgren GSR 479 *k'iwən, I suspected that it might be related to an Indo-European word cognate with "canine" [<PIE *kwon-]).
Since that time, as I have continued my Sinological researches, I have come across many other terms in Sinitic that appear to have clear parallels with corresponding words in Indo-European (e.g., mǎ 馬 ["horse"] / mare; gūlu 軲轆 / wheel, cycle; Cant. mou4 巫 / magus).  I have never systematically written about all of these words together as a group, and I have never in the slightest asserted that, despite there being so many pairs of words like these that match between Sinitic and Indo-European, the two language families are genetically related.  Rather, I maintain that there has been significant borrowing from at least the Bronze Age and probably beginning already before that time.
Moreover, as in the recent series of Language Log posts on such Sinitic-IE word pairs as those listed above, so far I have focused on phenomena that can be attested by archeological, technological, cultural, and historical evidence (i.e., the correspondences are not merely random, chance similarities, but have convincing empirical data and contextual reasons to support the linguistic comparanda).  However, occasionally I come upon strikingly similar word pairs for which one would be hard pressed to find archeological, technological, cultural, and historical evidence.
One example of the latter sort that has intrigued me for many years is the uncanny parallel between pīmǐ 披靡 (Zhengzhang /*pʰral/ /*mralʔ/) and "pell-mell", both of which mean "in a hasty, disorderly fashion").  Still, I do not put much faith in such comparisons of pairs that resemble each other both in sound and meaning but are lacking hard archeological, technological, cultural, and historical evidence. In the case of pīmǐ 披靡 and "pell-mell", the former was used already more than two thousand years ago, whereas the latter cannot to my knowledge be traced back earlier than Old French (8th-14th c.).
With quǎn 犬 ("dog") and "canine" we are on firmer ground, having a variety of types of evidence in addition to linguistic data.
First the historical reconstructions for quǎn 犬 ("dog"):
Middle Sinitic (MS, ca. 600 AD)    khwenX (Baxter-Sagart [B-S]) ("X" indicates rising tone)
Old Sinitic (OS, ca. 600 BC)    /*kʰʷeːnʔ/ (B-S); /*kʰʷeːnʔ/ (Zhengzhang [Zz])
Karlgren's earlier OS reconstruction was *k'iwən; his MS reconstruction was k'iwεn:.
This is an old word in Sinitic, dating back to the earliest strata of the written language, ca. 1200 BC (see below for paleographical evidence.  This is during the Shang dynasty (ca. 1600-ca. 1046 BC), in the 2nd millennium BC when there were many cultural innovations (almost like a "package"), including the wheel, chariot, utilization of the domesticated horse, cultivation of wheat, bronze technology and specific weapon types, and writing, many of which had evident linkages to the west.
There is another Sinitic word for "dog", viz. gǒu 狗.  Since it is superficially rather different from quǎn 犬 ("dog"), I have often pondered what its origins might be, whether it had a completely different source than quǎn 犬, and so on.
Here are the historical reconstructions for gǒu 狗 ("dog"):

MS kuwX (B-S)
OS /*Cə.kˤroʔ/ (B-S); /*koːʔ/ (Zz) (*C- at the beginning of a B-S OS reconstruction just means some consonant [they believe there is a pre-initial consonant there, but they can't determine what it is])
There is both a Shang period oracle bone inscriptional (OBI) form and a Shang bronze inscriptional (BI) form for quǎn 犬.  They probably are essentially the same pictograph, but the disparate media make them look slightly different.  On the other hand, gǒu 狗, which has now largely displaced quǎn 犬 as the word for "dog" in the modern topolects (except for Min, the most archaic living variety of Sinitic) doesn't seem to have existed before the Warring States period with the clear meaning of "dog".  More details on the paleography of quǎn 犬 and gǒu 狗 are presented below.
Note that this year of the dog is called "gǒu nián 狗年" by nearly all Chinese (12,200,000 ghits), not quǎn nián 犬年 (383,000 ghits).
There is a suggestion here that gǒu 狗 is "from some language ancestral to modern Hmong-Mien languages, from Proto-Hmong-Mien *qluwˣ ("dog"), perhaps from Proto-Austronesian *(u-)(ŋ)kuɣkuɣ("dog")."  Before accepting this claim, we need to step back and take a deeper look at the historical phonological relationship between quǎn 犬 and gǒu 狗.  The following paragraphs are from Chris Button:
Old Chinese 犬 *kʰʷə́ɲʔ is clearly related to (early/pre-) Proto-Indo-European *kʲwon- (or more precisely *kʲwan- since e/o reflects ə/a). The palatal nasal in OC generally comes from an earlier medial "j" palatalising a nasal coda (coronal, as in this case, or velar) but you cannot have medial /j/ and medial /w/ as *kʰwjə́nʔ  or *kʰjwə́nʔ would imply so, short of reconstructing uvular *q as the initial which could have precipitated the rounding, something external was probably going on here just on the basis of the internal OC phonology.
Pulleyblank's (1995) hypothesis that 狗 *káwʔ and 犬 *kʰʷə́ɲʔ are related is probably correct, although I favor your 1998 suggestion about different loans from Indo-European over his phonological permutations. The fact that early PIE *kʲwon- gave standard PIE *kʲwo- provides good support for this since we do not have to account for the disappearance of the "n" in Chinese as it had already disappeared in Indo-European very early on.
The phonotactic constraint in Old Chinese against the co-occurrence of a medial /w/ and a medial /j/ also applied to Old Burmese. So while OC *-əɲ corresponds with OB *-ɐɲ, a combination like *-wɐɲ could not occur in a native OB word in the same way that *-wəɲ smacks of an external source in OC. I'm only aware of one case of <-wɐɲ> in Inscriptional Burmese in the word <klwɐɲ> "serve", that is also written in a more expected form as <klwɨj>. As such the Burmese word *kʰwɨj2 "dog" (tone 2 parallels the glottal in Old Chinese) would be the expected reflex of an external *kʰwɐɲ2 which would then correlate perfectly with the Old Chinese form 犬 *kʰʷə́ɲʔ
Mair 1988 mentioned by Chris above is this:
Victor H. Mair, "Canine Conundrums:  Eurasian Dog Ancestor Myths in Historical and Ethnic Perspective," Sino-Platonic Papers, 87 (October, 1998), 1-74.  (That was published in the days when I had to write in many diacritical marks and non-standard characters by hand.  Consequently, a few schwas got dropped out — they are easily spotted by an empty space.)  Free pdf available online here.
Rather than needlessly inflate this already long blog post by typing in a lot of material that is readily available in that article, I would strongly encourage anyone who is interested in the deep linguistic and cultural linkages between human beings and dogs to read pp. 22-24, where I discuss how the overwhelming majority the daughter languages of the Indo-European family share a common word for "dog", and how the dog played a key role in IE culture.  More surprisingly, I show how the same word for "dog" that was present in PIE from its inception, namely *kwon-, extends far beyond IE to many languages in other branches of the Nostratic macrofamily, but not to Sinitic, which arose later, so that quǎn 犬 OS /*kʰʷeːnʔ/ MS khwenX (remember that final "X" indicates rising tone for B-S) must have been borrowed from an IE derivate of PIE *kwon-.  In the course of my analysis, I show how the hypothetical Nostratic root for "dog", *k[h]wən or *k[h]wan (bracketed "h" should be a small superscript), has not been securely established as genetically pertinent to all of the families normally placed within the Nostratic macrofamily; it is germane only in IE and Afro-Asiatic, but not in Kartvelian, Uralic, Dravidian, and "Altaic".  In Afro-Asiatic, furthermore, the common hypothetical root for "dog" is firmly established only in the Hamitic branch, but not in the Semitic branch.  This affords an approximate idea of the time-depth at which the common word for domesticated dog (*k[h]wən or *k[h]wan) arose and was shared by speakers of the languages enumerated just above:  closer to 6000 BC than to 10,000 BC, but before 4000 BC, by which time IE had established itself as an independent family.
κύων is securely documented in ancient Greek (from Homer on [see Liddell and Scott]) and I begin my "Canine Conundrums" paper with a discussion of how the word "cynic" comes from the Greek adjective kunikos ("doglike") < kuōn ("dog").  In the Mediterranean region, there were undoubtedly many cognates to Greek kuōn among IE sister languages.  Indeed, the Hittite word for "dog" is kun-.  Since Hittite dates to the 16th-13th cc. BC, this puts us in the proper time frame for correlation with OS /*kʰʷeːnʔ/
Similarly, I show how gǒu 狗 ("dog"), MS kuwX OS /*koːʔ/ (Zz), was most likely a later borrowing from Tocharian ku.  This would make good sense, since the Tocharians, though centum speakers, were right at China's back door and are the acknowledged source of the borrowed words for "honey" and "lion" in Sinitic.
Dogs were intimately associated with humans in IE society from the very beginnings of the family,  In J.P. Mallory and D.Q. Adams, ed. Encyclopedia of Indo-European Culture (London and Chicago:  Fitzroy Dearborn, 1997), p. 168a, Mallory states that the remains of dogs are abundant in Mesolithic sites over a wide range of Eurasia inhabited by Indo-Europeans.  Anne-Sofie Gräslund, in "Dogs in graves — a question of symbolism?", in Barbro Santillo Frizell, ed., Man and animal in antiquity (The Swedish Institute in Rome, 2004), p. 167b of 167-176 describes how greatly human beings honored their treasured dogs:
From Mesolithic cemeteries in Denmark and Southern Sweden (c. 5000 BC), we know of separate dog graves, where the dogs have been buried with the same carefulness as human beings.  They lie crouched as if they sleep, covered with red ochre, in single cases they have even got grave goods.  In Swedish Bronze Age cremation graves dog bones from most parts of the body occur, in contrast to, for example, pig bones and sheep bones, which occur only from fleshy parts of the animal, used for food.
Dogs in earliest IE society were used for hunting, herding, and companionship, and as guards.
In Zoroastrian religion, the dog played a key role in rituals associated with death and was treated with utmost veneration for its power in warding off malign forces.
In sharp contrast, I shall never forget an experience I had about twenty years ago in a museum in Xianyang outside Xi'an.  This was at the Yangling Museum just after it had opened at the mausoleum of the Han Dynasty Emperor Jing (188-141 BC; r. 157-141BC).  I was one of the first people to go down into the ingeniously designed subterranean chambers of the museum.  The scale of the mausoleum was enormous, and it included all of the palatial furnishings, utensils, equipment, personnel (figurines), and other accoutrements that the emperor would need in the afterworld.  But the part of the subterranean museum that transfixed me the most were row after row after row of terracotta statues of dogs.  The guide told me that, like the sheep and pigs nearby, these dogs were raised and butchered for meat.  I was especially struck by how bulky the dogs were, as though they were bred with the intent of maximizing the flesh on their bones.  This was still true in 1889, for which see Appletons' Annual Cyclopaedia and Register of Important Events: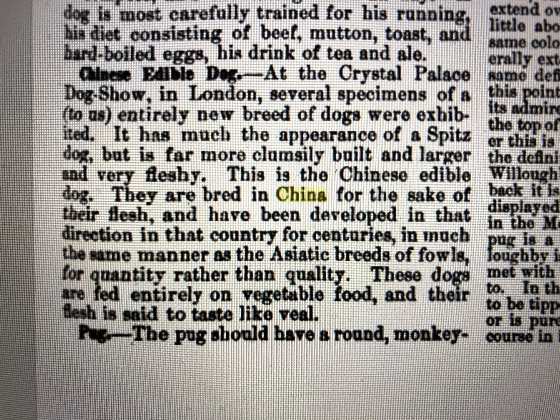 Dogs in traditional Chinese society generally were treated with contempt and cruelly abused (of course, there were exceptions, especially among the extremely wealthy and the nobility):
It goes without saying that, in the West, a dog is a "man's best friend".  That is obvious any day of the week when I walk around the little town of Swarthmore where I live, but it's true in any American town.
Turning now from dogs in China and words for "dog" in Chinese to words for dogs in English, I will focus on four main terms:  dog, hound, canine, cur.  For a short, easy introduction to this lexical quartet, here are the entries on them in the Online Etymology Dictionary:
dog (OEtymD)
Old English docga, a late, rare word, used in at least one Middle English source in reference to a powerful breed of canine. The word forced out Old English hund (the general Germanic and Indo-European word, from root from PIE root *kwon-) by 16c. and subsequently was picked up in many continental languages (French dogue (16c.), Danish dogge, German Dogge (16c.)), but the origin remains one of the great mysteries of English etymology.
hound (OEtymD)
Old English hund "dog," from Proto-Germanic *hundas (source also of Old Saxon and Old Frisian hund, Old High German hunt, German Hund, Old Norse hundr, Gothic hunds), from PIE *kwnto-, dental enlargement of root *kwon- "dog." Meaning narrowed 12c. to "dog used for hunting" (compare dog (n.)). Contemptuously, of a man, from late Old English.
canine (OEtymD)
late 14c., "a pointed tooth," from Latin caninus "of the dog," genitive of canis "dog" (source of Italian cane, French chien), from PIE root *kwon- "dog." The meaning "a dog" is first recorded 1869.
cur (OEtymD)
early 13c., curre, earlier kurdogge used of both vicious dogs and cowardly dogs, probably from Old Norse kurra or Middle Low German korren both echoic, both meaning "to growl." Compare Swedish dialectal kurre, Middle Dutch corre "house dog."
Most authorities, such as my beloved American Heritage Dictionary of the English Language, with its esteemed appendix of "Indo-European Roots", trace "hound" and "canine" back to PIE *kwon-.  Similarly, scholars such as Carl Darling Buck, A Dictionary of Selected Synonyms in the Principal Indo-European Languages (Chicago:  University of Chicago Press, 1949), 3.61, pp. 178-179, and Robert K. Barnhart, The Barnhart Dictionary of Etymology (Bronx, New York:  H. W. Wilson, 1988), pp. 139b, 493ab hold that most of the common, general words for "dog" in IE languages derive from PIE *kwon-.
Don Ringe takes a more nuanced, cautious view on "canine":
PGmc. *hundaz seems to reflect a derivative of PIE *ḱwón- ~ *ḱun-, but Lat. canis (the source of canine) cannot, because there's no way to account for (1) the vowel and (2) the loss of *w.  It does seem to be related to Welsh ceneu 'puppy', pl. canawon (< pre-Welsh, maybe Proto-Celtic *kanawū, pl. *kanawones), so there might have been an Italo-Celtic word *kan- of unknown origin.  English 'cur' also has nothing to do with the PIE word (no nasal; no known source for the r).  It seems to be connected to similar Middle Dutch and (not very early attested) Scandinavian words of similar meaning that might be related to a Norse verb meaning 'growl'; if so, then the word was probably onomatopoeic and could have been invented at any time.  'Dog' is even more obscure:  it appears in late OE, apparently out of nowhere, and similar words in other languages appear even later and actually seem to have been borrowed from English.
So it's only 'hound' that goes back to PGmc. and (with modification) PIE; the others are all of unknown origin at one date or another.
As pointed out in my December 23, 2017 post on fá 瞂 ("pelta"), I was inspired by the relevant entry in Paul Kroll's A Student's Dictionary of Classical and Medieval Chinese (Leiden: Brill, 2015).  Likewise, I would say that in the present case his entries on quǎn 犬 ("dog") and gǒu 狗 ("dog"), although brief, reveal an uncanny, innate, subconscious philological awareness of the issues I have explicitly raised in this post:
犬  quǎn    MC khwenX
1. dog; canine; cur.
a. pejorative term for a contemptible person, wretch, knave
狗  gǒu    MC kuwX
1. dog, esp. smaller dog (cf. 犬 quǎn, larger dog); cur; e.g. (med.) ~突 gǒutū, dog-door.
a. hunting-dog, hound.

To conclude with a bit of levity, first, because strict Muslims consider them to be unclean animals, the dog and the pig are whitewashed from the Chinese zodiac in Malaysia:
"Zodiac dog, pig go missing for Chinese New Year", by Trinna Leong, Straits Times (1/10/18)
Second, in this year of the dog, "ten canines" is a pun for "perfect in every respect".
shí quǎn shí měi
shíquánshíměi
十犬十美
十全十美
ten canines, ten beauties
ten complete, ten beauties
Note that, for the pun to work, quǎn 犬 ("canine") is used instead of gǒu 狗 ("dog").
Appendices
1. Paleographical evidence for the earliest known forms of quǎn 犬 ("dog") and gǒu 狗 ("dog") (by Matt Anderson)
The Shang oracle bone inscription / bronze inscription (OBI / BI) forms are the same pictograph, though the BI forms are typically far more elaborated:
Shang BI (from Yan Zhibin's 嚴志斌 Shang jinwen bian):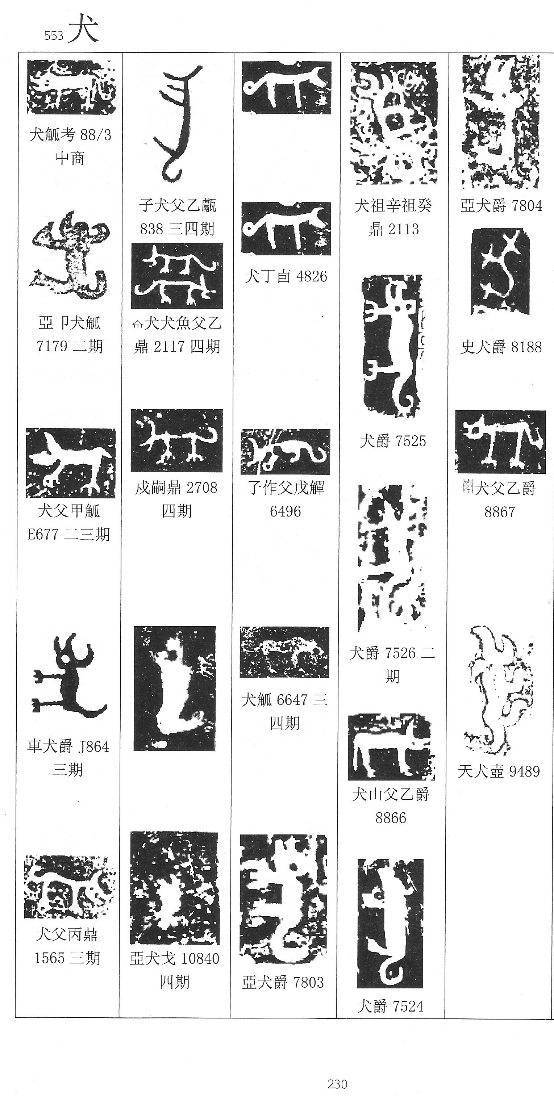 And here are OBI forms (from Liu Zhao's 劉釗 Xin jiaguwen bian):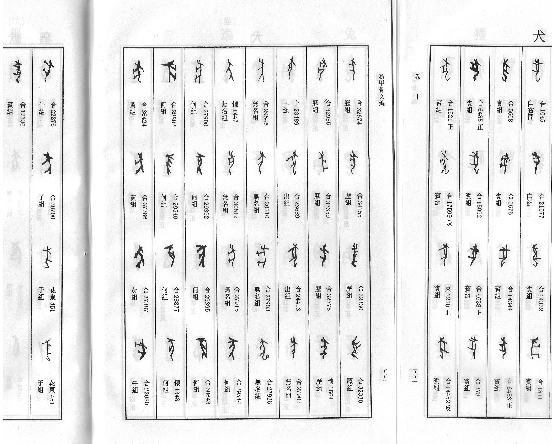 You can see that the OBI forms appear in more or less simplified variants, and that a few of the BI forms are as simplified as the simplest OBI variants. And two of the last OBI forms given by Li Zongkun (one of which is also the last given by Liu Zhao) are almost as elaborate as the most elaborated BI forms.
I'm not aware of 狗 being used for gǒu "dog" before the Warring States, but there is an early Western Zhou BI (the Chang Zi Gou ding 長子狗鼎) that appears to use the graph 狗, or at least something structurally identical. It's being used for a given name, though, not as the name of a kind of animal (it's the topmost form below, from Gao Ming's 高明 Guwenzi leibian—zengding ben):

The full inscription reads (with my quick translation):
長子狗乍文父乙尊彝
Prince Gou of Chang made this ritual vessel (in honor of) his accomplished father Yi.
There's no way to know what meaning (if any) the word gǒu (or at least the graph 狗) has here (aside from its use as a personal name of course), but it's perhaps interesting that this vessel is from the south (from the Wuhan area).
2.
For the record, here are the OED etymologies for "dog", "hound", "canine", and "cur".  It's curious that the most opaque one, "dog", is also the most used word for dog nowadays and receives the most extensive treatment from the editors of the OED.  The one that seems the most transparent, "canine", is not much used now and is given the shortest treatment by the OED editors.  Both in terms of use and in editorial treatment, "hound" and "cur" fall between the other two.
dog

Etymology: Origin unknown.

The word belongs to a set of words of uncertain or phonologically problematic etymology with a stem-final geminated g in Old English which is not due to West Germanic consonant gemination and therefore does not undergo assibilation. These words form both a morphological and a semantic group, as they are usually Old English weak masculine nouns and denote animals; compare frog n.1, hog n.1, pig n.1, stag n.1, Old English sugga (see haysugge n.), Old English wicga (see earwig n.), and perhaps teg n.1 It has been suggested that these words show expressive gemination, perhaps due to their being originally hypocoristic forms. (For discussion see R. M. Hogg 'Two Geminate Consonants in Old English' in J. Anderson Lang. Form & Ling. Variation (1982) 187–202.) For some of the words, substratal influence has also been considered (compare pig n.1). Because attestation of these words in Old English is generally rare and confined to glossaries and onomastic evidence (as in the case of dog n.1), if they are attested at all, and also because there is often a better-attested synonym (in this case, hound n.1), it seems likely that the words were stylistically marked in Old English, i.e. considered non-literary or informal.

The word is attested twice as a place-name element (in the genitive plural) in a 14th-cent. copy of an Anglo-Saxon charter of 941 granting land at Buckland Newton, Dorset (doggene berwe is probably to be identified with Dogbury Hill, an ancient hill fort):

a1400  (▸OE)    Bounds (Sawyer 474) in W. de G. Birch Cartularium Saxonicum (1887) II. 500   Endelang stremes on doggene ford þanen up on doggene berwe.

It is also perhaps attested (in the compound doggiþorn ) in a late 12th-cent. copy of another charter purportedly recording a grant of land in Gloucestershire made a959, although it is unclear whether the form here represents this word or its derivative doggy adj.:

c1175  (▸?OE) Bounds (Sawyer 664) in W. de G. Birch Cartularium Saxonicum (1893) III. 113   Of pislege on doggiþorn, of þam þorne to eadingham.

Compare also the following place names: Dogeflod , Surrey (1257; formerly Dogflood, now lost), Doggeworth , Devon (1281; now Dogsworthy), etc.

Also early as an element in bynames and surnames; compare: Syward Dogheafd (a1195), Richard Doggetall' (1201), Robertus Doggefel (1201), Robertus Doggisheued (1204), etc. Compare also Roger le Doge (1296).

The word occurs in a number of other European languages, considerably later than in English, and in many cases with the identifying attribute 'English'. All of these instances probably show borrowing either directly or indirectly < English. Compare Dutch dog (16th cent.; in early modern Dutch also dogge ), German Dogge (16th cent. as dock , docke ; 17th cent. as dogg , dogge ), Swedish dogg (17th cent.), Danish dogge , dog (a1700); French dogue (15th cent. in Middle French denoting a type of hunting dog; 14th cent. as an insult used to a Frenchman by an Englishman), Spanish dogo (1644), Portuguese dogue (1789; 1727 as †dogo ), Italian dogo (19th cent.; a1712 in the diminutive doghetto ). In all of these languages the word is applied more narrowly to particular varieties of dogs, usually mastiffs. This probably reflects the types of dogs which were imported from or associated with Britain, and probably has no bearing on the early meaning of the word in English.

The etymology of the English word is unknown. No likely cognates have been identified with a meaning at all close to that of the English word, and all attempted etymological explanations are extremely speculative. A word of this phonological shape is hard to explain as a regular development from a Germanic base, but nonetheless a number of attempts have been made. One attempt sees a connection with the Germanic base of dow v.1, assuming an original meaning such as 'useful or faithful animal', but this has not met with general acceptance. In this connection an Old English personal name Dycga is sometimes compared as a possible formal parallel from the same base, but it is quite possible that the personal name has no connection with dog n.1 Another attempted etymology takes the word ultimately from the Indo-European base probably meaning 'run' which is probably reflected by Sanskrit dhav- (see prothetely n.), but this poses a number of formal difficulties. Another suggestion is that the word shows a development from an Indo-European base meaning 'to be or become unconscious', but this involves a very large number of unattested stages in the semantic development (assuming a development 'bundle' > 'cuddly bundle' > 'pet' > 'dog'), and also involves a very uncertain original base form.

hound

Etymology: Common Germanic: Old English hund = Old Frisian hund, hond, Old Saxon hund (Low German hund, Middle Dutch hont (d-), Dutch hond), Old High German hunt (d-), (Middle High German hunt, German hund), Old Norse hundr (Swedish, Danish hund), Gothic hunds < Old Germanic *hundo-z, generally held to be a derivative of base *hun-, pre-Germanic *kun-, in Greek κύων, κυν-, Sanskrit çwan-, çun-, Lithuanian szů, szun-, Old Irish cu dog; compare also Latin canis.

For the d (dh) of Germanic hund, the suggestion has been made of association with the verb hinþan to seize, as if the word were understood to mean 'the seizer'.

canine

Etymology: < Latin canīnus, < canis dog; compare French canin, 16th cent.

cur

Etymology: Middle English curre corresponds to Middle Dutch corre 'canis villaticus, domesticus' (Kilian), Swedish and Norwegian (widely-spread) dialect kurre, korre 'dog', etc. The latter is generally associated with the onomatopoeic verb Old Norse kurra to murmur, grumble, Swedish kurra to grumble, rumble, snarl, Danish kurre to coo, German obsolete and dialect kurren to growl, grumble, murmur, coo, compare gurren to coo, Middle High German gürren to bray as an ass. The primary sense appears thus to have been 'growling or snarling beast'. But no corresponding verb appears in English, so that Middle English kurre was probably introduced from some continental source. The combination kur-dogge is met with considerably earlier than the simple kurre, cur. Senses 2, 3 are possibly independent echoic formations.
3.
Miscellaneous notes on "dog", "canine", and "cur" from Jichang Lulu:
Dog
"Not a dog's chance, or one more impenetrable etymology", by Anatoly Liberman, OUPblog (5/4/16).
This ("The origin of dog" by Olivier van Renswoude) is also interesting, with two newer proposed etymologies: one related to 'dusk', another to 'duck'.
Canine (and quǎn 犬)
Reconstruction:Proto-Indo-European/ḱwṓ.
Reconstruction:Proto-Sino-Tibetan/d-kʷəj-n.
Cur
The (rare) Dutch form corre/korre, presumably cognate to cur, apparently isn't attested in Middle Dutch (~1200-1500), as per the Middelnederlands(sch) Woordenboek.
The source for it is Kiel=Kiliaan=Kilianus' 1599 dictionary (Etymologicum teutonicae linguae, sive dictionarium teutonico-latinum…); here's the entry from the 1777 edition:

Checking orig just to make sure…
Yup. It's in the 1599 original, p. 256 (Google Books).

On the Swedish side of things, kurre might be derived from kurra 'grumble'.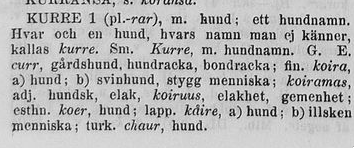 Hellquist, Svensk etymologisk ordbok, 1922 (via Project Runeberg)
except for this old dialect dictionary that compares it to Finno-Ugric and Turkic words:
Svenskt dialektlexikon, 1862-1867 (also via Project Runeberg).
The verb kurra 'grumble' is well attested in Old Norse (refs in Cleasby & Vigfusson (i.e. Guðbrandur Vigfússon)). No idea where it comes from, maybe imitative of 'grumbling'.
Maybe the mysterious Skt. kukkura (with modern reflexes) is also imitative? Or non-IE? So many questions!
[Thanks to Jim Mallory, Chris Button, Matt Anderson, Don Ringe, Paul Midler, Ben Zimmer, Jonathan Smith, Axel Schuessler, and Chau Wu]
---