« previous post | next post »
From Li Wei on Facebook: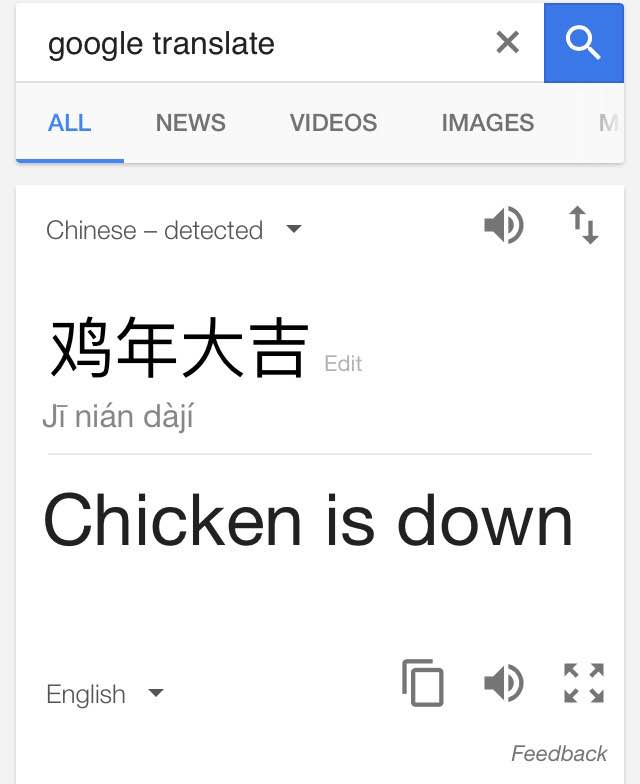 This morning I have received this greeting countless times already:
Jī nián dàjí
鸡年大吉
lit. "chicken year big auspicious / propitious", i.e., "may the / your year of the chicken be greatly auspicious!"
As Li Wei's Facebook post suggests, Google Translate renders the greeting as "Chicken is down." (Google Translate even renders just "dàjí 大吉" ["greatly auspicious"] as "down", which is really bizarre; Baidu Fanyi has "close down", while Microsoft Translator has "Gil".)  While it's unclear how this translation came about, we can be grateful to Li Wei for spreading the good word.
I had previously playfully rendered jī nián 鸡年 as "Year of the cock" (1/4/17), but I honestly prefer "year of the chicken" to the usual "year of the rooster" for the reasons (having to do with sexism) adduced in that post.  We might also say "year of the (domestic) fowl", but that doesn't have the right ring, and I'm afraid that people would be prone to make bad puns on it.
Going back to Google Translate's version of the greeting, as a China specialist I like "Chicken is down", but it probably doesn't make much sense in this context to most English speakers:  the price of chicken is down (?), chicken has crashed (like Black Hawk), chicken is disabled, etc.
The reason why "Chicken is down" makes perfect sense to me on this day is that it resonates with another widespread Chinese New Year's practice, namely, affixing on your door a poster with fú (Cant. fuk1) 福 ("blessing; happiness; good fortune / luck; prosperity") written on it and then turning it upside down upon the advent of the New Year.  This inversion of the poster with fú 福 written on it is referred to as "fú dào 福倒", because dào 倒 ("upside down; inverted") is thought of here as meaning the perfectly homophonous cognate dào 到 ("reach / go / come to; arrive"), hence fú dào 福倒/到 is interpreted as "good fortune has arrived").
Warning:  倒 can either be pronounced in the third tone in Mandarin, in which case it means "fall; topple", or in the fourth tone, in which case it means "upside down, inverted, reversed; pour; move backwards", though I have met Chinese who think it only has a fourth tone reading.
For 福倒, Google Translate has "Fuk down".
BTW, we already met Li Wei at the end of 2016: "All the way with U in 2016/7" (12/31/16).
Aside from Google Translate's unintentionally clever wording of the Chinese New Year's greeting, it also brings joy to my heart to see Google's use of pinyin for phonetic annotation.  This is one of the most effective ways for Mandarin to, as Sino-enthusiasts are fond of saying, "zǒu shàng shìjiè 走上世界" ("go out into the world").
No matter what, jī nián dàjí! 鸡年大吉! ("may your year of the chicken be greatly auspicious!").
[hat tip Ben Zimmer; thanks to Yixue Yang, Jing Wen, Ruan Qi, and Shuqi Huang]
---