« previous post | next post »
The following ghastly photographs of a rat that was caught stealing from a convenience store in Heyuan, Guangdong province have gone viral on Chinese social media.
===============================================
WARNING:  viewer discretion advised.
The photographs following the page break may be upsetting to some readers.
===============================================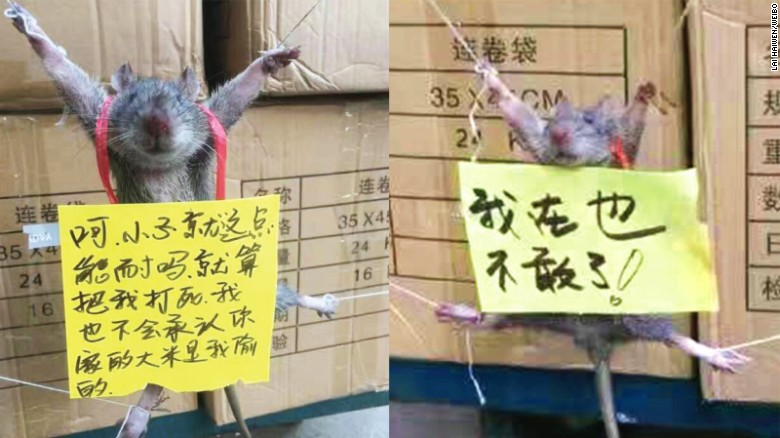 The sign on the left, which appeared first, reads:
Ā, xiǎozi.  Jiù zhè diǎn néngnài ma?  Jiùsuàn bǎ wǒ dǎ sǐ. Wǒ yě bù huì chéngrèn nǐ jiā de dàmǐ shì wǒ tōu de.
呵, 小子就这点能耐吗.就算把我打死, 我也不会承认你家的大米是我偷的.
"Hey, buddy, that's all you're capable of?  Even if you beat me to death, I will never admit I've stolen your rice."
The sign on the right reads:
Wǒ zài yě bù gǎnle!
我在也不敢了!
"I won't dare to do it again!"
—
N.B.:  zài 在 ("in; at; exist; remain; dwell; be located", etc.) is an error for zài 再 ("again; once more")
Judging from this Weibo post (VHM:  seems to be blocked / scrubbed now) and the following comments (only a small selection of which are shown), Chinese netizens really love their emoji.  This extremely popular one, 😂, for example, is referred to as the "笑cry" (xiào 笑 means "laugh") emoji.  It was named "WOTY 2015" (11/16/15) by Oxford Dictionaries and is officially called "face with tears of joy" in English.
Here are two articles about the initially unrepentant and then later abject pilfering rat:
Aside from the issue of cruelty to animals they raise, the photographs have also struck a resonant chord with those who recall the torture of intellectuals during the Cultural Revolution (1966-1976) and, more recently, the forced apologies and confessions of bookstore owners, entertainers, and others who have offended the Chinese Communist Party.
[h.t. Alex Wang and Dean Barrett; thanks to Maiheng Dietrich, Melvin Lee, Fangyi Cheng, and Yixue Yang]
---