« previous post | next post »
David Rowe took this photo of a sign on a market stall in Sydney Chinatown: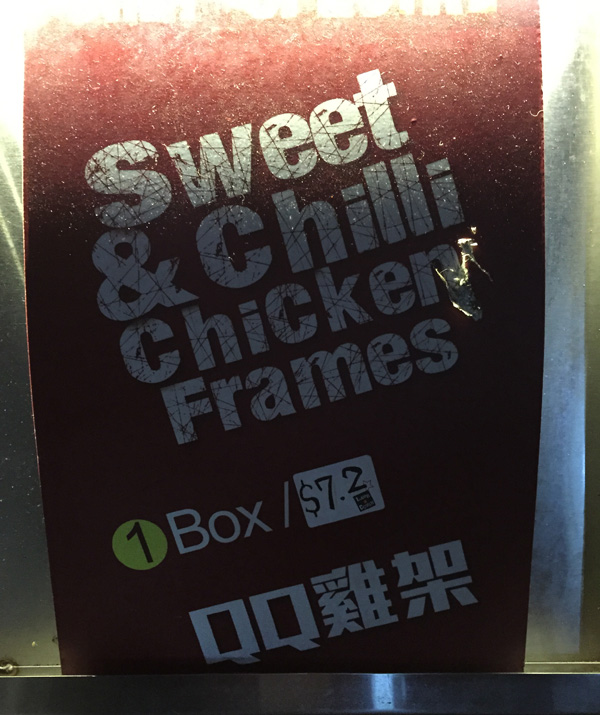 These "Sweet & Chilli Chicken Frames" were being sold in a cumin lamb stall, but David reports that they didn't seem popular — he only saw lamb being cooked.  With a name like "Sweet & Chilli Chicken Frames", I don't think that many English speaking customers would find them particularly attractive.
Lots of things to talk about.
First of all, as we know from previous Language Log posts, "QQ" is a ubiquitous and highly polysemous expression in China and Taiwan nowadays.  Below is a list of some possible meanings for QQ.  I have boiled it down and kept the explanations as simple as possible.  As I noted in the first post cited here, "One could write a small treatise about the various meanings and origins of 'QQ' in Chinese…."  See:
Most English meanings of "QQ" have been taken up by young Chinese netizens, plus they have their own set of distinctively Chinese meanings for "QQ".
See also here, here, here, and here.
The following is a list of the most popular applications of QQ in the Sinosphere:
1. Tencent QQ instant messaging service and chat room.
2. The English word "cute".
3. Q or QQ in Taiwanese means "chewy" (like gummy bears and certain kinds of pasta); "toothsome; al dente".  QQ is generally considered a desirable quality in Taiwanese cuisine, as it contributes to mouthfeel. There is no Chinese character for this morpheme in Taiwanese. Although the made-up character [食+丘] is sometimes pressed into service (e.g., khiū-teh-teh [食+丘] 嗲嗲), the Roman letter form of the morpheme (Q or QQ or even QQQ) is far more prevalent (almost always, since [食+丘] is not really an established character).
4. QQ is the name of a car made by Chery Automobile.
5. A very different meaning for QQ is that of an emoticon showing a person with tears in their eyes.
6. Also said to be related to #5 is the usage in the popular internet game called Warcraft, where (I am told; I don't know this firsthand) you press ALT+QQ when you are forced to quit. Ex.: "Why don't you QQ, noob?"
BONUS:  moniker of a commenter on Language Log
Bear these meanings in mind, folks.  As we proceed with the explication of the rest of the name of this delicacy, see if you can figure out which one fits it best.  Explicating the "QQ" will be the pièce de résistance of this post, so we'll save that for last.
Fortunately, the hardest part of my job was already done in this post: "Chicken framework / rack / skeleton / trunk / carcass / whatever" (1/12/14).
If you are interested in the esoteric lore surrounding the transcendental wonders of the chicken torso / trunk / frame in Chinese cuisine, I highly recommend immersing yourself in that post and the many learned comments thereto.  For those who just want a scaled down explanation, we may describe the jījià 雞架 as what's left of the chicken after the legs, breast, head, wings, neck, giblets, and skin are removed. It is usually used to make soup.  Here's an introduction in Chinese.
I would add, however, this true story about an evening out with Xu Wenkan, my best Chinese friend, and his family, whom I've known for about 35 years.  I invited Xu xs to his favorite restaurant in Shanghai.  I said, "Let's go to the place above all others in Shanghai where you'd like to have dinner."  You have to remember that, when this happened about 15 years ago, Shanghai wasn't yet as glitzy and glamorous as it is now.  Furthermore, Xu xs is a humble, plain person who does not like to splurge or be ostentatious.  But I stressed that this was a special evening for him and his family, so I asked him to please pick the restaurant that he would enjoy above all others.
We took several buses and walked the last few blocks.  When we arrived, I was flabbergasted to find that it was a jījià 雞架 house.  I said to Xu xs, are you sure this is where you want to eat, and he assured me, "Yes, this is it".  I could see that he was already drooling, so we marched in, sat down, and ordered a huge platter of chicken bones.  And these really were chicken bones without much meat on them, just scattered on the platter.  I really couldn't understand what Xu xs saw in them.  But we all dug in, I somewhat reluctantly.
It was a messy affair (I had to keep wiping my hands and face), but the worst part was that little bits of meat and bones kept getting stuck between my teeth.  (You really had to gnaw away at the bones to get any meat.)  But for Xu xs, it was even worse / better.  You see, Xu xs had terrible teeth (he has since gotten a complete set of false teeth), and the jagged bones kept getting caught in what was left of his natural choppers.
They were torture to me, but Xu xs, his wife, and his son loved the bones, so after the first big platter was finished, they ordered a second big platter!  That evening, as we wended our way back home, Xu xs used up quite a few toothpicks to clean his fragmentary teeth, and I noticed that the next day he was still picking away at them.  Perhaps that was part of the pleasure of eating jījià 雞架 for Xu xs.
Now, back to that very special kind of jījià 雞架 called QQ雞架 that is the subject of this post.  It seems that QQ雞架 is a famous brand in Mainland China and that it is noted for its sweet, delicious, and spicy (tiánxiānglà) 甜香辣 taste.  Here at Language Log, we know our là 辣 ("spicy hot; chili"), because we've examined it in several posts, e.g.:
Let's back translate to see if we can determine what kind of flavoring is applied to the QQjījià QQ雞架 advertised here, since there's no Chinese for that portion of the name.  The English says "Sweet & Chilli", which I postulate may have come from tiánlà 甜辣.  This is not a particularly common type of jījià 雞架, but we do find that, together with málà jījià 麻辣鸡架 ("numbing and spicy hot chicken frames"), it is popular in Kunming, Yunnan.
Finally, we're ready to tackle "QQ".  Voilà!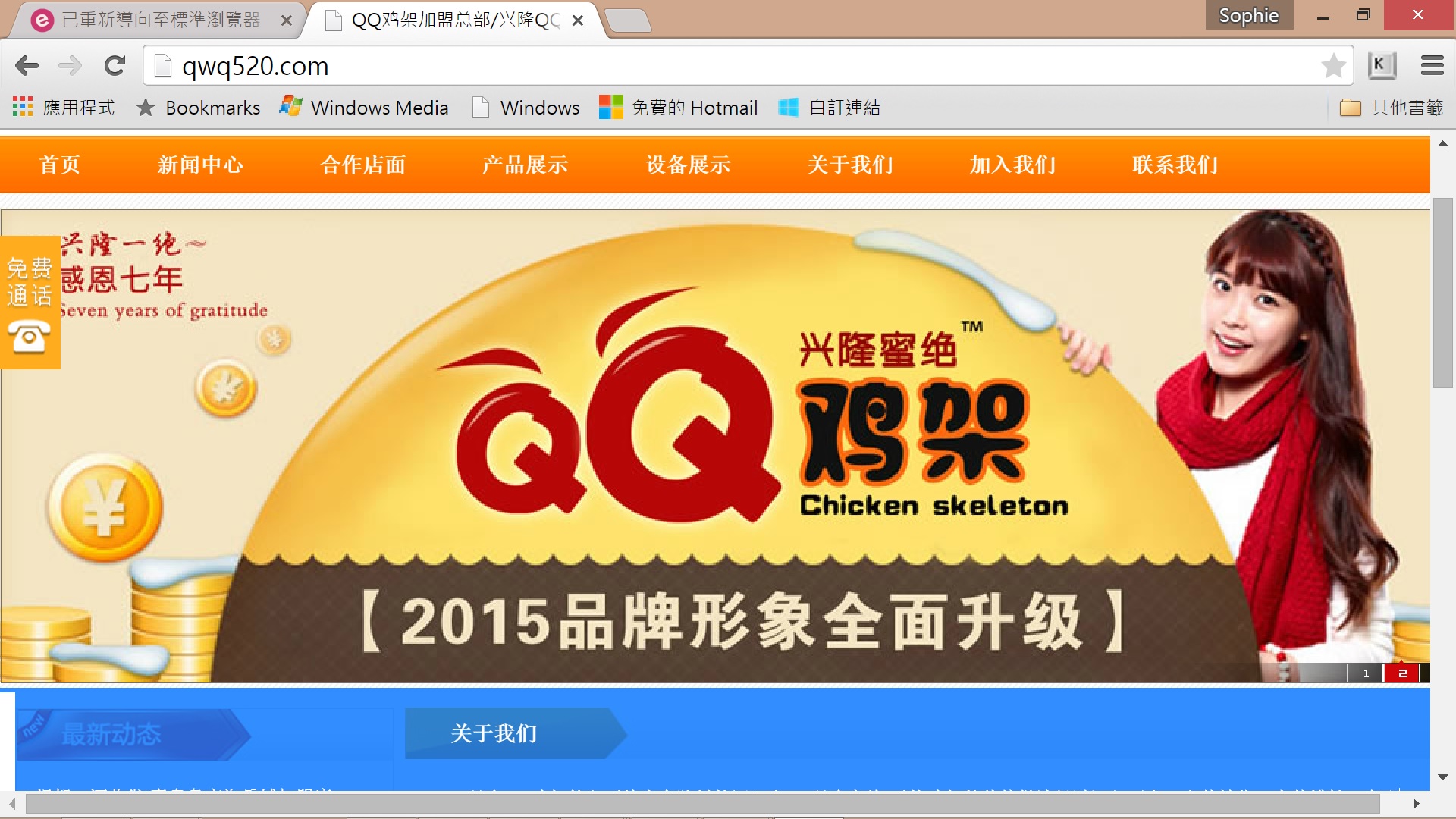 It turns out that this particular kind of "QQ" is essentially a description of the type of facial expression (note the arched eyebrows!) that supposedly comes over one after eating their jījià 雞架.  It does not have to do with the chicken being chewy, crying faces, or anything else that QQ stands for these days.  Indeed, this is what Xu Wenkan, his wife, and his son looked like after consuming two big platters of jījià 雞架.
Finally, to the question why anyone would want to eat chicken bones, this is how one of my graduate students from the mainland replied:  "delicious and super cheap".
[Thanks to Sophie Wei, Fangyi Cheng, Chia-hui Lu, and Rebecca Fu]
---