« previous post | next post »
With these words, Zarina Yamaguchi presents the following photograph, taken at Osaka's Shinsaibashi Shopping Street, on her Facebook page: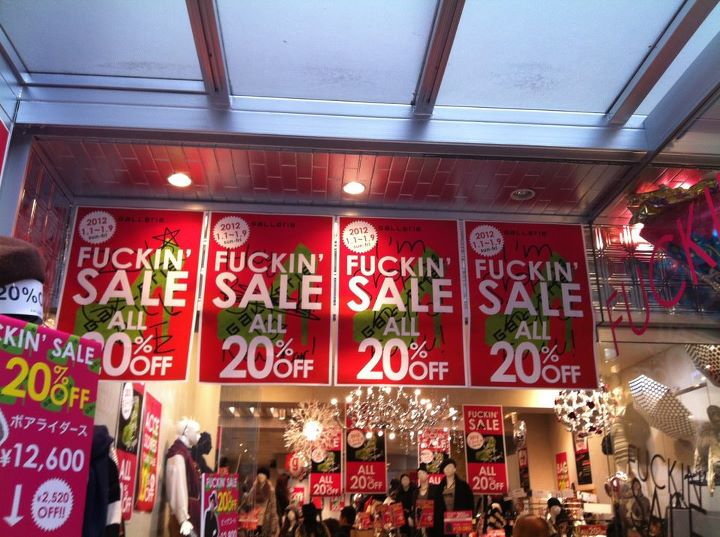 Zarina also observed: "Seriously, this only happens in Japan." The photograph was reposted by Pat Myers on Twitter with this note: "An on-sale sign in English that you won't see outside Japan."
Well, I really wouldn't have to add anything, but since this is Language Log, I'd better do my duty and make a few pertinent remarks about the use of "fuckin'" in the Land of the Rising Sun.
When asked why the Japanese would plaster such signs all over a department store, Nathan Hopson replied, "Why not? English is cool. 'Fuckin" packs a good English wallop, but nobody's offended." To this, Nathan's wife, Tomomi, added, "Fuckin' sale, 20% off…. So what?" She had no idea why anybody would make a big deal over such a sign. With some prompting, she continued, "It's just not really worthy of comment — except to maybe say it's a bit crass. Certainly not the kind of thing you photograph and make a fuss about. Honestly, I probably wouldn't even notice that if I were standing there. It is a lot less conspicuous than ichiban 一番 ("number 1") t-shirts…."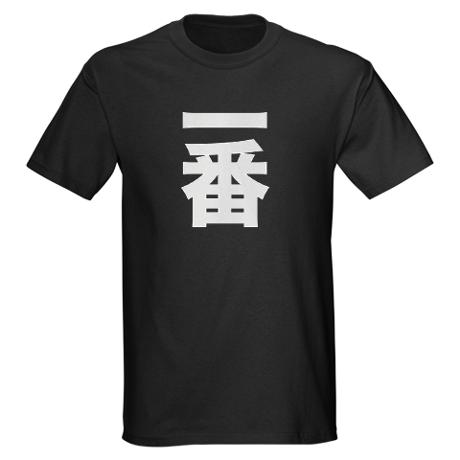 So what's wrong with ichiban 一番 ("number 1") t-shirts?
The first time Tomomi saw such t-shirts was in the gift shops at Narita, specifically aimed at foreign tourists. That in itself struck her as odd, since foreigners can't read kanji. Moreover, self-promotion is frowned upon in Japanese society, so you're not supposed to go around announcing "I'm Number One!" Thus the ichiban 一番 ("number 1") t-shirts made quite an impression on Tomomi, far more than the "Fuckin' Sale" signs at Shinsaibashi. The t-shirts, in fact, were downright disturbing — iwakan (違和感) ("discomfort") — whereas the "Fuckin' Sale" signs barely impinged upon her consciousness.
There are other possibilities to consider about the "Fuckin' Sale" signs. First of all, it might well be the case that whoever wrote the ad may not have known the original meaning of "fuck", but only was aware of the ubiquitousness of "fuckin'" in colloquial English in America (like tāmāde 他妈的 ["his mother's"]) in China), such that "fuckin'" more or less = || very / incredibly + Adjective || or || terrible / incredible) + Noun ||. Even native speakers of English who habitually use this expression seldom think about the original meaning. As a matter of fact, two days ago, a very dear friend of mine wrote to me in a Skype chat session "STFU" when I was carrying on about something for too long. I didn't even know what "STFU" meant, so I had to look it up and, being a literalist, I was hurt. (Nobody had ever said anything like that to me before.) However, talking it over with her, I found out that she meant no more than "all right already — you've said enough about that; please stop".
This is but one example of how "fuck" has been desensitized to the point of functioning as a general intensifier, such that, if you are really, really upset with someone, you have to double it up, as Van Morrison did when he said "Fucking shut the fuck up!" If a Japanese person visits America without knowing much English, and they pick up the language largely by listening, it is not unlikely that they would get the impression that "fuckin'" is a cool variant of "very, tremendous, awesome, great," etc. In fact, they may acquire "fuckin'" in these senses as a secure part of their spoken vocabulary without ever being aware of the original meaning of "fuck". I guess a lot depends upon who they're hanging out with!
(Parenthetically, I might add that the use of "fuckin'" in the language of hip Japanese who have visited America is paralleled by the predilection for "merde!" displayed by many Japanese youth who travel to France.)
Another aspect of the use of "fuckin'" in Japan may have to do with the magic or mystique of what Japanese refer to as katakana kotoba (words that are customarily written in the katakana syllabary, i.e., "foreign language words". Japanese speakers are fond of such words, but they often aren't aware of their full, literal meanings. Katakana words add a flavor of exoticism and trendiness. For many people who use them all the time, katakana words are valued primarily for their aural qualities and secondarily for semantic properties. One Japanese friend told me, "So long as it stays in katakana, it is fine because it's a kind of 'guest' in our language, and we are not responsible for it. Even if we find out that the original meaning is not so nice, we still think it's all right because they (Americans) themselves use words in different ways in English."
There is a very curious phenomenon of transference between two of the four components of the Japanese writing system (kanji, hiragana, katakana, romaji) whereby romaji kotoba (e.g., "Fuckin' Sale") function in a similar fashion as katakana kotoba, with a greater emphasis on their aural qualities than their semantic properties. Some Japanese speakers have indicated to me that they often register romaji kotoba almost the same way that they are affected by katakana kotoba, except that the level of exciting exoticism and anticipated alienness is elevated even beyond what katakana kotoba convey.  Naturally, each of the four sub-scripts of the Japanese writing system has its own special visual characteristics that writers and admen may draw upon for effect as well.
This is how one Japanese friend who saw the above photograph put it: "It is embarrassing to me, but is also very interesting…. The ad was in English(!!). For some reason, English transformed into Katakana in my mind、and I didn't even realize that." What this friend is saying is that "Fuckin'" somehow registered asファッキン in her mind, so it felt comfortably assimilated within the Japanese language. In other words, when she saw "Fuckin' Sale", she didn't think of it as English so much as part of a linguistic landscape with which she is familiar on a day-to-day basis. It was only when I raised the issue of the appropriateness of the public display of "fuckin'" that its original meaning entered her consciousness. She also conveyed to me the conviction that wearing katakana kotoba or romaji kotoba on one's clothing is more of a fashion statement than an attempt to convey verbal significance.
As for SALE instead of sēru セール or ōyasuuri 大安売り, I see it everywhere in Japan, and I'm sure that virtually everyone understands it. I suppose that proprietors who plaster "SALE" all over their storefronts think it will bring in more customers than sēru セール or ōyasuuri 大安売り, but I leave it up to others to debate the psychological impact of romaji versus katakana versus kanji-cum-hiragana upon the minds of potential buyers.
Perhaps the last and best pronouncement on the subject is that of Kotaku (the video games-focused blog): "When All Else Fails, Write in Fucking English".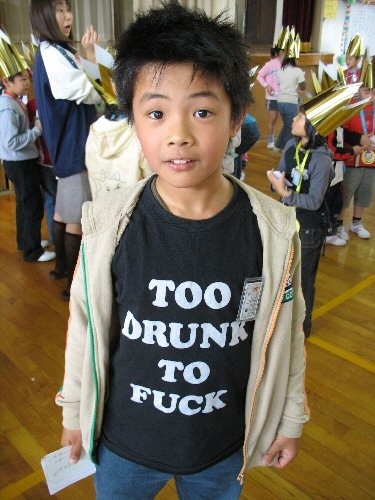 [A tip of the hat to Mark Mandel and Ben Zimmer, and thanks to Hiroko Kimura Sherry and Ceciia Segawa Seigle]
---