« previous post | next post »
From Bob Bauer: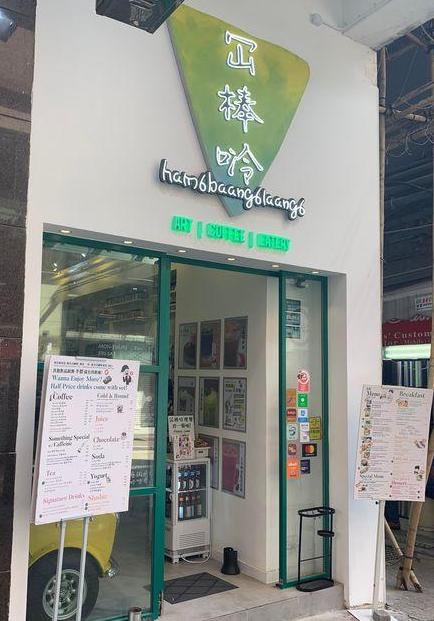 Bob explains:
The photograph shows the front of a Hong Kong restaurant which has not only chosen as its name the colloquial indigenous Cantonese word, 冚棒唥 ham6 baang6 laang6 'all; in all' (Sidney Lau 1977:324), but has also displayed this name in BOTH Chinese characters AND Jyut Ping. We should especially note that the Cantonese romanization is correct AND complete with tone numbers!

I asked Bob:
With three 6th tones in a row, is there some kind of saṃdhí going on there when it's pronounced aloud?
Bob replied:
To the best of my knowledge there is no tone sandhi (samdhi?) in this colloquial polysyllabic word.
In my all my years of speaking Cantonese (beginning in 1974) I've always pronounced this word with the three low tones in succession.
Phonetically-motivated tone sandhi in Cantonese typically involves a change of tone to High Level
under the influence of a neighboring High Level tone:
for example, 今晚 gam1 maan5 'tonight' => gam1 maan5/1
In careful speech this word would be pronounced with High Level tone + Mid-low Rising Tone.  However, in casual speech through perseveratory assimilation of the first High Level tone, the Mid-low Rising tone is changed to High Level.
I further asked Bob:
Also, the first and third characters are "special" characters unique to Cantonese, right?
Do they have identifiable meanings by themselves?  I.e., do they represent individual Cantonese morphosyllables, each with a meaning of its own?  Or do they only function to convey sound in polysyllabic expressions like this one?
He replied:
Because the written form of Cantonese has never undergone standardization, transcribing colloquial Cantonese words can be quite messy, that is, arbitrary, inconsistent, etc.
As it turns out, the first character 冚 has at least two different pronunciations and associated meanings:
1. kam2 'to cover'
2. ham6 'all, whole' (this character/morphosyllable occurs in other combinations)
I can mention here that Sidney Lau's dictionary uses a completely different colloquial character to write
this morphosyllable, viz., 口 + 感 (which I'm not able to input here). I'm assuming he invented this character.
The second character 棒 is a standard Chinese character with standard Cantonese pronunciation paang5.  Historically, its initial consonant was the voiced bilabial stop *b-, so I assume that at some point in the past it was pronounced baang6 in Cantonese. But, as with many other characters, its voiced initial consonant became devoiced and aspirated and the syllable now carries the Mid-low Rising tone.
The third character 唥 is a colloquial character which is pronounced either laang1 or laang6, depending on what morphosyllable it transcribes. For example: 唥鐘 laang1 zung1 'electric bell, buzzer; alarm clock'; and 冚棒唥 ham6 baang6 laang6 'all, in all, whole'.
Writing any and all of the spoken Sinitic topolects, including Pekingese, with Sinographs, is problematic.  As pointed out in countless Language Log posts, the Sinographs work pretty well for Literary Sinitic / Classical Chinese, but they are woefully inadequate for transcribing the full range of the topolects.
Selected readings (only for Cantonese)
---