« previous post | next post »
A Language Log reader in Hong Kong sent in the following photograph: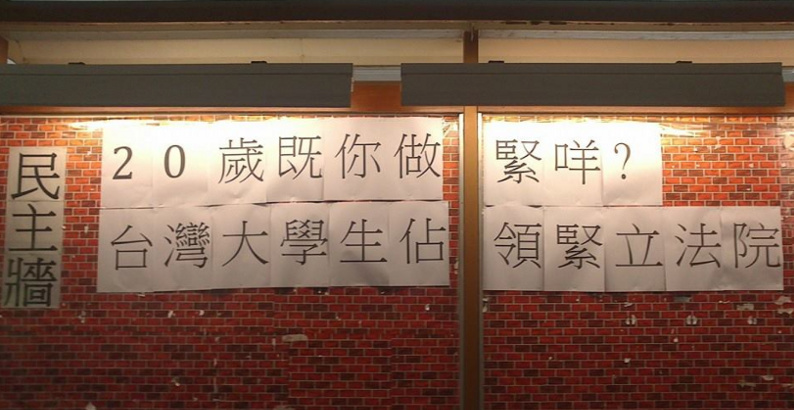 Cantonese:
20歲既你做緊咩?台灣大學生佔領緊立法院
Ji6 sap6 seoi3 gei3 nei5 zou6 gan2 me1? Toi4 waan1 daai6 hok6 saang1 zim3 ling5 gan2 lap6 faat3 jyun2.
Modern Standard Mandarin (MSM) translation:
20歲的你在做什麼?台灣大學生在佔領立法院
Èrshí suì de nǐ zài zuò shénme? Táiwān dàxuéshēng zài zhànlǐng lìfǎyuàn.
English:
"What is 20-year-old you doing? Taiwanese university students are occupying the Legislative Yuan."
This ties in perfectly with the recent post entitled "Once more on the present continuative ending -ing in Chinese" in two ways:
1. thematically both this poster and the recent Language Log post have to do with the occupation of the Legislature by students in Taiwan
2. Cantonese gan2 緊 functions somewhat similarly to the present progressive English "-ing".
Note the quite different structure of Mandarin:
Cantonese:
Vb gan2 緊 ("be Vb-ing")
MSM:
zài 在 Vb ("be Vb-ing")
NOTES
On the left side:  man4 zyu2 coeng4 民主牆 ("democracy wall")
20 as ji6 sap6 is perfectly correct and good vernacular Cantonese, though people are perhaps more likely to just say jaa6 廿.
既 is supposed to be 嘅 ge3; in this particular case it may be considered a slight miswriting.
[Thanks to Stephan Stiller and Bob Bauer]
---