« previous post | next post »
From Mengnan Zhang:
I found this very interesting image on Facebook. The three columns stand for how to write various terms in Cantonese, their pronunciation, and the meaning of the words listed. As a native speaker of Mandarin, I have no idea what these words are talking about even after reading the meaning of each. Linked back to what our professor had talked about in class, Cantonese is a language, which both script and speech have no correspondence with Mandarin at all.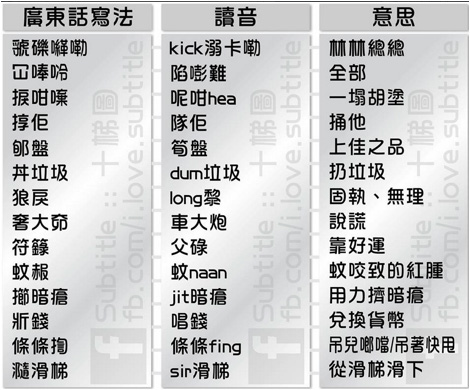 It's interesting that the so-called dúyīn / duk6jam1 讀音 ("pronunciation") column doesn't really help much with the pronunciation if you aren't already familiar with the pronunciation of the items in the first column.  Many of the pronunciation keys in the second column repeat characters in the first column or replace them with equally or more opaque characters.  The only pronunciation keys that are truly helpful are the eight syllables written in roman letters.
Also, the first character of the second item is very strange.  I've never seen it before, and it doesn't even look like a possible Chinese character to me.  However, using the four-corner code (37772), I did manage to track it down.  It turns out that it has the hypothetical pronunciation kǎn in Mandarin, but is actually a special Cantonese character pronounced gam2 ham6 kam2 and meaning:
(ham6) all, whole, everyone
(kam2) [1] (police) raid on illegal dens
[2] a cover, lid; to cover
[3] to slap; hit with the palms
The first character of the sixth item is 丼, the Japanese character for donburi, which will be familiar to Japanese foodies.  It seems like they may have borrowed it from Japanese for the sound of the first syllable of the Cantonese expression, though it is also said to be an old character for jǐng 井 ("well").  Phonologically and semantically speaking, however, the Japanese usage has nothing to do with jǐng 井 ("well").
The first two rows of the following table are Sino-Japanese readings and are related to the Sinitic meaning of "well".  The third row are purely Japanese style readings and convey the following two meanings:
a simple large bowl for serving food
a one-bowl meal served in a donburi bowl, consisting of a large portion of rice, covered in a meat or fish
To disambiguate between 1. and 2., speakers may refer more specifically to donburibachi 丼鉢, where hachi 鉢 means "bowl", and donburi mono, where mono もの / 物 ("thing") refers to the food.
So far, I have only covered two of the unusual characters used to write the Cantonese terms in the first column.  I haven't begun to touch upon the Cantonese pronunciations of the individual items, nor have I delved into their meanings, which, though given in column three in Mandarin, are not entirely transparent in all cases.
---