« previous post | next post »
From the Facebook page of the Hong Kong poet, Tammy Ho Lai-Ming, president of PEN Hong Kong, as reproduced in Andrea Lingenfelter, "At This Moment, Everyone Is a Revolution: The Poems of Tammy Ho Lai-Ming and the Hong Kong Crisis", Blog // Los Angeles Review of Books (8/4/19):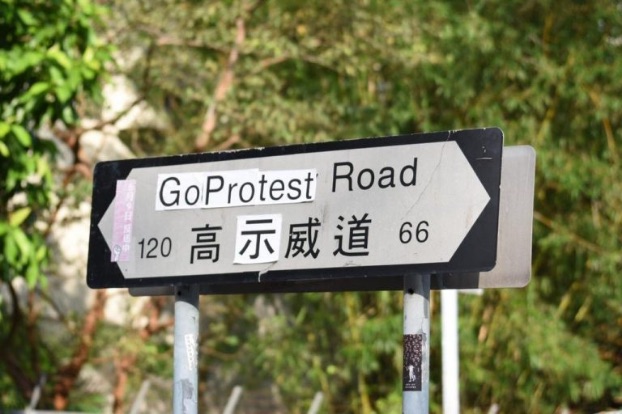 The sign originally said:
gou1si6wai1 dou6
高士威道
("Causeway Road")
That was altered to:
gou1 si6wai1 dou6
高示威道
("Go Protest Road")
The two versions are perfectly homophonous, but there is a slight difference in rhythm and emphasis, since the first three syllables are strung together as a transcription for "Causeway" in the first one, while the second one is divided into a 1-2-1 syllable pattern where the "gou1" stands for English "go", the "si6wai1" is the Cantonese word for "protest" and "dou6" is the usual word for "road".
The Hong Kong protesters are cleverly and wittily maximizing the linguistic resources at their disposal.  See the "Readings".
Readings
"Hong Kong protesters messing with the characters" (7/28/19)
"Graffiti correction" (7/26/19)
"Hong Kong anti-China graffiti" (7/26/19)
"Ich bin ein Hongkonger" (7/18/19)
"'People's Re-fu*king of Chee-na'" (10/12/16)
"A Sanskrit tattoo in Hong Kong" (10/4/16)
"Hong Kong protest puns" (6/20/19) — featuring an ingenious new character ostensibly meaning "Freedom, Hi!", but with a vulgar subtext
"Hong Kong protest slogan" (6/20/19)
"Cantonese protest slogans" (10/26/14)
"'Cantonese' song" (10/24/14)
"The umbrella in Hong Kong" (10/19/14)
"Translating the Umbrella Revolution" (10/3/14)
"The backstory to seven of the most popular protest slogans in Hong Kong's Umbrella Movement" (10/23/14)
"Hong Kong interlingual contrast" (11/26/14)
"New Cantonese word" (12/8/14)

"Thick toast: another new Cantonese pun " (12/11/14)
---