« previous post | next post »
Graffiti painted by protesters in the Liaison Office of the PRC in Hong Kong: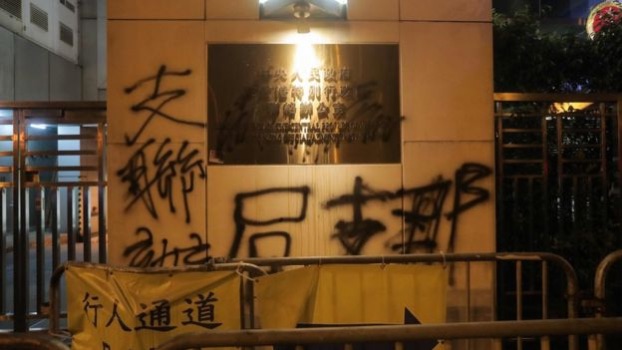 This is mighty powerful stuff, and I don't think it has been explained anywhere else, so we will go through it bit by bit.
First of all, we can dispense with the writing on the yellow banner which is attached to the metal barricade shown along the bottom edge of the photograph, since it just means "xíngrén tōngdào 行人通道" ("walkway; passageway")
The place pictured here is Zhōngyāng Rénmín Zhèngfǔ zhù Xiānggǎng Tèbié Xíngzhèngqū Liánluò Bàngōngshì 中央人民政府駐香港特別行政區聯絡辦公室 ("Liaison Office of the Central People's Government in the Hong Kong Special Administrative Region"); for short, it is referred to as "Zhōng liánbàn 中聯辦" ("Central Liaison Office").
The protesters changed "Zhōng liánbàn 中聯辦" into "Zhī liánbàn 支聯辦", in order to humiliate the Chinese government. Here "Zhī 支" stands for "Shina 支那", as in "Zhīnà rén 支那人" (Japanese pronunciation "Shinajin"), an offensive and derogatory word for Chinese people.
Although the first one is partially covered, I'm pretty sure that the three characters on the right are "diǎo Zhīnà 屌支那" ("penis / cock / prick / dick / screw / f*ck Shina").
Now we have to look more closely at the sensitive word "Shina":
Shina (支那, pronounced [ɕiꜜna]) is a largely archaic Japanese name for China. The word was originally used neutrally in both Chinese and Japanese, but came to be perceived as derogatory by the Chinese during the course of the Sino-Japanese Wars. As a result, it fell into disuse following the Second World War, was replaced by chūgoku (中国), and is now viewed as an offensive, derogatory label.
(Source)
By calling the PRC "Zhīnà / Shina 支那" or "Zhī / Shi 支", the people of Hong Kong strongly refuse to be considered as a part of mainland China and try to be culturally independent. There was a song called "Huángchóng tiānxià 蝗蟲天下" ("Land / World of Locusts"), calling mainland Chinese tourists "huángchóng 蝗蟲" ("locusts") and calling mainland China "Zhīnà / Shina 支那."  The lyrics went, "Chóngguó huàmíng jiào Zhīnà yīzǎo chǒu biàn Dōngyà 蟲國化名叫支那一早醜遍東亞" ("Insect Country, under the alias of Zhina / Shina, soon disgusted the whole of East Asia".  Now, it is widely used in Hong Kong's political movements.  The whole song with English translation may be found in "The Dictionary of Politically Incorrect Hong Kong Cantonese" here.
Readings
"The transcription of the name 'China' in Chinese characters" (6/17/17)
"Xina" (11/26/18)
Joshua A. Fogel, "New Thoughts on an Old Controversy: Shina as a Toponym for China", Sino-Platonic Papers, 229 (August, 2012), 25 pages (free pdf)
Geoff Wade, "The Polity of Yelang (夜郎) and the Origins of the Name 'China'", Sino-Platonic Papers, 188 (May, 2009), 26 pages (free pdf)
[h.t. Claudia Rosett; thanks to Chenfeng Wang and Lin Zhang]
---