« previous post | next post »
Public notice in a ward in Tainan, Taiwan: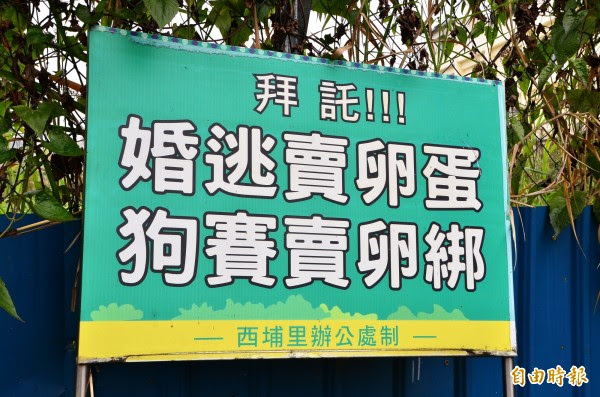 (Source)
If you read the sign character by character in Mandarin, it makes no sense:
hūn táo mài luǎn dàn
gǒu sài mài luǎn bǎng
婚逃賣卵蛋
狗賽賣卵綁
marriage escape sell roe egg
dog race sell roe bind
However, if you pronounce the characters with their Mandarin sounds but understand those sounds with their Taiwanese meanings, it makes perfect sense, as Chau Wu explains:
First line:
婚 MSM hun 'marriage' > Tw hun 燻 'fume' (Sp. fumar 'to smoke') > Tw. hun cigarette.   (Note: Tw does not have the -um sound, all European -um words are converted to -un.)
逃 MSM (pinyin taó) tháu 'escape' > Tw thâu 頭 'head'
So, 婚逃 > 燻頭 'cigarette butt'.
賣 MSM mài 'sell' > Tw mài (crasis of m̄ and ài) 呣愛  'do not'.
卵 MSM luăn 'roe' > Tw loān 亂 'wrong, wrongly'.
蛋 MSM (pinyin dàn) tàn 'egg' > Tw tàn 擲 'throw'.
Therefore, 卵蛋 > 亂擲 'throw randomly/all over the place'
So, the first line, when read in Tw with MSM pronunciation, means 'Do not throw cigarette butts all over the place.'
Second line:  Similar construction, two words need explanation.
賽 MSM sài 'competition, race' > Tw sài 屎 'feces'.
So, 狗賽 > 狗屎 dog's feces.
綁 MSM băng 'to bind' > Tw pàng 放   [大便].
So, the second line means 'Do not let dogs defecate all over the place.'
Now, why do you think the people who wrote this sign would go to all those contortions to say something so straightforward and simple?
Readings
"No shitting here" (10/10/15)
"Scoop the poop" (4/15/15)
"Ruby phonetic annotation for Cantonese" (5/6/19)
"Phonetic annotations as a welcome aid for learning how to read and write Sinographs" (4/26/19) — with dozens of additional posts on the value of phonetic annotation listed in the "Readings" section at the end
---