« previous post | next post »
Photograph of a sign in Taipei, Taiwan sent in by Chuck Cook: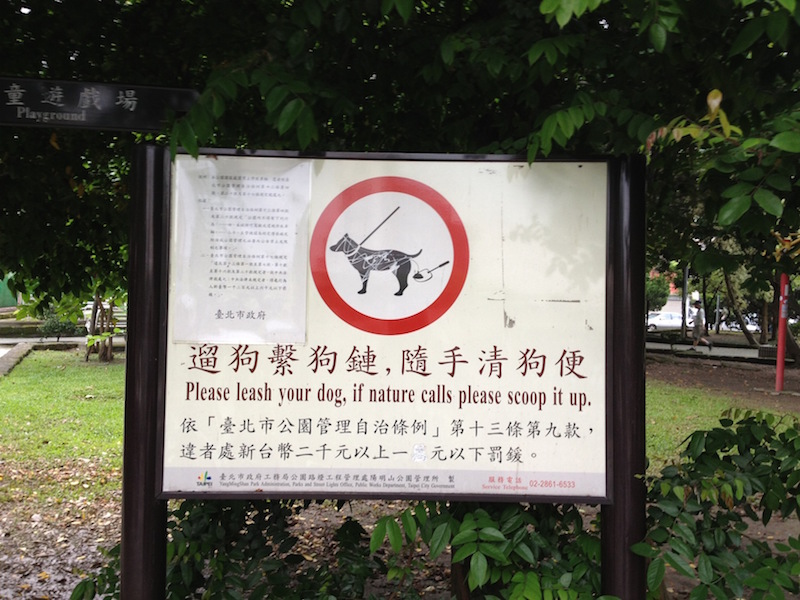 The notice in large characters reads:
liú gǒu xì gǒu liàn, suíshǒu qīng gǒu biàn
遛狗繫狗鍊,隨手清狗便
When you walk your dog, keep it on a leash; clean up the dog do as you go.
The corresponding English on the sign is an example of anti-Chinglish. What we have here is a 10-character rhyming couplet translated perfectly and idiomatically into English, albeit not in rhyme.
This is at a very small park in Tianmu 天母 (google map coordinates are 25.111696, 121.525021). A web search suggests that the Chinese couplet is widely used in Taiwan — it even has its own Facebook page.
Googling the English phrase gives only seven hits, all about Taiwan, so we may infer that the English translation is local.
The bigger picture is that in Taiwan (or perhaps only Taipei?) there have been big improvements in the English in official signage over the past few years, with many examples of competent (the entire Metro system) or even inspired translations (such as this sign).
---