« previous post | next post »
I'm in Hamburg for lectures and meetings this week.
The first day I was here, in the afternoon I went out for a walk.  After taking about 50 steps from the front door of my hotel, I saw this lettering on the glass facade of a nearby building: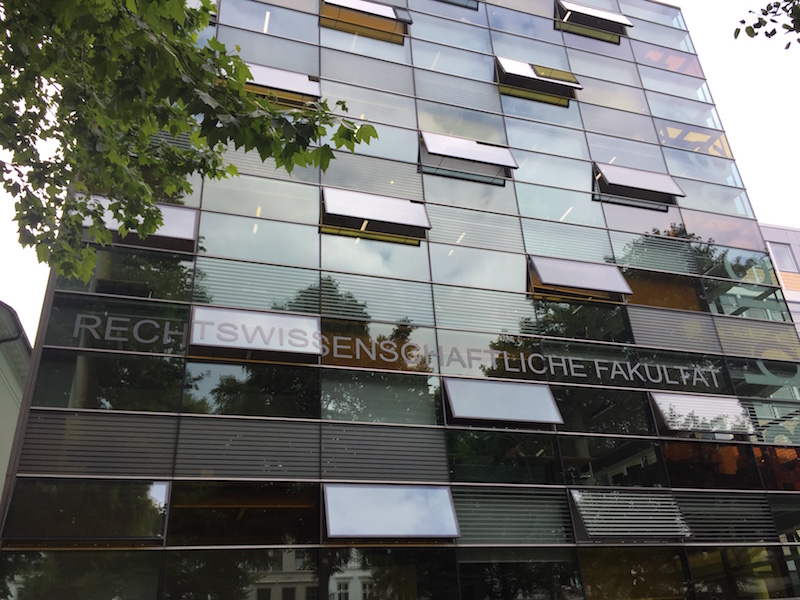 "Rechtswissenschaftliche Fakultät".
My feet were glued to the ground.  I just looked up at that big, long word and pondered.  "Hmmmm," I thought to myself.  "How would we say that in English?"
"'Law Faculty' or 'Faculty of Law.'"
That made me even more unwilling to move on.
For the next few minutes I just stood there processing in my mind the difference between "Law Faculty" and "Rechtswissenschaftliche Fakultät".  Of course, one could also say "Juristische Fakultät" or "Recht Fakultät" in German, but here at the University of Hamburg, they chose to say  "Rechtswissenschaftliche Fakultät".  I kept thinking to myself, "What are the epistemological implications of saying it that way?  How are they conceiving or law when they use such a big, complicated word?  And how are we understanding jurisprudence when we use such a tiny word as 'law'?"
Although "law" is only three letters long, it carries a deep background of understanding about legal matters that orients lawyers and jurists in a particular way that must be very different from what people think of when they talk about "Rechtswissenschaft" ("right" + "science"). From the Online Etymological Dictionary:
Old English lagu (plural laga, combining form lah-) "ordinance, rule prescribed by authority, regulation; district governed by the same laws;" also sometimes "right, legal privilege," from Old Norse *lagu "law," collective plural of lag "layer, measure, stroke," literally "something laid down, that which is fixed or set" from Proto-Germanic *lagam "put, lay," from PIE root *legh- "to lie, lay" (from PIE root *legh- "to lie down, lay"). Identical with lay (n.2) as "that which is set or established."

Rare in Old English, it ousted the more usual ae and also gesetnes, which also were etymologically "something placed or set." Compare also statute, from Latin statuere; German Gesetz "law," from Old High German gisatzida; Lithuanian įstatymas, from įstatyti "set up, establish."

In physics, "a proposition which expresses the regular order of things," from 1660s. Law and orderhave been coupled since 1796. To lay down the law (1752) is pleonastic (the "law" in the figure is biblical law, laid down from the pulpit). Poor laws provided for the support of paupers at public expense; sumptuary laws restrained excesses in apparel, food, or luxuries.

It is more common for Indo-European languages to use different words for "a specific law" and for "law" in the general sense of "institution or body of laws," for example Latin lex "a law," ius "a right," especially "legal right, law." Words for "a law" are most commonly from verbs for "to put, place, set, lay," such as Greek thesmos (from tithemi "to put, place"), Old English dom (from PIE *dhe- "to put, place, set"), Lithuanian įstatymas (from statyti "cause to stand, set"), Polish ustawa (from stać"stand").

Words for "law" in the general sense mostly mean etymologically "what is right" and often are connected with adjectives for "right" (themselves often figurative uses of words for "straight," "upright," "true," "fitting," or "usage, custom." Such are Greek nomos (numismatic); French droit, Spanish derecho, from Latin directus; Polish prawo, Russian pravo (from Old Church Slavonic pravŭ"straight," in the daughter languages "right"); also Old Norse rettr, Old English riht, Dutch recht, German Recht (see right (adj.1)).
I also contemplated another three letter word in our legal tradition, lex, but that is a Latinate term that is completely separate from "law", so I won't go into it here.
Finally, a law student came out from the Rechtswissenschaftliche Fakultät building and approached me, as though she wanted to help me, and that rescued me from my reverie.
"What were you thinking of?" she asked.  I told her that I was just thinking of how short "law" is and how long "Rechtswissenschaftliche" is, and of all that that implies.
She reflected for a moment and then said with a smile, "That's what makes us German.  We're famous for our long words."
I collected myself and walked fifty more steps down the street where I was amused by this sign on another building: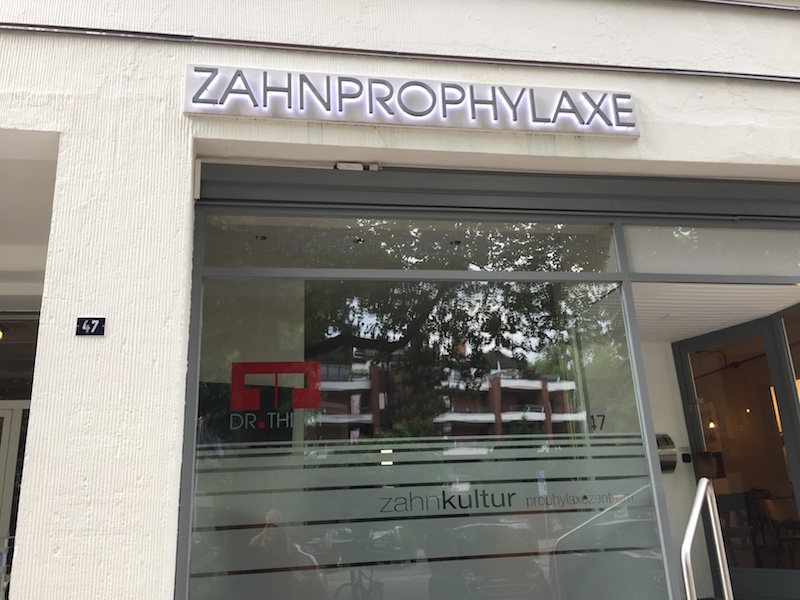 Though we'd probably usually say "dental hygiene" (Latin + Greek) for this in English, we could also say "dental prophylaxis", which also consists of a Latin-derived word and a Greek-derived word.  Somehow, the bonding of Germanic "Zahn-" with Greek "- prophylaxe" into a single, longish Modern German word charmed me more than "dental hygiene" or "dental prophylaxis".
I bought a cup of tea and then headed back to my hotel.  When I got to Johnsallee where my hotel was located, I noticed this street sign: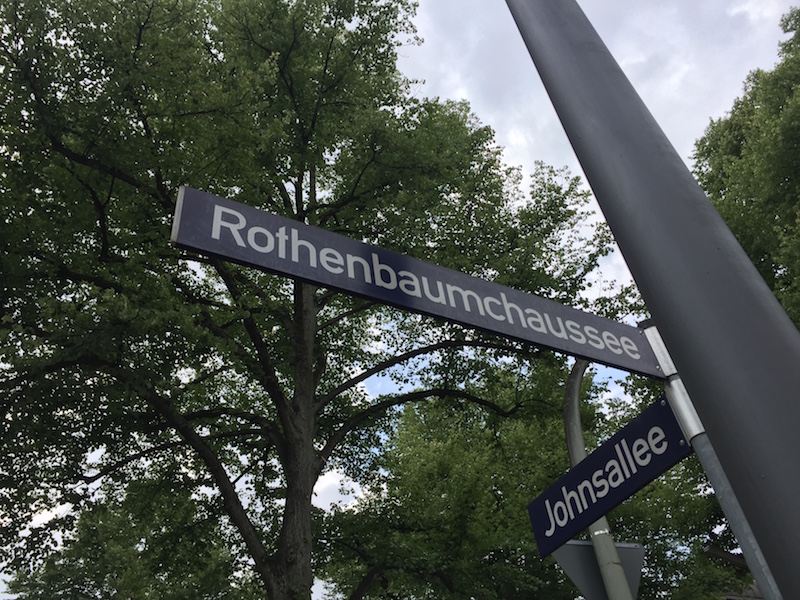 Whoa, whoa!  Wow, wow!  That's a mouthful for one word and a lot of letters to pack on to one street sign.
I could tell by taking one look at it that "Rothenbaumchaussee" most likely means "Red Tree Street", but there are two peculiarities of the spelling that struck me when I first saw the name.  My knowledge of German language history is not good enough to explain the niceties of the spelling of the first part of this street name, but it is significant that the word for "red" ends with "-th" rather than the "-t" it has in modern German.  Moreover, it appears in its declined form, which must reflect an original "am Rothenbaum" ("at / on Red Tree").
Here, in the name "Rothenbaumchaussee", the "red tree" actually refers to a "red beam", i.e., a red customs barrier that could be lowered across the road to control traffic.  Note that German "baum" and English "beam" are clearly cognate.
So here we have two very German sounding terms for "red" and "tree/beam" at the beginning of this long street name, but then comes "chaussee", a word that strikes me as very French sounding.  In my travels in Germany over the decades, from time to time I've noticed this unusual feature of some German street names and wondered why it was so, but it's only now that I'm staying next to Rothenbaumchaussee that I've decided to determine the reason, and here it is (from Wikipedia):
The German word Chaussee was borrowed from the French chaussée by the German construction industry in the 18th century. The French word, in turn, went back to the Gallo-Romanic via calciata and meant a road surfaced with firmly compacted crushed rock bound with lime. Contemporary German translations of the word were Straßendamm ("road embankment") and Hochweg ("high way") and even the roughly similar English word, highway. Around 1790, Adelung complained that "Several new authors have proposed German names but these expressions "do not capture the concept either, and may be used for every other type of artificial way [Kunststraße]." The word Kunststraße ("artificial road") then established itself but, in the main, the French word entered the German language as a loanword.

Today many road names end in -chaussee. Hamburg has retained the term in its street names (Elbchaussee, Eimsbüttler Chaussee etc.), Berlin likewise (Potsdamer Chaussee, Johannisthaler Chaussee), whilst in Bremen in 1914, the chaussees were renamed, following a decision by its citizens, as Heerstraßen (literally "military roads"). In Aachen and Münster/W. the term Steinweg ("stone way") is used instead. This also occurs in Flemish as steenweg.
Each language has its own genius, and it's all the more fascinating when they blend with each other and are compared one to the other.  How could one ever be bored?
[Thanks to Kai Vogelsang for information on the "red beam" and to Zhenzhen Lu for the photographs]
---