« previous post | next post »
Advertisement recently spotted by Guy Freeman in the Central, Hong Kong MTR (subway) station: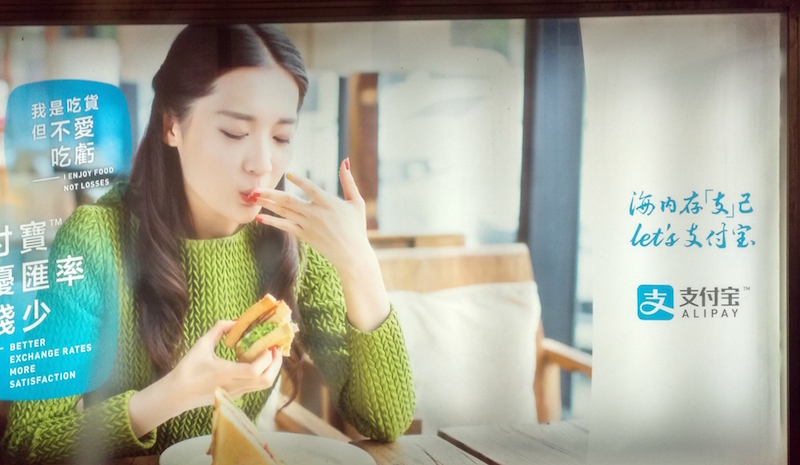 It's a mixture of Chinese and English, of simplified and traditional characters.  In this post, I will focus on the calligraphically written slogan on the right side of the poster:
Hǎinèi cún 'zhī'jǐ, let's zhīfùbǎo
海内存「支」己,let's支付宝
This slogan is not easy to translate.  Consequently, before attempting to do so, I will explain some of the more elusive aspects of these two clauses / lines.
First of all, the zhī 支 inside single Chinese quotation marks in the first clause has more than two dozen different meanings, including "support, sustain, raise, bear, put up, prop up, draw money, pay, pay money, disburse, check / cheque, defray, protrude, put off, put somebody off, send away, branch, stick, offshoot, twelve earthly branches, a surname, division, subdivision, auxiliary verb, measure word for troops".  For the moment, I'll refrain from attempting to translate it in the present context.
In the second clause, zhī 支 is part of the disyllabic word zhīfù 支付 ("pay [money]; defray"), which, in turn, is part of the trademark Zhīfùbǎo 支付宝 ("Alipay", China's clone of PayPal).  Being the name of a company, Zhīfùbǎo 支付宝 ("Alipay") is a noun.  However, since it here follows "let's" to form a first person plural command, it is acting as a verb:  "let's Zhīfùbǎo 支付宝" ("let's Alipay").
When we realize that the first clause is a literary allusion, it gets even trickier.  The first clause is perfectly homophonous with and echoes the first line of this couplet by the Tang poet, Wang Bo 王勃 (650-676):
hǎinèi cún zhījǐ, tiānyá ruò bǐlín
海内存知己, 天涯若比邻
"When you have a close friend in the world, the far ends of heaven are like next door."
Thus 'zhī'jǐ「支」己 (lit., "pay self") is a pun for zhījǐ 知己 ("bosom / close / intimate friend; confidant[e]; soulmate", lit., "know-self").
I would translate the whole couplet this way:
"You have a bosom friend (pay pal) everywhere, let's Alipay"
Guy notes that the ad "is from Alipay, a subsidiary of Alibaba, a very large Internet company from China. This shows the occasional outbursts from Chinese officials about defeating English to be useless at best."
Last question:  why did they use the English word "let's" instead of the equivalent Mandarin, "ràng wǒmen 让我们" or "ràng wǒmen yīqǐ 让我们一起"?  But that's three or five syllables instead of one, so it sounds clumsy and clunky instead of neat and crisp the way an ad should be.
If they wanted to avoid the English "let's" and use only Chinese, they could have written something like this:
yīqǐ Zhīfùbǎo 一起支付宝 ("together Alipay")
To tell the truth, in terms of rhythm, idiomaticity, and catchiness, that actually sounds better than "let's Zhīfùbǎo 支付宝 ('let's Alipay')" when paired with "Hǎinèi cún 'zhī'jǐ 海内存「支」己" ("You have a bosom friend [pay pal] everywhere").
Bottom line:  they wanted to sound international, since Alipay has global aspirations.
There have been many earlier posts on multiscriptalism and multilingualism involving numerous languages and scripts.  Here are some that specifically feature Chinese:
This is not an exhaustive list.
[Thanks to Fangyi Cheng, Yixue Yang, and Jinyi Cai]
---