« previous post | next post »
This is a photograph of a page from an essay written by a third grade student at an elementary school in Suining, Sichuan Province, China: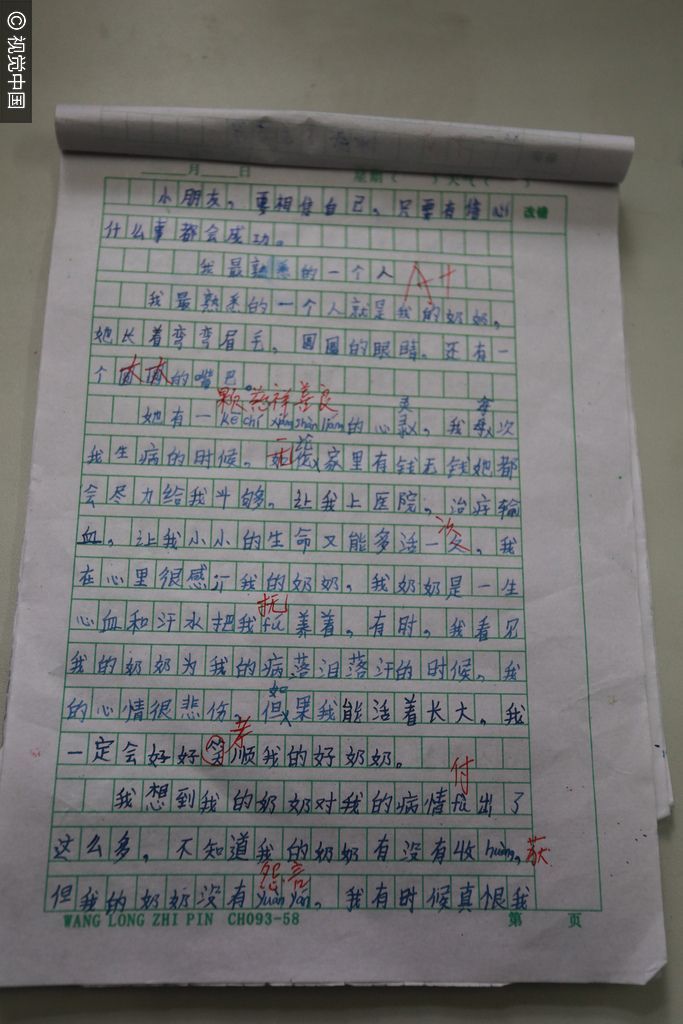 The title of the essay is "Wǒ zuì shúxī de yīgè rén 我最熟悉的一个人" ("The person with whom I am most familiar").  It's about the little girl's grandmother who raised her after her parents were divorced.  The little girl, who is now nine years old, suffers from zàishēng zhàng'ài xìng pínxiě 再生障碍性贫血 ("aplastic anemia").  This is a rare and very serious disease involving the insufficient production of new blood cells whose treatment may require immunosuppressive drugs and other medications, blood transfusions, a stem cell transplant, bone marrow donation, and so forth.  Even with the best treatment, the survival rate is not high.
The little girl's essay includes these words:
Wǒ kànjiàn wǒ de nǎinai wèi wǒ de bìng luò lèi de shíhòu, wǒ de xīnqíng hěn bēishāng. Rúguǒ wǒ néng huózhe zhǎngdà, wǒ yīdìng huì hǎohǎo xiàoshùn wǒ de hǎo nǎinai.……
我看见我的奶奶为我的病落泪的时候,我的心情很悲伤。如果我能活着长大,我一定会好好孝顺我的好奶奶。……
When I see my grandmother crying about my illness, my heart is very sad.  If I can stay alive and grow up, I will certainly take care to be filial to my dear grandmother….
When the little girl's essay, especially these words, were circulated on WeChat, it swiftly went viral, and that is how I found out about it.  For an article in Chinese that describes how the little girl came to write this essay and what happened after her teacher read it, see here.
What particularly caught my attention about the essay is how the little girl used Pinyin to write terms she didn't know in characters.  Here are those which I spotted in the photograph above:
kē cíxiáng shànliáng 颗慈祥善良 (m.w. [measure word] for heart "kind, honest"); cí is misspelled as chí
fú 抚 ("foster; nurture"); fú has the wrong tone for fǔ, unless she's writing out the sandhi
fù 付 ("expend; commit")
huò 获 ("obtain; reap"); the final part of the Pinyin is not clear
yuànyán 怨言 ("complaints")
In one place, she substitutes the homophonic character xiào 笑 ("laugh") for 孝 ("filial").
The substitution of Pinyin for characters that one is unable to recall or never learned, both for children and for adults, is a widespread and growing phenomenon.  We've encountered it many times before on Language Log.  Here are a few relevant posts:
And this classic:
All citizens of China who have received any education at all are familiar with Pinyin, because that is how every child in the PRC who goes to school begins the process of learning to read and write.  The use of Pinyin is reinforced in many other ways, including dictionary lookup, indices, technical terms, advertising, etc., but most of all for inputting text in electronic devices, the vast majority of which is done via Pinyin.  The government is neither promoting nor prohibiting the use of Pinyin beyond the initial stages of learning how to read and write.  It is just happening.  That is why I always speak of digraphia in China as "emerging".  When it reaches a certain stage, we will look around and see that it has become de facto digraphia and that Pinyin will be functioning as kana does for Japanese.
[h.t. Geok Hoon (Janet) Williams; thanks to Fangyi Cheng, Yixue Yang, and Jing Wen]
---