« previous post | next post »
A government sponsored mural in Kashgar: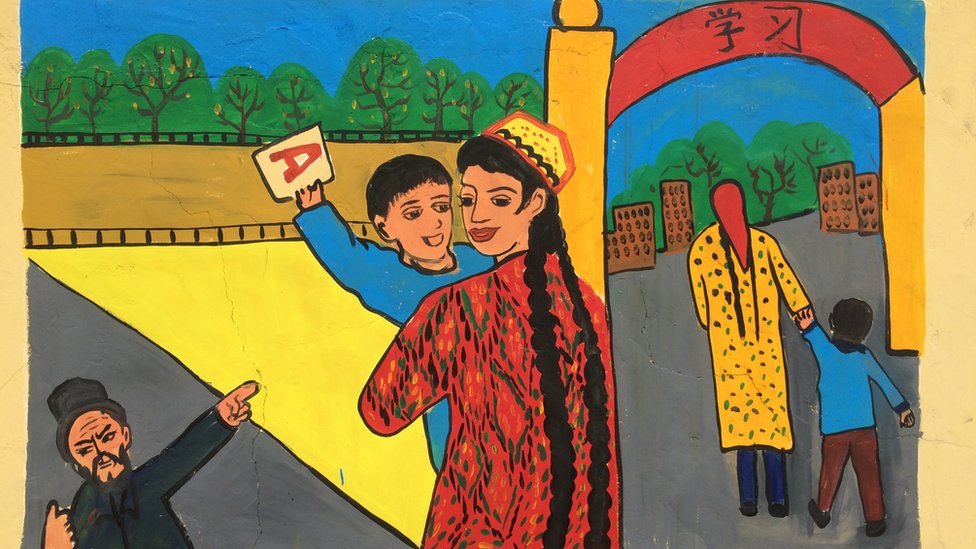 This is one in a series of 14 murals published in "The colourful propaganda of Xinjiang" (BBC News, 1/12/15).
I am particularly intrigued by the mural reproduced above because it depicts the Han notion of what education should be for Uyghurs. The fuming fellow dressed in black at bottom left represents an evil Muslim extremist / radical / terrorist / ideolog (a constant theme in most of the murals). He is upset that the mother in red is taking her child to a school — he would prefer that the child go to a madrasa for religious training.
On the positive side, what do we see? The mother dressed in yellow is leading her child through a gateway, on the arch of which is written the word x uéxí 学习 ("study; learn"). This is a word that we know well from "Good good study; day day up" (1/14/14) and other Language Log posts.
What is surprising is that the child's hand holds a card on which is written the letter "A" of the alphabet. Since Chinese is already represented by the xuéxí 学习 ("study; learn") on the arch, this probably stands for English, not pinyin. The Latin alphabet was formerly used to write Uyghur, but it was replaced by the Arabic alphabet in 1987.
This sends a powerful message that the government wants Uyghur children to learn Chinese and English rather than Uyghur written in the Arabic alphabet.
---