« previous post | next post »
The following photograph of a Beijing shop sign was buried on my desktop for about five years (I think that it originally came to me from Ori Tavor):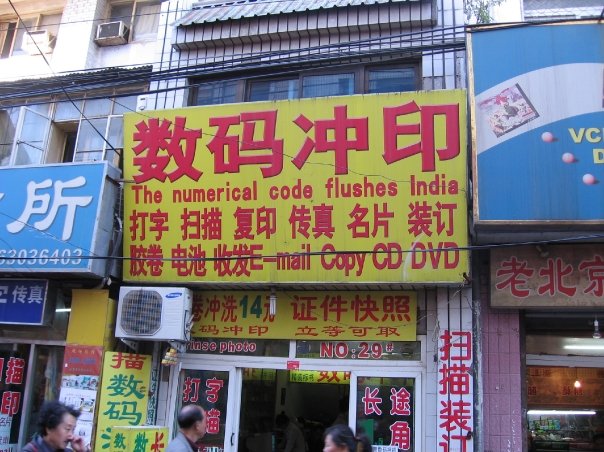 Here's what it really says:
shùmǎ chōngyìn 数码冲印 ("digital printing")
What? How did they so badly mangle those two words that most people in China know the meaning of and use regularly?
Simple: they just looked up shùmǎ chōngyìn 数码冲印 on iCIBA and iCIBA told them it means "The numerical code flushes India". (N.B.: all the other main online translation services — Google Translate, Bing Translator, and Baidu Fanyi — get it right.)
But how did iCIBA (or whoever they got it from) come up with such an outlandish translation?
Simple, they just took the most common meanings for the four individual characters used to write the two words, instead of looking up the words:
shù 数 ("number; numerical")
mǎ 码 ("code")
chōng 冲 ("flush" — the word for "develop a photographic print" is chōngxǐ 冲洗 ["flush-wash"])
yìn 印 ("India" [first syllable of the Mandarin transcription "Yìndù 印度"]; original meaning is "seal; stamp; mark; impress; print" — used here only for its sound)
chōngyìn 冲印 is short for "develop and print"; now, with digital photography, it is no longer necessary to flush-wash film before printing, but the Chinese retain the old terminology for the new technology
Oh, the perils of ignoring words in favor of characters!
---