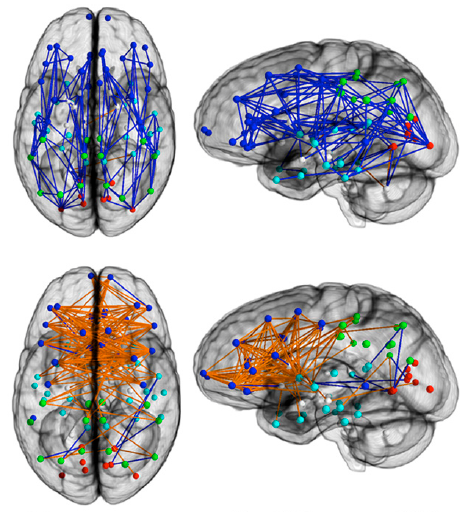 The paper that Geoff referred to a bit earlier today is Madhura Ingalhalikar et al., "Sex differences in the structural connectome of the human brain", PNAS 2013. It features a very impressive graphic showing sex differences in connectivity of regions within the brain, indicating a pattern where males (top row in the figure) "had greater within-hemispheric connectivity, as well as enhanced modularity and transitivity", whereas "between-hemispheric connectivity and cross-module participation predominated in females" (bottom row in the figure). This is argued to suggest that "male brains are structured to facilitate connectivity between perception and coordinated action, whereas female brains are designed to facilitate communication between analytical and intuitive processing modes".
Geoff linked to a letter from Rae Langton and John Dupré, which argues that "if the mind is the brain, any mental difference will be a brain difference", and that "training up half of humanity one way, half another" will inevitably create mental differences, which will correspond to brain differences, so that it's a mistake to see these results as necessarily a "deterministic fairy tale" about evolutionary biology, rather than a consequence of contemporary cultural differences.
This is all true, but I wonder whether something even simpler might be going on.
Read the rest of this entry »