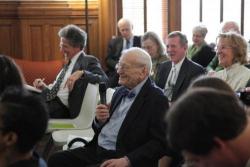 From the New York Times obituary for Frank Mankiewicz (son of Herman, nephew of Joseph):
Frank Mankiewicz, a writer and Democratic political strategist who was Senator Robert F. Kennedy's press secretary, directed Senator George S. McGovern's losing 1972 presidential campaign and for six years was the president of National Public Radio, died Thursday at a hospital in Washington. He was 90.
Mankiewicz was also a bit of wordsmith and coined a useful word now found in many dictionaries: retronym, defined by the OED as "a neologism created for an existing object or concept because the exact meaning of the original term used for it has become ambiguous (usually as a result of a new development, technological advance, etc.)."