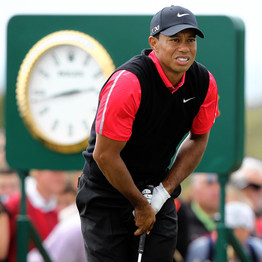 One of the best empirical studies of body language that I've ever seen appeared a couple of days ago in, of all places, the Wall Street Journal — Geoff Foster, "Reading Tiger's Body Language", 8/6/2013.
Perhaps more than any other golfer, Woods makes his emotions transparent on the course. You can immediately tell by his swagger when he's stroked a drive down the fairway. If he flubs one into the trees, you will likely see (or hear) his disgust before the ball hits a branch.
This inspired The Count to conduct an audit of the top-ranked golfer's body language. The goal was to provide fans with a Rosetta Stone of Tiger reactions—a handbook allowing those watching the PGA to know exactly what Woods thinks of his shots before anyone else does.
We watched more than 220 of Woods's shots from six different tournaments this year—the Masters, the Players, the Memorial, the WGC-Bridgestone Invitational, the U.S. Open and the British Open—and logged his reaction after each swing. Only tee shots and approach shots were evaluated (on putts and chips, the cameras tend to show the ball, not the player). The shots were then classified as "Good" (down the fairway/near the pin), "OK" (in the first cut/on the green but not close to the hole) and "Bad" (in the trees, the bunkers, the deep rough, etc.).