« previous post | next post »
I've never seen as much popular interest in non-verbal communication as in the  #FreeChrisChristie meme on Twitter, Vine and elsewhere.
For a survey, see Ashley Feinberg, "Chris Christie, Blink Twice If You Need Help", Gawker 2/1/2016: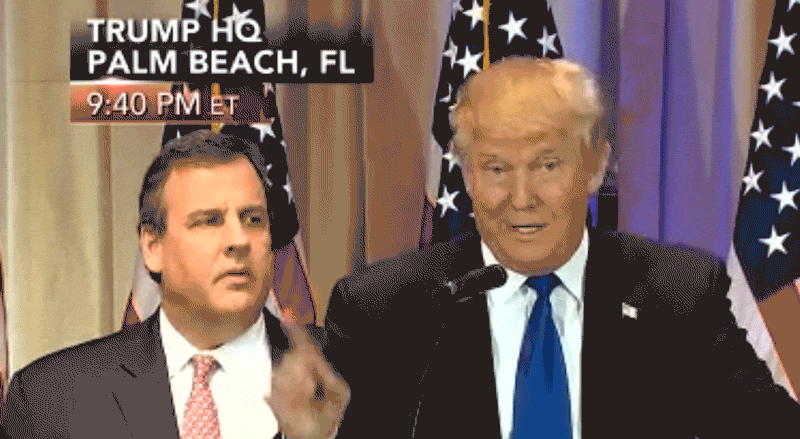 A small sample of the other coverage: Tierney McAfee, "#FreeChrisChristie: Twitter Goes Wild for 'Hostage' Chris Christie at Donald Trump's Side on Super Tuesday", People 3/2/2016; Dana DiFiippo & Emily Baby, "How Chris Christie's facial expressions won Super Tuesday", Philadephia Media Network 3/2/2016; Kate Ward, "Chris Christie Super Tuesday Face Memes & Jokes, Because We All Noticed How Terrified He Looked", Romper 3/2/2016.
Or Gail Collins, "Call Me Mister Trump", NYT 3/3/2016:
Remember when Christie was supposed to be tough and strong and bold? Now he's just Donald Trump's sidekick — his Robin, or maybe more appropriately, his Chewbacca.
Trump and his helper made their Super Tuesday appearance at Mar-a-Lago, his gold-plated Florida club where the chandeliers are as high as an elephant's eye and the membership fee is $100,000. Recently, Trump said it represents his championship of equality.
Seriously. When Trump was asked about the Ku Klux Klan controversy on "Good Morning America," he once again "disavowed" the former K.K.K. leader David Duke, and then added: "There's nobody that's done so much for equality as I have. You take a look at Palm Beach, Fla. I built the Mar-a-Lago Club totally open to everybody."
On Super Tuesday night in the ballroom of equality, Christie stood behind Trump appearing totally miserable. As a number of commentators noted, he looked like a person who had just been informed that his family was being held hostage and would be released only if he kept quiet and stared straight ahead.
And an even smaller sample of the social media reaction:
---
Can Chris Christie hold up a copy of a newspaper so that we know the hostage video was taken recently?

— Ben Jacobs (@Bencjacobs) March 2, 2016
---
Don't worry @GovChristie @POTUS is doing all he can to free you. #FreeChrisChristie pic.twitter.com/9uZ3QIorse

— Rodak425 (@Rodak425) March 3, 2016
---
#ThatAwkwardMoment when you wakeup with a hangover & find yourself in #DonaldTrump's Dungeon. #FreeChrisChristie pic.twitter.com/vfgNJU3hWr

— W Smith (@wessmith123) March 3, 2016
---
"Send snacks." –@ChrisChristie, probably #FreeChrisChristie pic.twitter.com/T6kSll1NK5

— Holly Fussell (@redhairbluevote) March 2, 2016
---
that explains it pic.twitter.com/YlBKp58qfy

— Mike Tunison (@xmasape) March 2, 2016
---