« previous post | next post »
On the blog "Mama's Got Wanderlust", the following sign appears without adequate explanation: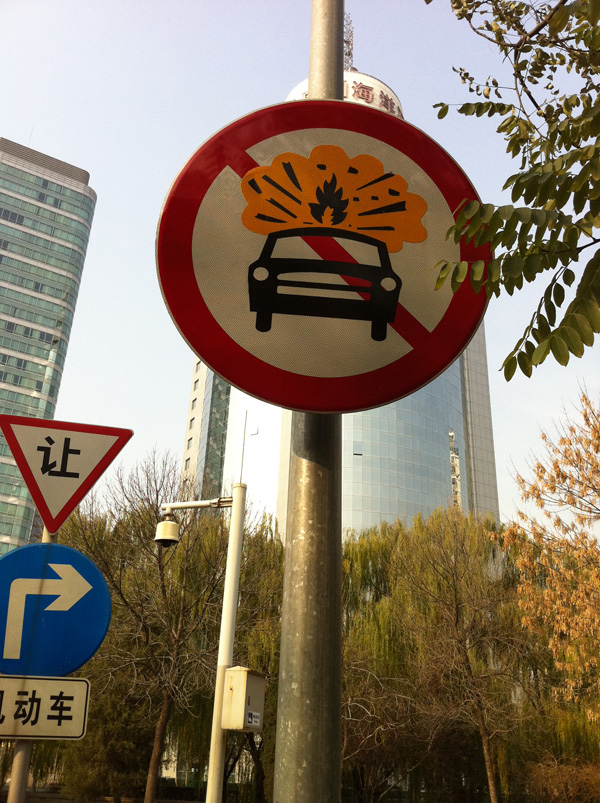 Before turning to the next page, Language Log readers are encouraged to try their hand at an explanation. Write down on a piece of paper what you think the sign means BEFORE you turn the page. Scout's honor!
My first respondent, Brendan O'Kane, sent in this ingenious — and very Philly-ish explanation: "No Mummers!"
The sign is meant to inform drivers that, if their vehicles are carrying hazardous materials, they are not permitted to enter the street where this sign is posted. How do I know for sure that this is the intended meaning? Because I have found the key to this sign and scores of other traffic signs in China. Before I show the key to readers, however, I would like to request that they divide themselves into two groups: those who know how to read Chinese and those who do not. The reason for this is that the key I am about to reveal provides verbal explanations for all of the signs that are included.
I suspect that, if one does not read the Chinese verbal explanations, well over half of all the signs in the key will be opaque to most people who encounter them. The complete key contains hundreds of signs in eleven categories. Our sign is the last in category #2 (signs of prohibition).
Honest injun! If you refrain from reading or are unable to read the Chinese explanations, don't you find more than half of the signs completely impenetrable?
All right, I've kept you in suspense long enough. Here's the key:
http://www.chetx.com/jiaotongbiaozhi/jinlingbiaozhi.htm
[A tip of the hat to Elliot Sperling and thanks to Gianni Wan]
---