« previous post | next post »
Bruce Balden sent in this photograph of a sign on a restaurant in the Vancouver area: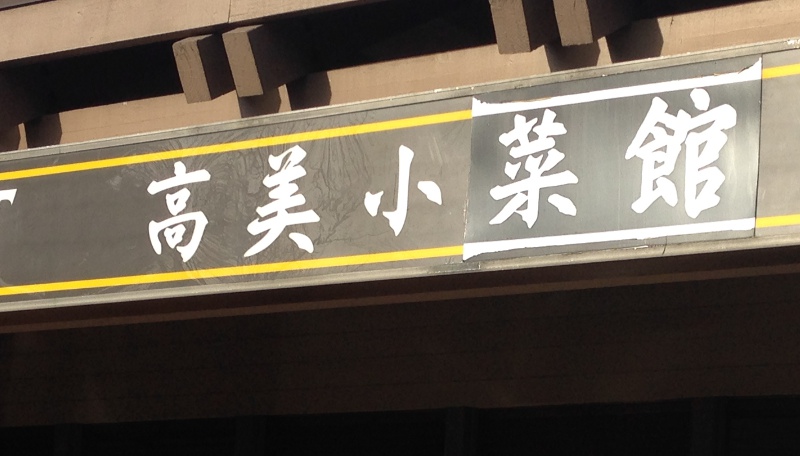 In Modern Standard Mandarin (MSM), that would be pronounced gāo měi xiǎo càiguǎn 高美小菜館; in Cantonese, the pronunciation would be gou1 mei5 siu2 coi3 gun2. The individual morphemes mean "high beautiful small vegetable shop".
This establishment, which is at 221 Ioco Rd Port Moody, BC, has as its English name (not shown in the photograph) "Gourmet Chinese Restaurant". That's rather disappointingly generic, since it receives 1,050,000 Google hits. Most eating establishments that adopt this pretentious designation preface it with a modifier: Shanghai, Peking, Village, etc., so it's rather lame for this one to call itself simply "Gourmet Chinese Restaurant".
The Chinese name for the place is much more interesting and distinctive. As I'm sure all readers will have noticed, gāoměi 高美 is actually a transcription of the English (< French) word "gourmet", with the meanings "high" and "beautiful" having a nice, elevated ring. So with gāoměi 高美 ("high & beautiful"), they've killed two birds with one stone: they've conveyed the sound of the English name of the restaurant (with which they probably began) and come up with a catchy descriptor that means something appropriate.
We know from this Language Log post of just over a year ago that Chinese restaura(n)teurs worldwide often come up with the English (or other local language) name for their establishment first ("Me Old China") and then devise a Chinese name to match it. What could be more generic for a Chinese restaurant than to style it a "Chinese Restaurant"? As such, I won't spend any time discussing it.
There are a number of different Chinese words that mean essentially "restaurant".
cāntīng 餐厅 55,700,000 ghits
fànguǎn 饭馆 2,706,000 ghits
cānguǎn 餐館 3,470,000 ghits
fàndiàn 飯店 21,500,000 ghits
(also doubles as a common word for "hotel", so that's why it gets such a huge number of hits)
jiǔjiā 酒家 6,540,000 ghits
càiguǎn 菜館, in contrast, receives only 1,210,000 ghits, which right away makes it seem special. Many dictionaries designate it as a fāngyán 方言 ("topolectal") term, but it is very annoying that they don't tell us which topolect it comes from.
Adding xiǎo 小 ("small; little") in front of the already special càiguǎn 菜館 makes it sound even more intimate and unpretentious, just the opposite of the generic and hollowly pretentious "gourmet restaurant". As pointed out above, càiguǎn 菜館 literally means "vegetable shop". Since there are already so many other Chinese terms that are translated as "restaurant", I think that it is boring to render càiguǎn 菜館 the same way. A number of online sources translate càiguǎn 菜館 as "cookshop", which sounds about right to me.
The usual word for "gourmet" in MSM is měishí 美食. If the folks at Gāoměi xiǎo càiguǎn 高美小菜館 had called their place Měishí Zhōngguó cānguǎn 美 食中国餐馆 or some other such direct translation of the pathetic English name, that would have been dreadfully boring. Thank goodness they had better sense when doing the Chinese translation to display a bit of imagination. As a result, they devised a Chinese name for their shop that has sufficient pizazz to attract customers. If they had called it Měishí Zhōngguó cānguǎn 美食中国餐馆 ("Gourmet Chinese Restaurant"), both potential Chinese-speaking and English-speaking patrons would have been turned off / away.
As a bonus for devoted Language Log readers, here is a wonderful collection of Chinglishisms, many of them having to do with food. I've covered about a third of these, some classics, on Language Log before, but there are quite a few new and spectacular specimens in this collection. My favorite is suíbiàn 隨便 ("Whatever"), the name of a zònghé guǒzhī 綜合果汁 ("mixed juice") in some restaurant, but there are others that are absolutely hilarious.
I hope that the menu at Gāoměi xiǎo càiguǎn 高美小菜館 (Little Gourmet Cookshop) doesn't have any howlers like these!
[Thanks to Bob Bauer and Stephan Stiller]
=======
It was only after I made this post and looked at the photograph the way it appears (so clearly) on Language Log that I noticed that the last two characters of the name of the shop had been pasted on later than the rest of the sign.  Here are several possible reasons for why the owners may have made the change:
1. the painter of the sign made a mistake and somebody caught it
2. they wanted to change from simplified (càiguǎn 菜馆) to traditional (càiguǎn 菜館) — but note that the traditional form of the character on the sign as it now stands is not the same as the one that I just typed; the grass radical (Kangxi 140) at the top of the character as typed has three strokes, but as written on the sign (which is the way I was taught to write it and the way I still do instinctively handwrite the grass radical at the top) it has four strokes (a still more formal way of writing the grass radical has six strokes, viz., 艸).
3. they had some prosaic term for "restaurant" in this position but decided later to adopt something that was jazzier or cuter, hence càiguǎn 菜館
---