« previous post | next post »
Here is a closeup of a remarkable work of installation art that is being shown at this year's Venice Biennale: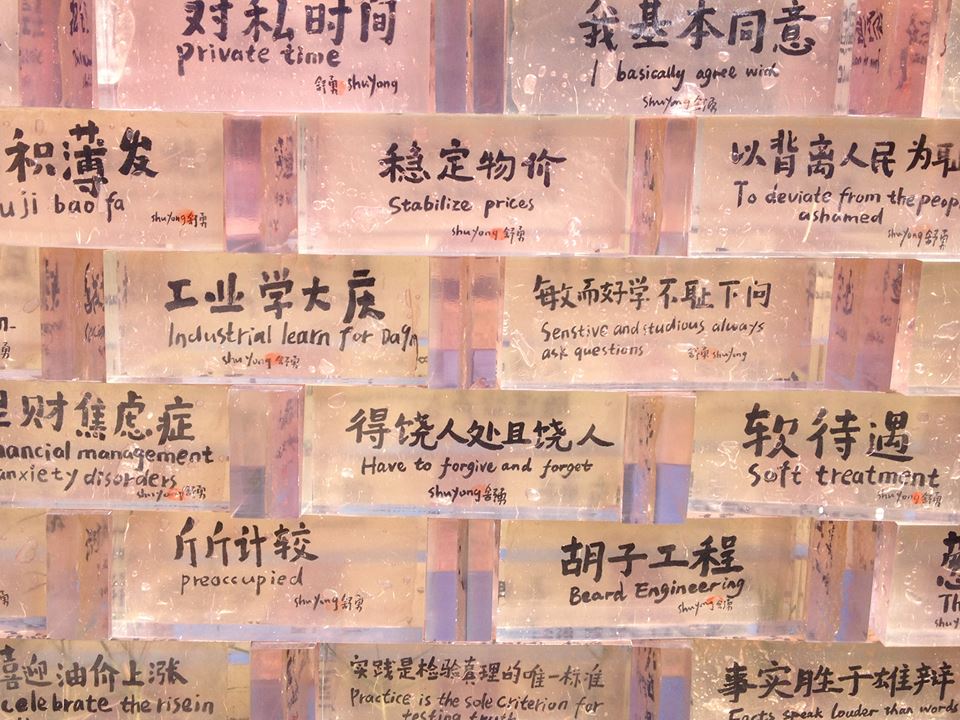 There is a short article on this thought-provoking work in Art & Science Journal. Written by Lea Hamilton and entitled "Lost in Translation: Shu Yong's Guge Bricks", it includes five exceptionally clear photographs.
Anita Hackethal has written a brief essay about the artist and his work: "shu yong: great wall of guge bricks at the china pavilion". Since Hackethal's essay is both informative and illuminating, plus being well illustrated, I quote here the opening two paragraphs:
in his installation for the venice art biennale 2013, chinese artist shu yong constructs a sculptural reflection on the divide between eastern and western values and the 'googlization' of culture in contemporary society. yong solicited 1500 different maxims, quotations, mottos, and popular phrases from fellow chinese citizens and translated them word by word into english using google. he then wrote both the chinese and corresponding english literal translation for each selection in calligraphy onto a piece of xuan rice paper, which was embedded into an individual transparent brick of cast resin, shaped to the proportions of those in the great wall of china.
the resulting mass of 1500 'guge' bricks forms a solid wall in the exhibition courtyard, before crumbling into disorder at one side. they are an artifact to a particular moment in time and culture, where newly popular circulated words join traditional quotations before all are subjected to machine translation that jumbles and displaces their significance: 'into a new era' and 'marching towards science' join 'garlic you cheap' and 'boy crisis' in the translated english. shu yong finds these bricks a fitting metaphor for the ways that eastern and western cultures remain divided: even in the age of globalization and realtime communications, the transparent wall will remind us to confront the hidden 'walls' between different countries, nations, and individuals. at the same time, the chinese public's inclusion of words like 'photobomb' among the bricks is a reminder of cross-cultural influences.
In case you were wondering, "guge" is the Chinese transcription of "Google": Gǔgē 谷歌 (lit., "Valley Song"). However, since we're dealing with simplified characters in the PRC, Gǔgē 谷歌 conceivably could also mean "Grain Song", but I don't think that's what Google intended. The simplified character gǔ 谷 ("valley; grain") collapses two traditional characters, gǔ 谷 ("valley") and gǔ 穀 ("grain") into one. This is the same type of problem that led to the monumental confusion between "dry" and "f*ck", which we have covered in this and other posts on Language Log.
[h.t. Petya Andreeva]
---