« previous post | next post »
In the middle of last month, I participated in a double book launch by Cambria Press in Singapore (links here, here, and here).  The event was held at one of Singapore's most outstanding art galleries, called iPreciation (links here and here).  This is what I saw as soon as I walked in the door: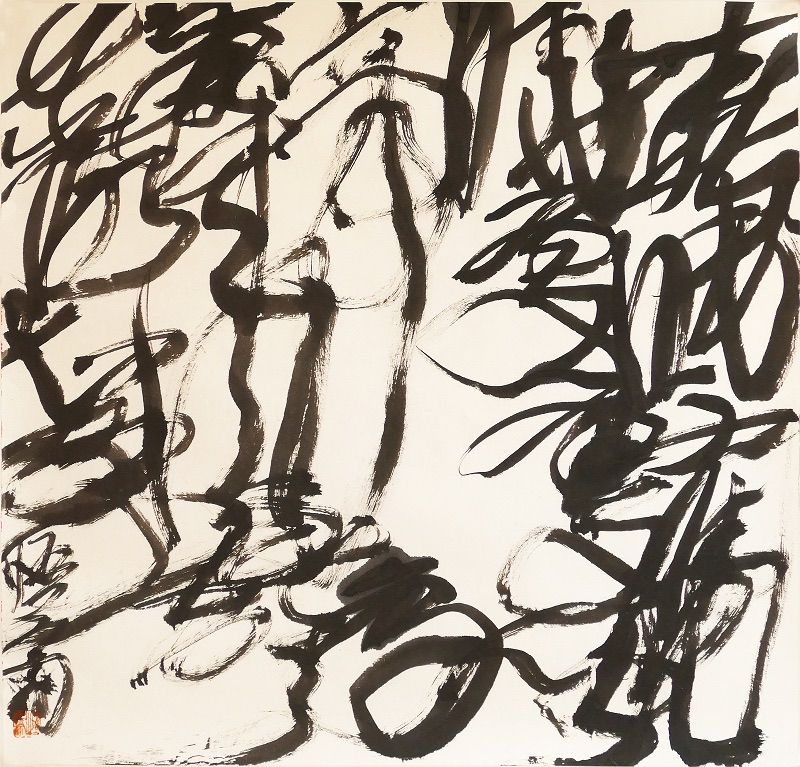 Displayed against a plain, white background, this was the "grassiest" cursive calligraphy that I have ever encountered.  The funny thing, though, is that, amidst the jumbled scrawl, I could pick out bits and pieces that I recognized.  The reason is that it is one of my favorite Tang poems," Chūnxiǎo 春曉 (Spring Dawn)", by Mèng Hàorán 孟浩然 (689/691-740):
chūnmián bù jué xiǎo,
chùchù wén tíniǎo.
yèlái fēngyǔ shēng,
huā luò zhī duōshǎo
春眠不覺曉,
處處聞啼鳥。
夜來風雨聲,
花落知多少
Asleep in spring unaware of dawn,
And everywhere hear the birds in song.
At night the sound of wind and rain,
You'll know how much from the flowers gone.
Translated by Elling O. Eide
In The Columbia Anthology of Traditional Chinese Literature
The calligraphy is by Wáng Dōnglíng (b. 1945, Rudong, Jiangsu Province), a highly acclaimed contemporary Chinese calligrapher and ink artist.  Wang calls this style "luànshū 乱书 (chaotic writing / calligraphy)" and says that is a great "túpò 突破 (breakthrough)" by him.
Wang is also famous for his public performances involving large format "kuángcǎo 狂草 (wild cursive)".  Here are two photographs taken at Wang's exhibition/public performance in Tai Miao/Forbidden City curated by Fan Dian:
As is evident in the first photograph, Wang literally dances when he does his "kuángcǎo 狂草 (wild cursive)".  I find a large expanse of his "luànshū 乱书 (chaotic writing / calligraphy)" so captivating as to be almost hypnotic.  Watching him in action, as in this video, one realizes that his is a highly kinetic art.  It reminds me somewhat of films of Jackson Pollock painting, like this one.
iPreciation features Wang Dongling's work and has a number of other pieces by him on exhibit.  The above video link includes an E-Catalogue.
For those who want to learn more about Wang Dongling, I have a copy of his CV and am willing to share it with others.
---