« previous post | next post »
The New York Metropolitan Museum of Art has a very-well received exhibit, "China: Through the Looking Glass" (7 May–16 August, 2015), which "explores the impact of Chinese aesthetics on Western fashion and how China has fueled the fashionable imagination for centuries."
One of the objects displayed is a (rather fetching) "Quiproquo" cocktail dress by Christian Dior (1951), the calligraphic pattern of which is based on 19th-century rubbing from a 10th-century stele inscription describing a sudden illness, an abdominal pain. (You can see both here; they're images 12 and 13 as you scroll down.)
Here's the dress: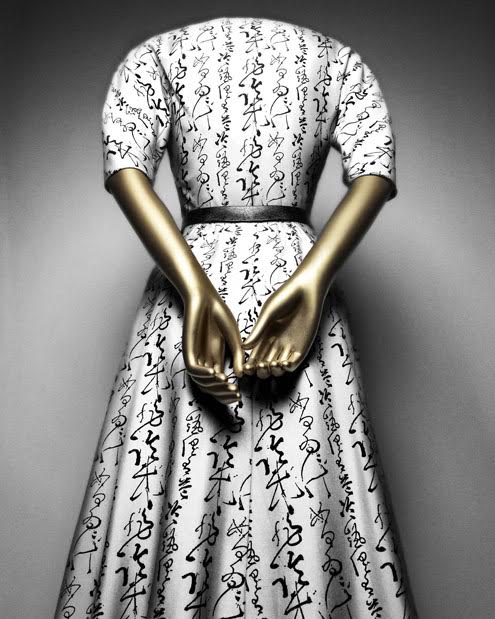 Christian Dior (French, 1905–1957) for House of Dior (French, founded 1947)
"Quiproquo" cocktail dress, 1951
French
Silk, leather
The Metropolitan Museum of Art, New York, Gift of Mrs. Byron C. Foy, 1953 (C.I.53.40.38a–d)
Photography © Platon
And here's the rubbing on which the calligraphy is based: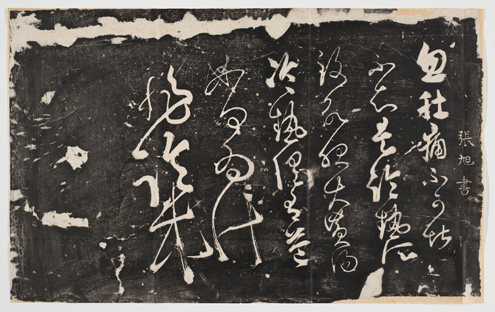 19th-century rubbing from a 10th-century stele describing a sudden illness, a stomach ache
Rubel Collection C-74
Photograph courtesy of Special Collections, Fine Arts Library, Harvard University
Jeff Weinberg, who called this dress to my attention, comments:
I'm not sure what that says about China, the West, aesthetics or fashion but I'd guess that it's probably a safe bet that not many haute couture items employ references to digestive maladies as part of their design.
It turns out that, although the calligraphy looks obscure and esoteric, it is a very well-known piece.  It is what historians of Chinese calligraphy informally and jocularly refer to as the "Bellyache letter" reputedly done by Zhang Xu (8th cent), a master of cursive (the "Cursive Saint") during the Tang dynasty.
Zhāng Xù 张旭,  Dù tòng tiè 肚痛帖
("calligraphic model of a note on abdominal pain")
The text is as follows:
Hū dù tòng bùkě kān / bùzhī shì lěng rè suǒ / zhì yù fú dàhuáng tāng / lěng rè jù yǒuyì / rúhé wéi jì / fēi línchuáng
忽肚痛不可堪/不知是冷热所/致欲服大黄汤/冷热俱有益/如何為計/非臨床
Alternative ending in some versions:
…Rúhé wéi jì / fēi lěng zāi
如何為計/非冷哉
I could, at this point, force a translation from both versions, but because there are some serious terminological issues and textual problems, I'll save the translation for the very end, after ironing out the philological obstacles to understanding the text.
A partial transcription of the text and large, clear photograph of the rubbing may be found here. A Chinese encyclopedia article on Zhang Xu's "Bellyache letter" may be found here, and a listing of Zhang's known calligraphy may be found here. This review and this collector's website post provide additional information on the context and characteristics of the "Bellyache letter".
From a historian of Chinese calligraphy:
I don't know why it would be considered a 10th century stele, unless what is meant is that it was cut on stone for a tie collection in the 10th century, perhaps the Chunhuage tie?
Notes:
1. tiè 帖 ("a book containing models of handwriting or painting for learners to copy or individual specimens from such a book")
2. Chúnhuà gé tiē 淳化閣帖 (Model-Letter Compendia of the Chunhua Pavilion; 992 AD)
3. Chúnhuà 淳化 is the name of a reign period (990-994) of Emperor Taizong of the Song Dynasty.
4. Zhang Xu's "Bellyache" tiè 帖 was converted into a stele inscription in 1058.
Notes from Robert D. Mowry, Curator Emeritus of Asian Art at Harvard University and Senior Consultant at Christie's since 2013:
I had heard that the Chinese text on the dress had to do with "gastrointestinal problems" but I haven't seen a translation of the text and didn't know its source. And I had no idea that there was a rubbing of the text in Harvard's collection. (By the way, the rubbing collection, which used to belong to the Fogg—now renamed the Harvard Art Museums—has been transferred to the Rubel Collection in Harvard's Fine Arts Library. The rubbings did not come from C. Adrian Rubel; rather, for the most part, they were collected in China by Langdon Warner in the 1920s and early 1930s.) That collection certainly includes a lot of fine rubbings!
I note that the Dior dress was designed in 1951. I doubt that Dior's inspiration came from the Harvard rubbing, as those rubbings hadn't been properly catalogued at that time, let alone published. Rather, I suspect that Dior must have had an image of another rubbing taken from the same inscription on stone. Of course, it's possible that Dior somehow saw the rubbing at Harvard or a photo of it (that someone passed along), but I'd think it more likely that he actually saw another rubbing.
From Bob's note and from other sources, we glean that there are many extant rubbings of this famous work by Zhang Xu.  Only those who are intimately familiar with Christian Dior's biography might know which particular rubbing he might have seen.  Regardless of where Dior may have seen this divine specimen of calligraphy, he immortalized Zhang Xu's eccentric prescription by putting it on his oddly named cocktail dress.
Incidentally, if you look carefully at the writing on the dress, you will see that Dior has taken a few characters out of Zhang Xu's text and repeated them over and over the length of the dress, but varying the section chosen from row to row.  If this dress were ever worn, and even now when it is on display at the Met, I can only imagine how many people who would have thought that it is "saying" something profound.  Even those who know a fair amount of Chinese or are literate in quotidian Chinese writing would be stymied by trying to "read" the dress.  I dare say that the same thing would happen for the vast majority of people who look at the rubbing directly.  Perhaps this is why I've never yet come across a translation of Zhang Xu's prescription.
Not only is the calligraphy cursive to a degree that it is difficult for someone who is only familiar with standard script to make out many of the characters, there are several textual problems that need to be solved before it can be interpreted.  On top of that, it is necessary to have a grasp of certain concepts and practices of traditional Chinese medicine (TCM) if the text is to be intelligible to us.
First of all, we must acquaint ourselves with the precepts of "heating" (rè 熱 ["hot"]) and "cooling" (liáng 涼 ["cool"]), properties which TCM practitioners ascribe to foods and medicines.  If these attributes of foods and medicines are not properly balanced, some sort of sickness is certain to ensue.  Conversely, if one is beset by illness resulting from such an imbalance or from other causes, the ingestion of foods and medicines with contrasting or compensating hot / cool qualities may well serve to improve one's condition.
We are now getting close to the point where we may attempt a translation, but there are two more major steps to take before we get there.  The most pressing is to recognize that the rhubarb in Zhang's prescription is not the same as the kind we put in pies (in season right now!).  The main ingredient of Zhang's autoprescription is dàhuáng 大黄 (lit., "big yellow"), which is Rheum palmatum L.
This is the celebrated plant medicine that the Qianlong Emperor (1711-1799) threatened to forbid further exports of to England, partly because Sir George Macartney (1737-1806), the first British envoy to China, refused to kowtow before him.  Chinese rhubarb is often used for treating constipation or the symptoms of intestinal diseases such as Irritable Bowl Syndrome (IBS).  This is significant, since strictly speaking Zhang Xu was experiencing dùtòng 肚痛 ("abdominal pain"), not 胃痛 ("stomach ache").
Zhang's prescription mentions dàhuáng tāng 大黄汤 (lit., "rhubarb soup"), but this doesn't mean that he wants to boil some rhubarb and consume it like soup.  Rather, he is referring to an herbal formula containing, among other items, rhubarb as the MAIN ingredient (or, in the argot of TCM practitioners, the "King" item).  See the Appendix for the complete recipe (in Chinese only).
The next thing that must be taken into account are the textual problems in the interpretation of the rubbing of Zhang Xu's note.  Here I wish to acknowledge that I have benefited from the advice of D. Pan, who received professional TCM training as a young man in China and who is currently writing a scholarly monograph on a TCM-related subject (he is also an authority on Chinese calligraphy).
Once the characters are deciphered, the text is not that difficult to comprehend, except for the last four characters in both versions.  For ease of reference, I repeat the text here:
Hū dù tòng bùkě kān / bùzhī shì lěng rè suǒ / zhì yù fú dàhuáng tāng / lěng rè jù yǒuyì / rúhé wéi jì / fēi línchuáng
忽肚痛不可堪/不知是冷热所/致欲服大黄汤/冷热俱有益/如何為計/非臨床
Alternative ending in some versions:
…Rúhé wéi jì / fēi lěng zāi
如何為計/非冷哉
Here's a forced translation of the first version:
[But] what should I do for a plan?  It's non-clinical.
And here's a forced translation of the second version:
[But] what should I do for a plan?  It's non-cooling!
Neither the first sentence nor the second sentence of these two versions makes much sense.  So we have to consider some emendations.  We shall find that, after emendation, the first version is superior, and, as D. Pan tells me, calligraphically it matches the rest of the rubbing better as well.  Fortunately, Christian Dior was relying on the first version for his dress.
Following this blog post by a contemporary calligrapher, let us emend chuáng 床 ("bed") to shì 市 ("market").  This gives the following reading, which makes perfect sense:  "I'm not near a market" (to get all the necessary ingredients for the formula).
D. Pan further feels that the character read as jì 计 ("plan") is actually zhī 汁 ("juice; extract", referring to the decoction), hence, "how to make the decoction?"
The contemporary calligrapher cited above also suggests that the character yù 欲 ("want; wish; desire") looks more like ruò 若 ("if; as; like"), meaning that Zhang Xu thought his condition could be cured IF he took this decoction.
The above reinterpretations render the entire piece more logical in that it conveys Zhang Xu's assumption or expectation about a possible herbal cure for his condition, but he was also worried that he had nothing available at hand to prepare the decoction (which is what rúhé wèi zhī 如何为汁 ["how to make the decoction?"] means) since his dwelling was not close to a local market (where he would have been able to buy all the ingredients for the herbal formula).
In premodern times (even in modern times), patients in China usually prepared herbal decoctions by themselves or had them prepared by family members at home, and bought herbal ingredients from local markets or herbal pharmacies (which would be located in local markets).
Finally, we may translate the whole text thus:
Suddenly [I feel] an unbearable pain in [my] abdomen.  [I] don't know whether it is caused by cold or by heat.  If I take a rhubarb preparation, it should be efficacious whether my condition is cold-related or heat-related.  [But] how to make the decoction, since I'm not near a market?
Now you can go show off at the Met!

Technical appendix:  sources for the rhubarb decoction formula
大黄汤 – 来源
《证治准绳·疡医》卷二。
大黄汤 – 组成
大黄(锉,炒) 牡丹皮 消石(研) 芥子 桃仁(汤浸,去皮、尖、双仁,炒)各)5克
大黄汤 – 用法
上药锉碎。每服15克,用水300毫升,煎至150毫升,去滓,空腹时温服。以利下脓血为度,未利再服。
大黄汤 – 主治
肠痈。少腹坚硬,肿大如掌而热,按之则痛,局部或赤或白,小便稠数,汗出憎寒,其脉迟紧者来成脓,如脉数则脓已成。
[Thanks to Robert Harrist, Qianshen Bai, Marta Hanson, and Pierce Salguero]
---