« previous post | next post »
From Kiewwoo Goh: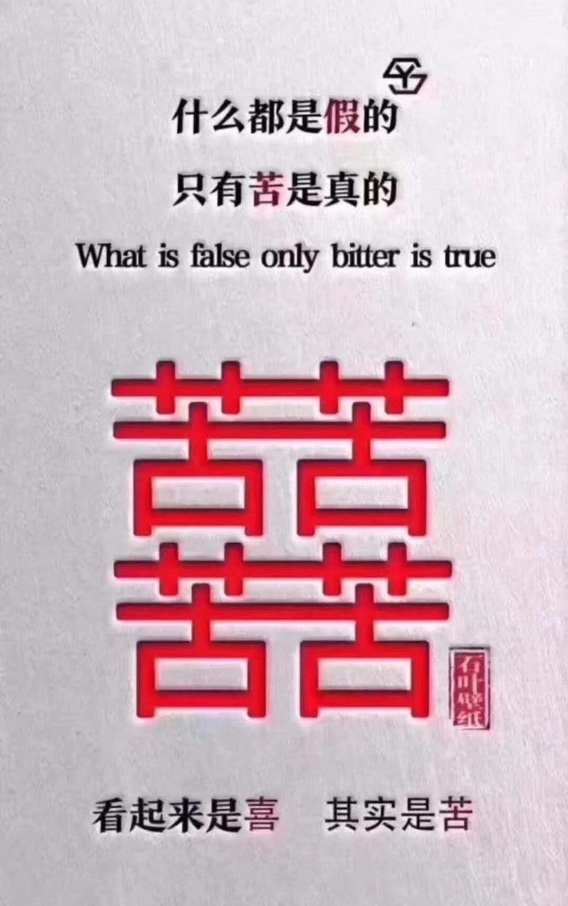 The actual transcription and translation of the first two lines and their one line English mistranslation should be:
Shénme dōu shì jiǎ de
Zhǐyǒu kǔ shì zhēn de
什么都是假的
只有苦是真的
Everything is false
Only suffering is real
The next big, composite, quadripartite glyph consists of four "kǔ 苦" ("bitterness; suffering") stacked side by side and on top of each other
苦苦
苦苦
making them look somewhat like the famous "double happiness" character that we discussed in detail several times before (see the "Selected readings" below).
囍
Depending on your point of view, that is pronounced xǐ, xǐxǐ, or shuāngxǐ (maybe someone else even has another way to pronounce it).  No matter how it's pronounced, I think everyone would agree that it means "double happiness" (see also here, here, and here).
The line at the bottom reads:
Kàn qǐlái shì xǐ      qíshí shì kǔ
看起来是喜    其实是苦
It looks like happiness, but it's actually bitterness
I don't know who would circulate such a notice, and under what circumstances, even if it were properly translated.
Selected readings
---