« previous post | next post »
From Taiwan News (3/25/23), by Keoni Everington:
"Taiwanese 'Hello Kitty' English-Chinese dictionary has 70 'egregious errors'
Publisher ACME Cultural Enterprise Co has admitted errors but not recalled dictionaries"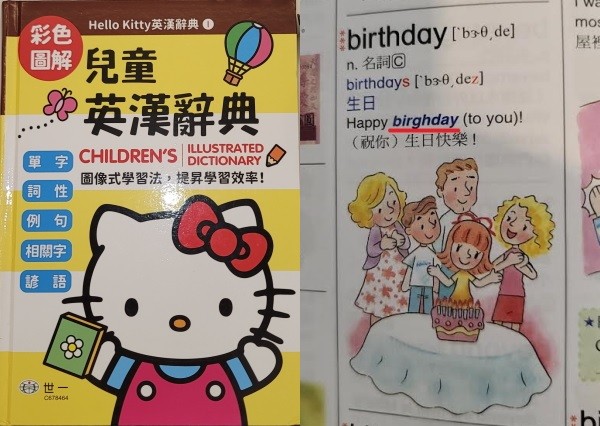 Cover of dictionary, example of misspelling. (Eryk Smith photo)
The article presents photographic evidence of such errors, such as ncluding mis-spelling rice as "rest", and many typos, wrong parts of speech, grammatical mistakes, dated usages, and so forth.
"not just embarrassing for you [the publisher], but for Taiwan in general, and also for Taiwan's education system." — said an American long-term resident in Kaohsiung.
On the credits page, Richard David Crooks is listed as the "Revision Editor" (zǒng shěndìng 總審訂).  I did a huge double take when I saw that, because members of the Crook family (Michael, Isabel, David, i.e., the Crooks), were prominent British and Canadian communists who lived in China during the twentieth century and whose names are often listed in authoritative PRC dictionaries and other publications as redcators and editors of English language materials.  The Richard David Crooks who was the "Revision Editor" of this Taiwanese Hello Kitty illustrated English-Chinese dictionary — if such a person actually exists — is obviously unrelated to the famous Anglo-Canadian Crook family.
This low level of English pedagogical materials is especially embarrassing in light of the Taiwan government's determination to make their country bilingual ("Chinese"-English) by 2030 — a policy that rattles the PRC government and makes their aim to take over Taiwan all the more urgent.
Selected readings
[Thanks to AntC]
---