« previous post | next post »
Having just returned to Hong Kong after a whirlwind trip to Taiwan, I find myself stunned by the multilingual, polyscriptal creativity of the people on that "renegade island" (formerly known as Ilha Formosa, Portuguese for "Beautiful Island").  One thing that could not escape my notice is the widespread use of English letters for English words as well as for Taiwanese morphemes and Mandarin words.  A fair amount of Japanese also gets thrown into the mix, but I shall not discuss that in the present post.

In the first category, DIY is very much in evidence, with the consistent meaning "Do it yourself."  PK, on the other hand, occurs in many different contexts, and might mean any of the following:  penalty kick (soccer), penalty kill (ice hockey), probability of kill (simulation), Disney's PK:  Out of the Shadows (video game), player killer (a person who kills other players in MMORPGs and MUDs), and player killing (player versus player conflict in MMORPGs and] MUDs).
In the second category is "e," a very common structural particle in Taiwanese (I have no idea how it would be written in HANZI).  E.g. (from Miao-Ling Hsieh, "Form and Meaning:  Negation and Question in Chinese", USC Ph.D. diss.,  2001, p. 154):
*I ai [e-hiau phah kiu be.] e lang?
she love can play ball unable E person
'Does she love who can play ball or who cannot play ball?'
In the third category is G, which means "chicken."  Here the intended language is Mandarin jī, since 雞 would be read as ke in Taiwanese.
Far more spectacular than any of these mere alphabetical bagatelles are the many instances when Chinese characters, Roman letters, Taiwanese language, Mandarin language, and English language are tightly intertwined in concise and powerful advertising slogans such as  酷碰A個GO! (kùpèng A ge GO!):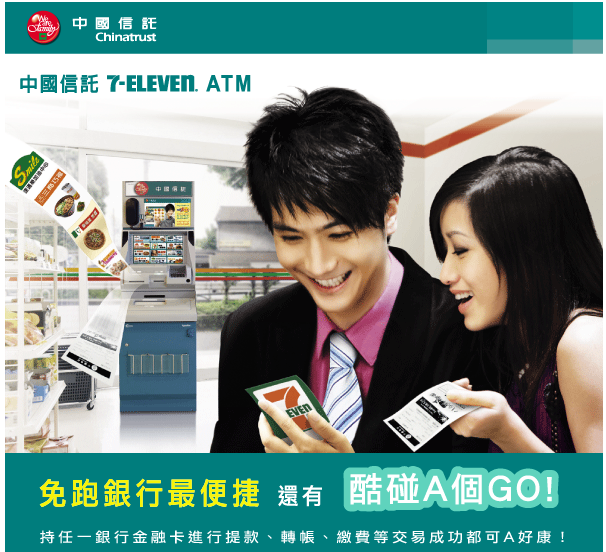 There is so much information packed into these five syllables kùpèng A ge GO!  that it will be necessary for me to spend some time unpacking them.
kùpèng is a transcription of English "coupon" that is composed of two syllables having interesting resonances of their own:
1. kù 酷 originally meant "cruel, ruthless, brutal," but has been borrowed to stand for English "cool"; the latter usage is now so omnipresent in Sinitic discourse that it has become the first thing people think of when they see the character 酷, not the negative denotations of the graph itself
2. pèng 碰 originally meant "touch, bump, run into," but here conveys the notion of taking your chances or trusting your luck:  pèng yī pèng jīhuì/yùnqì 碰一 碰機會/運氣
3. A — This is the only part of the pentasyllabic slogan that is purely Taiwanese, but it is by far the hardest part to explain.  Like so many morphemes in Taiwanese, it is difficult (if not impossible) to assign a "correct" Chinese character to "A" (we recently encountered the same problem with "Q").
Perhaps the best way to tackle "A" is to quote from Mark Swofford's post on its occurrence in a Burger King ad:
Here, the Roman letter "A" is used to represent a Taiwanese verb that means something like "get in an easy manner" or "make off with" — though the fine print says that customers just have a chance to get a prize, not that they necessarily will win one.
A is often used in A-qián ("A錢": to A money), a mixed Taiwanese and Mandarin term that means embezzle/embezzlement.
Perhaps the Ministry of Education has issued an official Chinese character for this morpheme. But even if they had most people would have no idea how to read it, and it probably would be of spurious origin to boot — just like most of the other characters the ministry has issued. Where a Taiwanese morpheme sounds like the English name of a Roman letter, the romanized form is likely to prevail over the Chinese character.
If you use the Chinatrust ATMs  that are found in the ubiquitous 7-11s in Taiwan, the receipt that comes out will have attached to it some of these lucky kùpèng / coupons that you so crave.  In other words, as the bank ad says, not only will you avoid having to "run to the bank," on top of it kùpèng / coupons you weren't really expecting or didn't earn will fall into your hands.  Manna from Heaven.
4. gè 個 normally functions as a general measure word, but here it is being used as the structural marker of the verbal complement (of degree) that follows
5. GO! ostensibly this is the English imperative verb, a nuance that is indeed present, but simultaneously it sounds like and functions as the verbal complement gòu 夠 ("enough, sufficient, adequate")
The slogan defies direct translation into English because it operates on several different levels at the same time.  A very rough attempt to convey the information it embodies would be something like "Just go ahead and take your chances of getting quite a windfall of cool coupons."
[A tip of the hat to Mark Swofford.]
---