« previous post | next post »
The late 13th and 14th c. portraits of the Mongol khans and their wives often show them with rather light (hazel or greenish) eyes.  For example, the 14th c. portrait of Ögedei Khan (1186-1241) clearly depicts him as having greenish blue eyes and a reddish (definitely light colored) mustache and beard.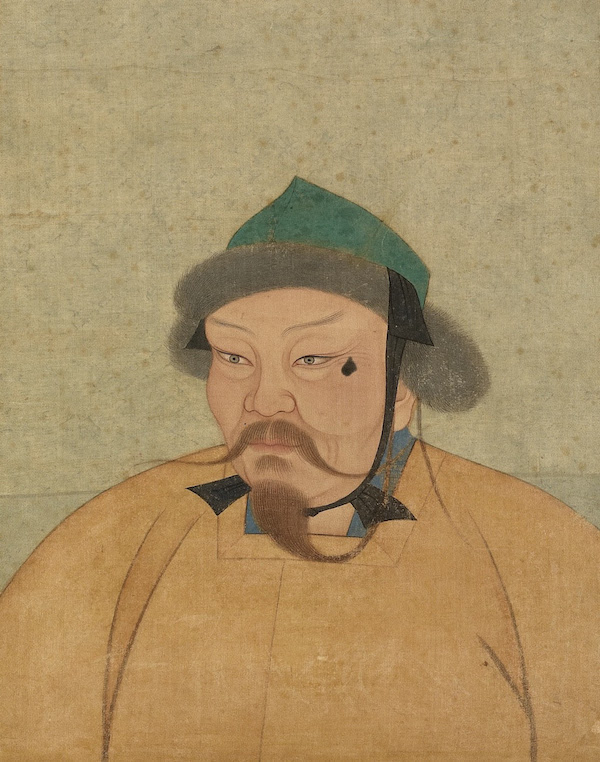 (National Palace Museum)
In this portrait, Ögedei Khan looks like many Kirghiz I've met on the steppe and in East Central Asia (some of them are almost indistinguishable from Europeans, as are some Uyghurs).
In light of the long series of posts we've had about the importance of archeology and historical anthropology for the evolution of language, pondering these physical characteristics of the Mongol khans led me to consider their implications for the ethnogenesis of the Mongolian people and their language.  So I asked colleagues who are specialists in such matters pertaining to Mongolian what they thought.  Among the responses I received are the following:
Penglin Wang:
You have a very good observation. In my opinion, this could be a reflection of genetic hybridity of Mongoloid and Caucasoid groups in Inner Asia. I have a strong conviction that no group there is homogeneous in their genetic composition and ethnogenesis. I am not sure if anyone has specifically studied physical transfer of Sinitic population to Mongolia by the Xiongnu as repeatedly recorded in early Chinese dynastic histories. The Xiongnu needed to have human resources and thus aimed to grab outside, especially Chinese, population. Though the Xiongnu seemed ruthless on battlegrounds, they were very kind toward those Chinese individuals. When Zhang Qian (d. ca. 114 BC) was captured, he was treated nicely and was offered a marriage with a Xiongnu woman.  This aspect of Xiongnu-Han interactions merits further investigation.
Mark Bender:
I have seen many, many Han Chinese, especially in NE and SW China with hazel / yellowish irises, and a number in the SW (Yunnan) with blue-ish eyes — though it is of course hard to say what the label "HAN" can conceal.
Johan Elverskog:
It is well known that the "Mongols" were a soupçon of peoples cobbled together by Chinggis et al. And thus that some may have had "European" features – as Afghans, Kirghiz, Uighurs, Dong'an, Uzbeks, etc. do today – is probably not that surprising.
Marcel Erdal:
This certainly says a lot about their ethnogenetic features (which one should nowadays approach also with DNA analysis if their bones can be found), but I am still pretty sure one needs to decouple such information from linguistic affinity on the one hand, and from material affinity (I mean information that can be gathered through archaeology) on the other hand.    As is well known, the originally non-Turkic Kirghiz are said to have been described as red-haired and blue-eyed, much of northern Asia was Yeniseian, etc. before it became dominated by Turks and Mongols, and there were Indo-Iranians there, prior to their migrations to the South, i.e., ultimately Indo-European, not to forget the Uralic Samoyeds.
Juha Janhunen:
At least in the Minusinsk basin the dominant language was changed in the succession Samoyedic (Tagar) > Yeniseic (Tashtyk) > Turkic (the Yenisei Kirghiz of the Türk period) > Russian (after 1703). Oirat was also briefly present as a superstrate (in the 15th-17th cc.). Whether there ever was an Indo-European language (Pre-Proto-Tocharian?) before Samoyedic is uncertain, but Indo-European (both Tocharian and Iranian) was certainly spoken at various times further to the south (and there may have been Sogdian trading stations also in the Minusinsk basin). The  historical Central Asian Indo-European speakers (whose descendants now speak Turkic) do not seem to have been blond or with blue eyes, so it remains an enigma from where and when the ancient Europoid population of the region came, and what language they spoke. It could also have been Uralic. Chinggis Khan's roots were in Transbaikalia (the Onon-Argun basin), which is rather far to the east, so it is unclear whether his blue eyes could have had any western connection.
Asko Parpola:
One factor that may have contributed to genetic mixture on the elite level: In the 7th to 9th centuries, the Mongol steppes were ruled by the Uyghurs.
Xu Wenkan:
None of the northern steppe peoples, including the Xiongnu (proto-Huns), Xianbei (Särbi), Rouran (Avars), Tujue (Turks), Huihu (Uyghurs), Menggu (Mongolians), etc., consist of a single component.  In all of them there are Indo-European elements.  The admixture among the Kirghiz is especially complex.  This is born out by recent archeological and DNA research carried out in Mongolia.
It is possible that Tocharian has an Uralic substrate, but further research is necessary to confirm this.
Pamela Crossley:
The descriptions and depictions of the Mongols make clear that reddish hair and hazel or green eyes were frequently seen. You can also see this in the portraits of the returned Torghuts that the Qing displayed in the Ziguang ge 紫光閣 ("Hall of Imperial Brilliance") — some of them have outright blue eyes.
As for ethnogenesis, it only suggests to me that in the fluidity of Eurasian peoples there is very little by way of stable gene pools. That seems to be shown in the DNA studies of the Xiongnu and everybody coming after them. Koreans and a few Chinese groups (like Hakka) are also considered to have reddish hair and light eyes.    I wonder to what extent this might all be connected to the N mDNA haplogroup, which is ubiquitous across northern Asia, from Scandinavia to Siberia, with descendant lineages among Native Americans. Some Europeans, including my mother's family, have a very large N component (in our case, we just don't know why).
Selected readings
"The Last Lesson — in Mongolian" (1/11/18)
"'Horse' and 'language' in Korean" (10/30/19)
"Some Mongolian words for 'horse'" (11/7/19)
"Horse Master' in IE and in Sinitic" (11/9/19)
"Of horse riding and Old Sinitic reconstructions" (4/21/19)
"Of reindeer and Old Sinitic reconstructions" (12/23/19)
"An early fourth century AD historical puzzle involving a Caucasian people in North China" (1/25/18)
"Of shumai and Old Sinitic reconstructions" (7/19/16)
"Of felt hats, feathers, macaroni, and weasels" (3/13/16)
"Of dogs and Old Sinitic reconstructions" (3/7/18)
David W. Anthony, The Horse, the Wheel, and Language: How Bronze-Age Riders from the Eurasian Steppes Shaped the Modern World (Princeton:  Princeton University Press, 2007).
Pita Kelekna, The Horse in Human History (Cambridge:  Cambridge University Press, 2009).
Juha Janhunen, "The horse in East Asia: Reviewing the Linguistic Evidence," in Victor H. Mair ed.,The Bronze Age and Early Iron Age Peoples of Eastern Central Asia (Washington, DC: Institute for the Study of Man; Philadelphia:  The University of Pennsylvania Museum, 1998), vol. 1 of 2, pp. 415-430.
Victor H. Mair, "The Horse in Late Prehistoric China:  Wresting Culture and Control from the 'Barbarians.'"  In Marsha Levine, Colin Renfrew, and Katie Boyle, ed.  Prehistoric steppe adaptation and the horse,  McDonald Institute Monographs.  Cambridge:  McDonald Institute for Archaeological Research, 2003, pp. 163-187.
[Thanks to John Rohsenow]
---