« previous post | next post »
From Nora Castle, who came across this restaurant which has just opened in Coventry, England: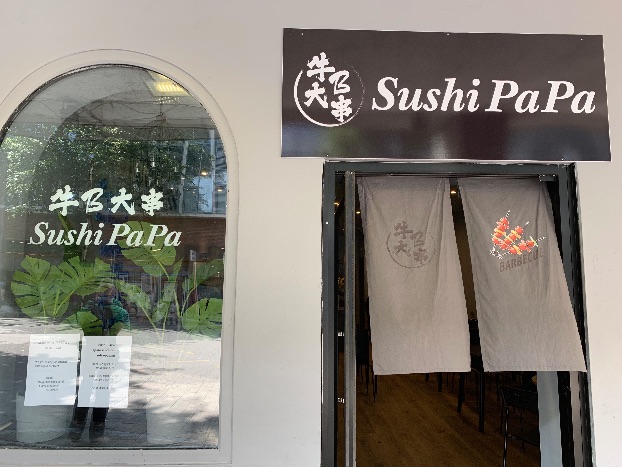 What a motley mixture, both of language and of cuisine!
As Nora explains, "The restaurant is predominantly a 串* place, though they do have a small sushi section on the menu. I guess they assumed that no non-Chinese person would know the connotations of 牛B**!"
*chuàn ("roasted meat on a skewer") — the character even looks like it (though this Bronze Age character could refer to anything [e.g., beads, cowrey shells] strung together — i.e., shish kebab, from Turkish şiş ("sword or skewer") and kebap ("roasted meat dish") Source (with more detailed etymology)
**niúB ("bovine B") — that will require a lot of unpacking, for which see below
Some people who don't realize that's a "B" read it as zhào 召 ("imperial decree; to call together; to convene; to summon")
There are various ways of writing "niúbī", e.g., 牛B and 牛逼***, which are bowdlerizations of niúbī 牛 屄.  This is regularly rendered as "awesome", but it literally means "cow cunt" (I'm not kidding). We've mentioned this ubiquitous term quite a few times on Language Log before (see, for example, here, here, here, here, here, here, and especially here for examples of usage).  Among the more detailed and direct comments on niúbī 牛B / 牛逼 / 牛 屄 are this one by Bob Violence and this one by bocaj (second paragraph).
***bī 逼 literally means "force; drive; press; compel; oblige; coerce; extort; close in; press on; constrain; narrow", but here is being for transcriptional purposes to render the sound of 屄, so people don't have to look at that supposedly gross Sinograph (ideogrammic compound (huìyì 會意):  shī 尸 ("body") + xué 穴 ("hole") — a hole under a body; the word itself derives from Proto-Sino-Tibetan *b(j)at ("vagina, vulva") Source
All right, so now we have a pretty good idea of what "niú B 牛B" means — you can render it as graphically or euphemistically as you wish.
How about dàchuàn 大串?  We'll just say that it means "big shish kebab", though the restaurant itself translates that part of its name as "barbecue".
"Sushi" is a global word that doesn't require explanation for most people.
PaPa?  It's a Graeco-Latin term borrowed into English via French.  The first thing I thought of when I saw it as part of this restaurant name is Beard Papa's (Biādo papa ビアード・パパ), an international chain of cream puff stores (I always buy one of their pastries when I go to a Japanese food court).  Perhaps this humble, yet aspiring barbecue-sushi shop in Coventry wanted to hop on to the global glamor of the fairly ubiquitous Beard Papa's.
I wrote to several colleagues and asked what they thought of this "mixed Chinese-Japanese restaurant".  Here are some of the replies I received.
Linda Chance:
Both the noren and the Chinese name refer to barbecued meat on skewers.  Maybe the question is what does sushi have to do with this restaurant? The last things I would want to eat in the same establishment are grilled meat and raw fish. (Although I have no doubt it's done.) I don't suppose there is a nod to Beard Papa's, the cream puff chain.
So Linda had the same idea I did about PaPa.
From Ted Bestor:
An odd shop name.  The only papa I can think of is an affectionate name for dad, which is not uncommon in informal, familial Japanese settings.  Maybe you need to think of it as "Daddy's Sushi"?
From Nathan Hopson:
This isn't so much a "mixed Chinese-Japanese restaurant" as a Chinese restaurant capitalizing on the sushi boom, I think.
This photo is what I'm basing that assumption on, as well as some of the photos of the interior and food also available through Google Maps. As you know my Mandarin is garbage so I can't go too deep here, but it looks like there is at least one restaurant with the same name in Dalian. If the one Japanese blog entry about it is correct, the name comes from Chinese slang (牛逼) for something like "amazing." (The blog warns that it's "an extremely low class word, so women would be better avoiding it." So, there's that.) [VHM:  !!]
Anyway, my feeling is that this is probably exactly the kind of restaurant that gets all sorts of bad attention in Japan for "perverting" Japanese culinary culture for a quick buck. It's the kind of thing that inspired the government to float a plan a few years back — quickly dubbed by detractors the "Sushi Police" — "to certify 'genuine' Japanese cuisine abroad" (Sakamoto and Allen 2011:100).  [VHM:  Like the problem with "champagne"]
The spread of Japanese restaurants worldwide was given as a reason for the establishment of this organization as was the fact that adaptations of Japanese food had emerged such as the California Roll, which is one of the most prominent examples of an adaptation of sushi. This attempt by the MAFF [Ministry of Agriculture, Forestry and Fisheries] to monitor and 'authenticate' Japanese restaurants outside Japan was soon mocked as the 'sushi police'. (Assmann 2017:119)
There was even a movie about the "Sushi Police." Or at least it was planned.
I'm with Linda: much as I can appreciate surf and turf entrées when thoughtfully conceived, I would not want to combine shish kebab and sushi, though I'm happy to go to shops that specialize in them separately.
[Thanks to Chenfeng Wang]
---