« previous post | next post »
Steven Marzuola writes:
I am a technical translator and amateur linguist, and Language Log is part of my regular reading.
So is reddit, and tonight it led me to this link, which is a set of pictures taken by a young couple living in China.
They're all interesting, but the one I wanted you to see is the last one: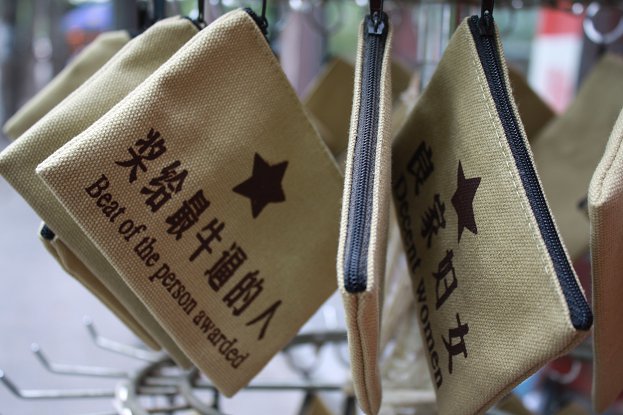 I quickly read through hundreds of the comments on the imgur gallery (some of them are pretty funny, most are inane), and quite a few of them mentioned the wording on this bag, but none of them attempted to explain the Chinglish, so I suppose I'll have to do that myself.
What the Chinese really says is this:
jiǎng gěi zuì niúbī de rén 奖给最牛逼的人
("awarded to the most awesome person")
The Chinglish is so garbled that it's hard to know where to begin to make sense of it.
The key thing, of course, is the expression niúbī 牛逼, which I've translated as "awesome", but it literally means "cow cunt" (I'm not kidding). We've mentioned this ubiquitous term quite a few times on Language Log before (see, for example, here, here, here, and here).
Among the more detailed and direct comments on niúbī 牛逼 are this one by Bob Violence and this one by bocaj (second paragraph; -ing, which is discussed in the first paragraph, is still alive and well in Chinese, as we've documented in this post [see also the links provided for further information]).
All right, so now we know what niúbī 牛逼 (also often written as 牛B or niuB) really means. As to how it got twisted into "beat", the translator may have been so uncool that he / she was unfamiliar with this vulgar expression and simply rendered it as "beat" in an effort to catch an approximation of the sound of the second syllable (the crucial one).
As for the remainder, "awarded to", "most", and "person" are all straightforward, so even the densest human translator or worst machine translation software should have been able to deal with them, but somehow they failed to catch the "most".
It's a stylish little bag, and I wouldn't mind having one, but the Chinese wording automatically eliminates over half of the potential customers who might be in need of such a container. The Chinglish would probably repel another quarter of the potential customers for such a zipper bag. Those who remain as possible purchasers would be Chinese who actually like the vulgarity of niúbī 牛逼 and people who don't know Chinese that think the Chinglish is daffily cute.
---