« previous post | next post »
Thai sign over a sink in a restroom, from Alexander Bukh on Facebook: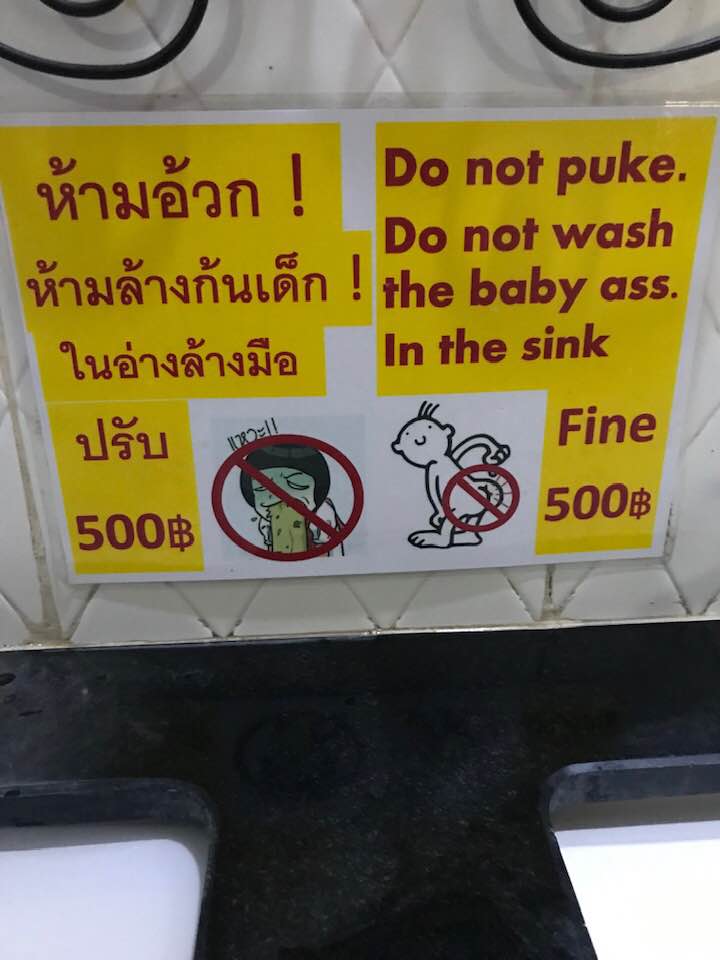 The Thai part of the sign reads:
ha:m uak! ha:m la:ŋ  kon dek! nai a:ŋ la:ŋ mɯː prab 500 ba:t
alternative transliteration:
H̄̂ām x̂wk! H̄̂ām l̂āng k̂n dĕk! Nı x̀āng l̂āngmụ̄x prạb 500 bāth
ห้ามอ้วก! ห้ามล้างก้นเด็ก! ในอ่างล้างมือ ปรับ 500 บาท
Do not vomit or wash a baby's bottom in the sink, (if you do these things) you will be fined 500 Thai baht.
The word over the crossed-out picture of the little girl vomiting (bottom left):
wɛ!!
แหวะ!!
blech / blargh
If you really have to retch / barf / upchuck / puke / regurgitate / toss your cookies / blow your lunch, please do it in the toilet, and clean your baby's butt / bottom elsewhere, not in this sink.
[h.t. Nathan Hopson; thanks to Joyce White, Pattira Thaithosaeng, and Justin McDaniel]
---