« previous post | next post »
Jane Skinner received this from a friend who saw it in Chengdu, Sichuan: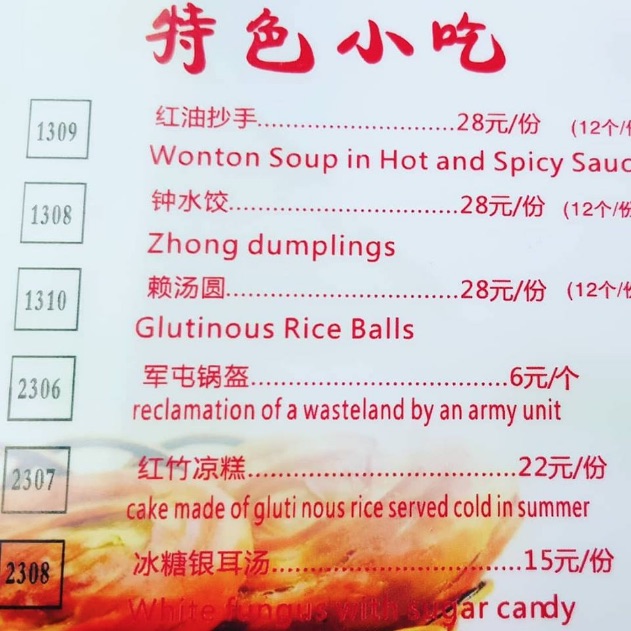 The translation for the mysterious fourth item on the menu, "reclamation of a wasteland by an army unit" is taken directly from Baidu Fanyi for jūntún 军屯.  The translator simply ignored the last two characters, guōkuī 锅盔, which literally mean "pot helmet".
In actual usage guōkuī 锅盔 is a Shanxi topolectal expression for a type of large, round baked wheat cake:
Guokui is a kind of pancake made from flour from Shaanxi cuisine. It is round in shape, about a foot long in diameter, an inch in thickness, and weighs about 2.5 kg. It is traditionally presented as a gift by a grandmother to her grandson when he turns one month old.
(Source)
The name is sometimes translated as "crusty pancake", though I might suggest "helmet pancake" as an alternative.
In this Google gallery of images, you can see the variety of sizes, shapes, and types that go by the name guōkuī 锅盔 (lit., "pot helmet", i.e., "helmet pancake").
As for jūntún 军屯, it refers to army encampments, so this kind of "pot helmet pancake" must evoke memories of being in the field for those who have been soldiers, especially those who served in túntián 屯田 ("military agro-colonies") and bīngtuán 兵团 ("army unit; army formation") in border regions such as Xinjiang where vast reclamation projects are undertaken.  The bread / pancake certainly looks spartan to me.
---