« previous post | next post »
Michael Robinson was looking through this Flickr group dedicated to photos of Chinese restaurants outside China, "Chinese Restaurant Worldwide Documentation Project", which includes around 17,000 photographs, when he came upon this photo that was taken on December 23, 2012 in The Lanes, Brighton, England, GB: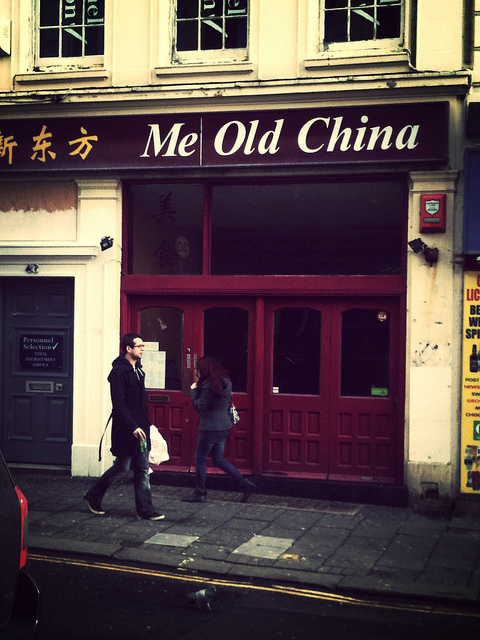 That seems like an odd, yet charming, name for a Chinese restaurant. Wondering whether the Chinese name of the restaurant might give a hint for why this particular English locution was chosen, I glanced to the left and I saw that it was Xīndōngfāng 新东方 (New East / Orient) (half of the first character is missing, but I'm virtually certain that it is xīn 新 ["new"]), which superficially is pretty much the opposite of "Me Old China".
It turns out, however, that "Me Old China" is Cockney slang, and I found a delicious sentence that begins with this expression:
'Allo me old china – wot say we pop round the Jack. I'll stand you a pig and you can rabbit on about your teapots. We can 'ave some loop and tommy and be off before the dickory hits twelve.
Translated from the Cockney, that would be (with parenthetical glosses):
Hello my old mate (china plate) – what do you say we pop around to the bar (Jack Tar). I'll buy you a beer (pig's ear) and you can talk (rabbit and pork) about your kids (teapot lids). We can have some soup (loop de loop) and supper (Tommy Tucker) and be gone before the clock (hickory dickory dock) strikes twelve.
[From A Cockney Rhyming Slang Dictionary]
Whether the owner initially thought of the very prosaic Xīndōngfāng 新东方 (New East / Orient) and then devised "Me Old China" as an inspired translation, or first came up with the clever Cockney "Me Old China" and then rendered that into its rough Chinese counterpoint is moot, though I suspect that they were so taken by the colorful Cockneyism that they latched onto it as their main moniker, printing it larger and directly over the main entrance, and then arrived at the relatively lame Xīndōngfāng 新东方 (New East / Orient) almost as an afterthought.
Incidentally, if one were so inclined, one could use the rich resources of the "Chinese Restaurant Worldwide Documentation Project" on Flickr to write an entire dissertation on Chinese restaurant names outside of China. I just spent a few moments browsing through the thousands of photographs on the site and noticed, for example, one restaurant named Gōngfu 功夫 (Kung-fu; for an exhaustive treatment of this popular term borrowed into English, see "Kung-fu [Gongfu] Tea") whose English name is "Good Food".
There are also lots of Chinese restaurants whose names comprise "wok", e.g., "O'Wok", "Wok nTalk", "Wok 'n Roll", and just "Wok". It's curious that these restaurants usually don't have corresponding Chinese names, just the English. I have my own theory about this reluctance to provide a Chinese equivalent, but put it as a question to Language Log readers why this is so.
---