« previous post | next post »
Randy Alexander sent me the following photograph and asked how long it would take for me to identify the text in the background: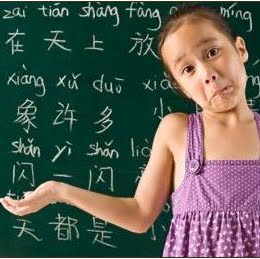 My instantaneous reply:
about 2 seconds
Twinkle Twinkle Little Star
I love the pinyin with tones, but I wish that the little girl's teacher would help her link up the syllables into words, e.g., xǔduō 许多.
Here's one Mandarin translation of "Twinkle Twinkle Little Star" (not exactly the same one as that on the greenboard in the photograph, but I like this version because it gives pinyin with tones and orthographically correct linkages of syllables into words, plus some lexicographical notes and example sentences, as well as recordings for each line).  There are plenty of other sites that provide the Mandarin lyrics for "Twinkle Twinkle Little Star", but they mostly have pinyin without tones and single syllable by single syllable transcription of characters without proper aggregation into words.
We have a Startalk Mandarin program at Penn this summer, and the teachers have posted these signs on the toilet doors:
nán cè suǒ
男 厕 所
nǚ cè suǒ
女 厕 所
(The first means "men's toilet" and the second means "women's toilet".)
I've gone around with a magic marker and connected the cè suǒ –> cèsuǒ. Sooooooo aggravating!! Writing "cè suǒ" instead of "cèsuǒ" is like writing "toi let" instead of "toilet" or "Jane 's jack et" instead of "Jane's jacket". So far as I know, all the languages of the world have words as well as syllables and morphemes, so there's no reason why Chinese languages should be treated any differently because the writing system traditionally used to record them is largely, but not exclusively, monosyllabic.
Even Classical Chinese (or Literary Sinitic) had polysyllabic words, copious examples of which are listed in one of my favorite old dictionaries: Cí tōng 辭通 (Comprehensive Phrases; 1934).
Update —

---