« previous post | next post »
From a correspondent in Taiwan: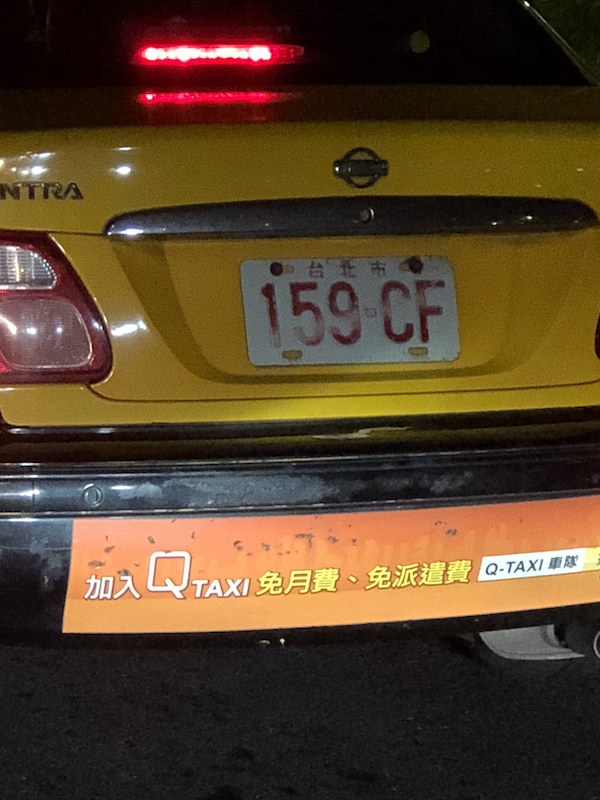 "Taxi" may be rendered in Sinitic languages by the following translations and transcriptions:
chūzūchē 出租车 / 出租車 (transregional expression, literally means "car for rent")
jìchéngchē 计程车 / 計程車 (the word I remember from Taiwan half a century ago, lit., "car with a meter"))
díshì 的士 (originally Hong Kong Cantonese transcription [dik1si6] of English "taxi", but later spread to all parts of the Sinosphere)
tshadeu 差頭 (Shanghainese)
And now it seems that it's all right to use the English word directly:  TAXI.
See:
"Fried scholar's" (8/6/11) — especially this comment and other comments that prompted it and responded to it.
So much for the word "taxi" on the bumper sticker, but what about "Q"?
I asked several colleagues from Taiwan if they knew what it meant in this context, and none of them were sure.  One of them stated that "there's an element of fad and/or a sign of general marketing laziness."  For one thing we can be sure, "Q" is a very fashionable term in Taiwan, so much so that Amy Qin, whose surname just happens to begin with that letter, wrote a long article about it a few days ago:
"In Italy, 'Al Dente' Is Prized. In Taiwan, It's All About Food That's 'Q.'", NYT (10/4/18)
She writes:
But how exactly do you describe that perfectly calibrated "mouth feel" so sought after by local cooks and eaters alike?
Slippery? Chewy? Globby? Not exactly the most flattering adjectives in the culinary world.
Luckily, the Taiwanese have a word for this texture. Well, actually, it's not a word, it's a letter — one that even non-Chinese speakers can pronounce.
It's "Q."
And if it's really "Q", then you can call it "QQ".
Ms. Qin quotes an old Language Log post of mine on this marvelous letter-word:
"Whether Q may be considered a Chinese character or not, it certainly has become a part of the Chinese writing system," Victor Mair, a professor of Chinese language at the University of Pennsylvania, once wrote in a blog post.*
*["Is Q a Chinese Character?" (4/15/10)]
Whatever the owners of the Q-TAXI fleet wanted to convey by referring to their app as Q, just seeing / hearing that letter / word makes Taiwanese customers drool, so naturally they will be attracted to it, especially since, as the bumper sticker adds, there's "no monthly fee" and "no dispatching fee".
---