« previous post | next post »
Currently circulating political poster in the PRC: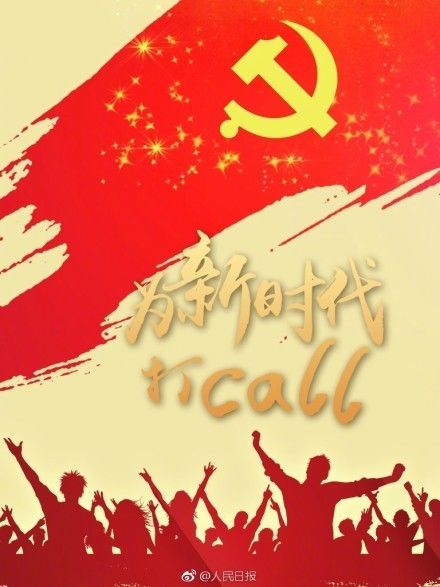 wèi xīn shídài dǎ call 为新时代打call ("give a shout-out for the New Era")
When I first saw this appeal, which was all over the place during the time of the recent 19th Congress of the Chinese Communist Party (CCP), it struck me as strange in many respects.
First of all, the expression "dǎ call 打call" seemed totally unfamiliar, and even improbable, to me.  Literally, it means "strike [a] call", but I had no idea what that might mean.  "Dǎ 打" is what I'm fond of referring to as an "multipurpose verb" in Mandarin.  Here are some of its meanings:  "hit; strike; beat; thrash; spank; fight; attack; make; build; break; smash; wipe; shoot; buy; fetch; tie up; type[write]; [telephone] call" (never mind that it can also be a noun or a preposition).  Even though "dǎ 打" can convey so many different verbal meanings, I just couldn't see how it could make much sense as something you'd do to the noun "call".
Second, this was another instance of the somber, stuffy, serious CCP attempting to co-opt popular, youth culture for propaganda purposes (as they have done with hip-hop, rap, and so forth).  "Xīn shídài 新时代" is President Xi Jinping's signature political program for PRC development during the coming decades.  It is incongruous for young people to be waving their arms in the air on behalf of Xi's New Era as though he were a rock star.
On Tuesday the 24th, Party newspaper People's Daily initiated Weibo hashtag "Wèi xīn shídài dǎ call #为新时代打call#", roughly meaning "give a shout-out to the New Era", as reported by Manya Koetse in What's on Weibo (10/25/17):
"'Support China's New Era' Campaign Goes Viral on Chinese Social Media: China's propaganda machine has been running at full speed this week – now Weibo's celebrities also pitch in."
What's on Weibo tells us that "打call" means "give a shout-out".  Not being terribly familiar with youth culture, I had to look up "shout-out":
Merriam-Webster:  an expression of greeting or praise that is given to someone in the presence of many people
Wiktionary:  to publicly greet or acknowledge a person, group, or organization
Note by a graduate student from the PRC:
Apparently "打call" is one of the most popular buzzwords in China now. It is pervasive to such an extent that I cannot avoid seeing it everywhere….  In the meantime, I have to admit that I have no idea of how the strange combination of verb "打" and English noun "call" so miraculously finds its way into mainstream vocabulary stock. It means to shout/call out as a gesture of support to one's idols or ideals.
A little research leads me to the discovery that it is a Chinese variation of the Japanese phenomenon Wotagei (ヲタ芸) performed by the group of Otaku (おたく/オタク)*. But they somehow adopt a totally new terminology in Chinese…  Please enlighten me whenever you have a clue to "打call"'s etymology.
I feel like I am a bit out of fashion in terms of Chinese popular culture now. Neologisms just keep popping out!!
*[VHM:  For "otaku", see "Nerd, geek, PK: Creeping Romanization (and Englishization), part 2 " (3/5/13)]
From another PRC graduate student:
This phrase originated from Japanese pop culture and refers to an audience's cheerful reactions to their idol (singers usually) during a live performance. "Call" refers to the fans calling out their idols' names, waving their glowsticks, and doing it with the flow / beat of the performance. The Japanese phrase is "kōru コール". It has been used by many fan groups in China. Moreover, over the summer there was a very popular TV show called " Zhōngguó yǒu xīhā 中国有嘻哈" ("China has hip-hop"). The show was basically a hip-hop contest for Chinese rappers. Because of this TV show, the phrase "打call", e.g., "wèi mǒumǒu rén fēngkuáng dǎ call 为某某人疯狂打call" ("give a wild shout-out for so-and-so"), became extremely trendy and was widely used in many different ways. Even now many people use this phrase simply to express their support or their fondness for something (and it could be anything). Students can even say that they "wèi Méi jiàoshòu fēngkuáng dǎ call 为梅教授疯狂打call" ("give a wild shout-out for Professor Mair") — to express their support and respect. I think this poster was meant to be recognized and widely liked by the younger generation who would rather be less interested in the 19th Congress. Because of the adoption of such a popular phrase, many young people might think of it as trendy and pay attention to it.
As with other new expressions we've been looking at recently, in "dǎ call 打call" ("give a shout-out"), we have an amalgam of Mandarin, Japanese, and English:
[h.t. Caitlin Schultz; thanks to Yixue Yang and Jinyi Cai]
---