« previous post | next post »
Heather Murphy ("Scaramucci Did Not Invent the Word 'Paranoiac'", NYT 7/28/2017) quotes some tweets in which paranoiac "faced charges of being not being real" [sic], and comes to its defense with a link to a very interesting paper about a use of the word (but in Russian!) in 1927 — J. Kesselring, "Vladimir Mikhailovic Bekhterev (1857–1927): Strange Circumstances Surrounding the Death of the Great Russian Neurologist", European Neurology 2011.
I'm grateful for the link to Dr. Kesselring's story about Dr. Bekhterev and his fatal examination of "a paranoiac with a short, dry hand", namely Josef Stalin.
But Ms. Murphy could have appealed to her own paper's index, which indicates that the word paranoiac was used in 759 NYT stories before Mr. Scaramucci called Ryan Lizza on July 26, starting with "The London Paranoiac", 10/10/1888: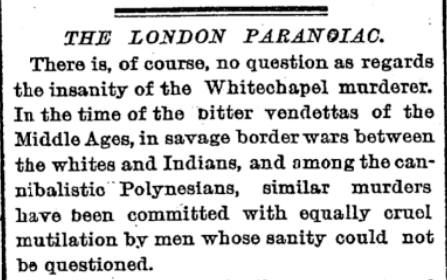 …and continuing right up to the day before Ryan Lizza's report of the Mooch's rant — Alexandra Alter, "'Minecraft: The Island' Blurs the Line Between Fiction and Gaming", NYT 7/26/2017:
Mr. Brooks — a cheerful, enthusiastic paranoiac who is obsessed with survival strategies, zombies, apocalyptic scenarios and plagues — wrote the story as a first-person, Robinson Crusoe-esque narrative, featuring an initially hapless character who is stranded on a strange island and has to build shelter, find food and fight off zombies and giant spiders, all features that exist in the game.
The word was used in a political context a few weeks earlier — Husain Haqqani, "To Win Afghanistan, Get Tough on Pakistan" NYT 7/6/2017:
The recent rise in Islamophobia in India and a more aggressive stance against Pakistan by Prime Minister Narendra Modi should not detract from recognizing the paranoiac nature of Pakistan's fears.
Ms. Murphy quotes a current authority on the word's decline in scientific contexts:
Dr. Kenneth S. Kendler, a psychiatrist who reviewed the latest research on paranoia for the Schizophrenia Bulletin last year, said that the word "paranoiac" hadn't been used much in mental health literature since the 1930s.
But the word's trajectory in the Google Books ngram viewer suggests that the word's popularity in general publications has perhaps been more a matter of war and peace than of psychiatric fashions:

---