« previous post | next post »
Christopher Alderton saw this flyer on his way to work a few days ago: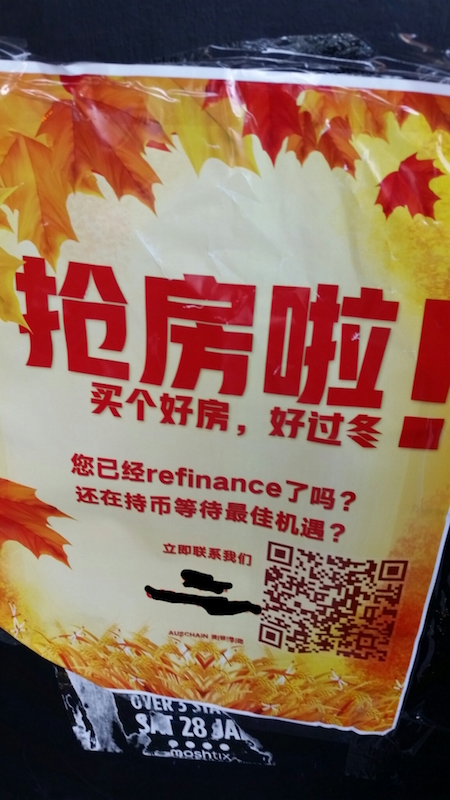 The big, bold characters at the top exhort:
Qiǎng fáng la 抢房啦! ("Grab a house!")
What's most arresting is this line:
nín yǐjīng refinance le ma?
您已经refinance了吗?
"Have you already refinanced?
Christopher rightly points out that the meaning of the construction "已refinance了" is sufficiently clear, but it is striking that the English word is not inflected, and the inflection is instead conveyed by the aspect marker of completed action, -le 了.
It's hard to tell exactly why the person responsible for this advertisement decided to use an English word in the middle of a Chinese sentence.  To more readily catch the attention of potential customers?  Because there's not a precise equivalent available in Mandarin?
The next line reads:
hái zài chí bì děngdài zuì jiā jīyù?
还在持币等待最佳机遇?
"Are you holding cash waiting for the best opportunity?"
Whatever the reason for inserting that English word in the middle of a Chinese sentence, one thing is certain:  Àoliàn tóuzī 澳链投资 ("AUSCHAIN") wants you to snap up one of their houses pronto!
We've looked at examples of multiscriptalism and / or multilingualism involving many languages and scripts.  Here are some posts specifically involving Chinese:
And there are many others.
[Thanks to Melvin Lee, Fangyi Cheng, Yixue Yang, and Jinyi Cai]
---