« previous post | next post »
Yesterday I was skimming randomly-selected sentences from a collection of English-language novels, and happened on this one from George Orwell's 1949 novel Nineteen Eighty-Four: "It's a beautiful thing, the destruction of words." This brought to mind two things I had never put together before, Orwell on Newspeak and Strunk on style.
Here's Orwell:
'How is the Dictionary getting on?' said Winston, raising his voice to overcome the noise.
'Slowly,' said Syme. 'I'm on the adjectives. It's fascinating.'
He had brightened up immediately at the mention of Newspeak. He pushed his pannikin aside, took up his hunk of bread in one delicate hand and his cheese in the other, and leaned across the table so as to be able to speak without shouting.
'The Eleventh Edition is the definitive edition,' he said. 'We're getting the language into its final shape–the shape it's going to have when nobody speaks anything else. When we've finished with it, people like you will have to learn it all over again. You think, I dare say, that our chief job is inventing new words. But not a bit of it! We're destroying words–scores of them, hundreds of them, every day. We're cutting the language down to the bone. The Eleventh Edition won't contain a single word that will become obsolete before the year 2050.'
He bit hungrily into his bread and swallowed a couple of mouthfuls, then continued speaking, with a sort of pedant's passion. His thin dark face had become animated, his eyes had lost their mocking expression and grown almost dreamy.
'It's a beautiful thing, the destruction of words. Of course the great wastage is in the verbs and adjectives, but there are hundreds of nouns that can be got rid of as well."
And here's Strunk, as described by E.B. White ("Letter from the East", The New Yorker, 7/27/1957):
Every so often I make an attempt to simplify my life, burning my books behind me, selling the occasional chair, discarding the accumulated miscellany. […]
A book I have decided not to burn is a small one that arrived in the mail not long ago, a gift from a friend in Ithaca. It is "The Elements of Style," by the late William Strunk, Jr., and it was known in the Cornell campus in my day as "the little book," with the stress on the word "little." I must have once owned a copy, for I took English 8 under Professor Strunk in 1919 and the book was required reading, but my copy presumably failed to survive an early purge. I'd not had eyes on it in thirty-eight years. Am now delighted to study it again and rediscover its rich deposits of gold. […]
From every line there peers out at me the puckish face of my professor, his short hair parted neatly in the middle and combed down over his forehead, his eyes blinking incessantly behind steel-rimmed spectacles as though he had just emerged into strong light, his lips nibbling each other like nervous horses, his smile shuttling to and fro in a carefully edged mustache.
"Omit needless words!" cries the author on page 21, and into that imperative Will Strunk really put his heart and soul. In the day when I was sitting in his class, he omitted so many nedless words, and omitted them so forcibly and with such eagerness and obvious relish, that he often seemed in the position of having short-changed himself, a man left with nothing more to say yet with time to fill, a radio prophet who had outdistanced the clock. Will Struck got out of this predicament by a simple trick: he uttered every sentence three times. When he delivered his oration on brevity to the class, he leaned forward over his desk, grasped his coat lapels in his hands, and in a husky, conspiratorial voice said "Rule Thirteen. Omit needless words! Omit needless words! Omit needless words!"
Book burning, mid-century horror-movie vibe, removal of undesirable words, ruling-class ideas of appropriate language, …
For added irony, this was the advertisement on the magazine page facing the passage just quoted: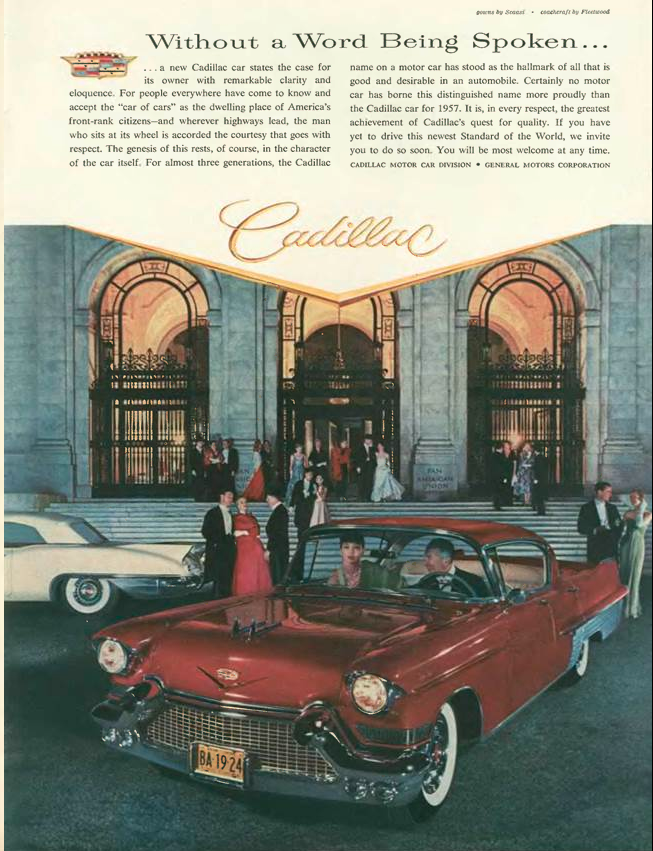 See also "Modification as social anxiety", 5/16/20014.
---