« previous post | next post »
Boris Kootzenko was intrigued by this sign in China: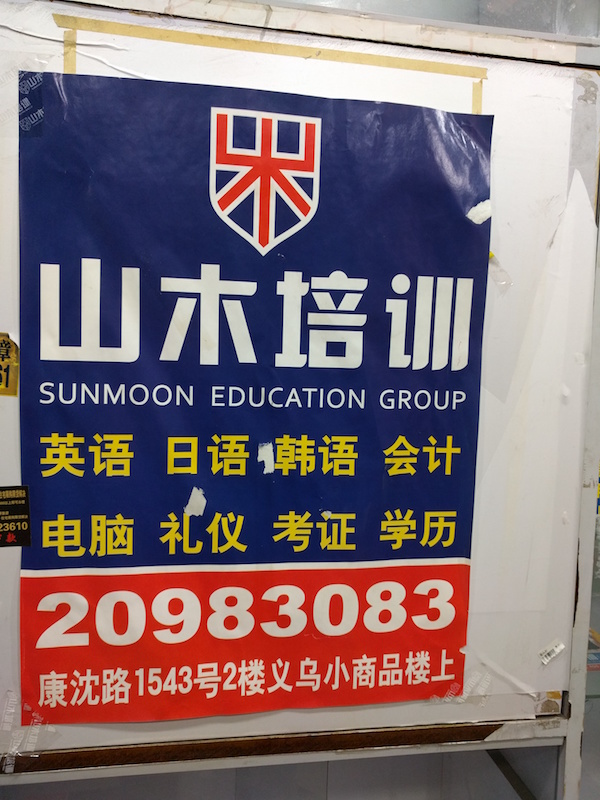 The sign advertises:
Shānmù péixùn 山木培训 ("Mountain Wood Training")
Their own English self-designation is "Sunmoon Education Group".
Boris was intrigued because, as he put it, "the sun turned into a mountain and the moon turned into wood."  Actually it was the other way around:  the mountain turned into a sun and wood turned into moon (the name of the founder is Song Shanmu 宋山木 — shān 山 ["mountain"] sounds a bit like "sun" and mù 木 ["wood"] sounds a bit like "moon").  The logo, which cleverly combines the characters for mountain and wood, is equally precious as their English name.
Founded in 1991, this is an outfit with grand aspirations.  They offer courses at locations throughout China, in London, Tokyo, and elsewhere.  They teach English, Japanese, Korean, German, French, Spanish, Shanghainese, Cantonese, accounting, computers, etiquette, makeup, certification, and formal schooling.  Who knows what will be added next?
---