« previous post | next post »
Photograph of a sign taken by Boris Kootzenko on a recent trip to China: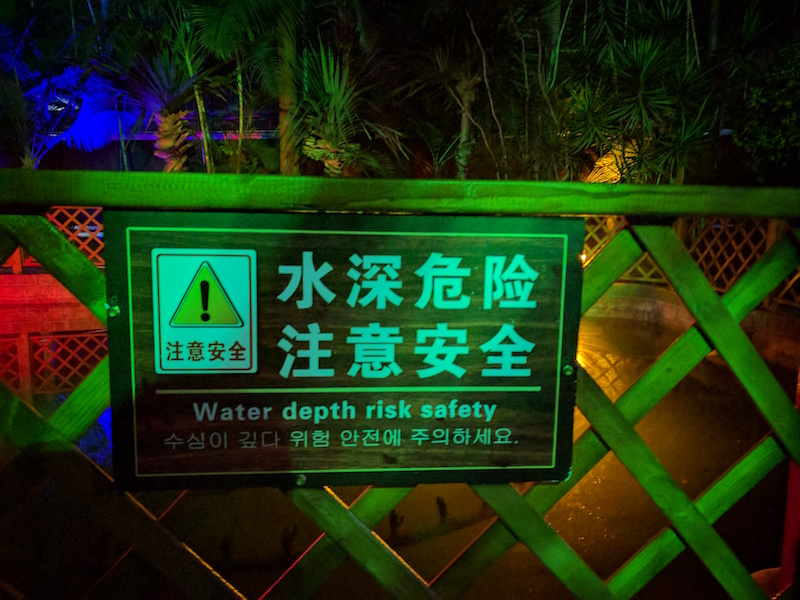 The Chinese says:
shuǐshēn wéixiǎn 水深危险 ("danger! deep water")
zhùyì ānquán 注意安全 ("pay attention to safety")
The English is what it is.
According to Haewon Cho, the Korean says:
1) 수심(水深)이 깊다 (susimi gipda) Literally, the depth of water is deep.
2) 위험 (危險) (wiheom) Danger
3) 안전(安全)에 주의(注意)하세요 (anjeone juuihaseyo)  Pay attention to safety.
(Hanja added for the convenience of those who are familiar with Chinese characters)
The sign is already weird because 2) is just one word. In addition, the ending used in 1) is inappropriate. In Korean grammar, it is very important to choose an appropriate sentence ending to express formality and politeness. In sentence 1), the plain style ending was used, but descriptive verbs (adjectives) in plain style are typically used in exclamations or assertions in speaking, and are not used in public signs because they are not polite.
So the sign would work better if it said:
수심이 깊습니다 (susimi gipseubnida) The depth of water is deep (literal translation). –> The water is deep.
안전에 주의하세요 (anjeone) juuihaseyo) Be careful with (your) safety –> Pay attention to safety
It's hard to say which aspect of this sign is eerier:  the lighting or the wording.
---