« previous post | next post »
We've already looked at the use of an apostrophe in Hangul.  Now Wendy Heller has sent in this photograph of a shop sign in Haifa, Israel: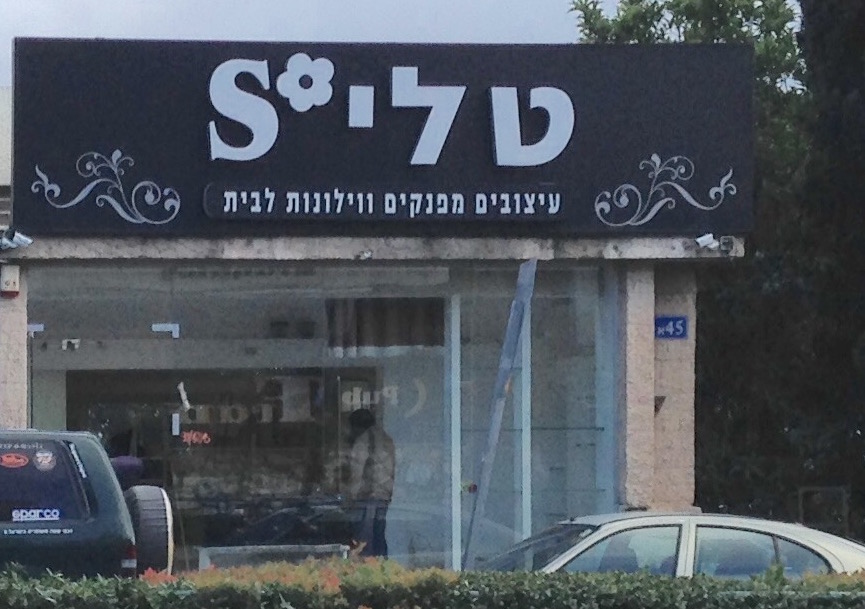 The apostrophe is a flower so as to be distinguished from the "י" (yōd) next to it.  There's no mistaking that outsize "S" — going in the opposite direction of the Hebrew letters!
The name of the woman who owns the shop must be Tali טַלִי (a common Hebrew name), and this is her place — Tali's (store).
An Israeli friend comments:
How strange. It always bothers me when Israelis use English in their advertisements and stores (a lot of them write English using the Hebrew alphabet). They seem to think this gives what they write more pizzazz and will attract more people. There are wonderful ways to say any of these things using Hebrew, but it's not up to me!
Another Israeli friend tells me that mixing Hebrew and English is getting quite common nowadays, but such a mix of scripts as that pictured above is seldom seen.
Biscriptalism is becoming so common in Chinese that it is hardly noticed any longer.  Here are four of the many Language Log posts that document it:
[Thanks to Ori Tavor and Noa Hagesh]
---