« previous post | next post »
The following three items might well have been included in the previous post on Chinglish, but that one got to be rather long and unwieldy, so I'm treating these separately.  In any event, I think that they merit the special treatment they are receiving here.

1.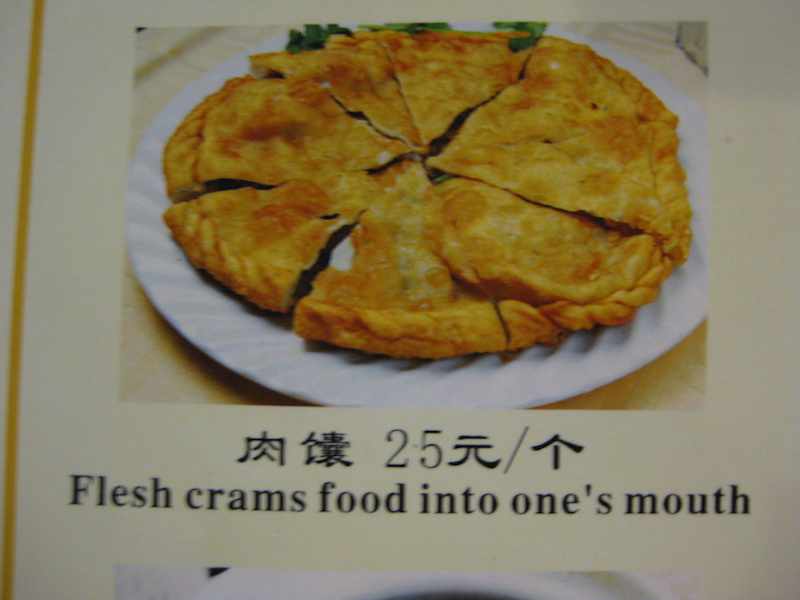 Just two characters, but they got so much out of them!
肉馕
The first character is pronounced ròu and means "meat; flesh".
The second character is not very well known.  It has two pronunciations:
a. náng — "a kind of flatbread"
b. nǎng — "stuff food into one's mouth"
Usually náng doesn't have any filling, but this one has a meat filling.
Since I love Indian food and travel in Central Asia quite a lot, the resemblance between Chinese náng, South Asian naan, and Central Asian flatbreads (e.g., among Uyghurs and Kazakhs) with similar sounding names long ago became evident to me.  In my archeological investigations in Eastern Central Asia (Xinjiang / Uyghurstan / East Turkestan), moreover, I encountered well-preserved breads of this type dating to the first millennium BC and first millennium AD, so naan has been around in Central Asia for a very long time, and it's conceivable that it might even have been in Tocharian.
I decided to take advantage of the occasion of writing this post to try to determine the origin of the widespread name of this far-flung flatbread.  With the help of many friends, the history of the word has now become much clearer.
I list the discussion as it developed in several groups, so that the results become more precise, detailed, and extensive as they go on. The discussion on naan / nang is also somewhat interwoven with comments on another widespread Central Asian and East Asian food (dumplings or buns) made with wheat flour called manti, manty, mantu, mantou, etc.
Gene Anderson:
Manti is pretty clearly Turkic, not Chinese.  It appears suddenly in China around Tang (maybe a bit earlier) with a folk etymology.  No Chinese word circulated that widely that early with so little change–manty shows up early in Greek and so on.
Nan, as far as i know, is the Iranian pronunciation of pan, the standard IE bread word, but I don't know.  I'm not sure.  I'd be interested in hearing more.
Stefan Georg:
It doesn't seem to have a good Proto-Iranian or Indo-Iranian etymology as far as I can tell, but it can be traced to Soghdian, where it is naƔn, so it has been around for a while, and you are certainly right about its origin in that direction.
Marcel Erdal:
Naan is 'bread' already in Pahlavi, and nagan in Eastern Iranian languages including Soghdian. See also J· Harmatta: 'Three Iranian Words for 'Bread", AOH 3,1953, 245-283.
Mehmet Olmez:
Even mantou is originally a Chinese word, but it is not borrowed direct from Chinese. I guess it was borrowed from Mongolian after 13th century. I have a short paper about it (4 years ago I read it somewhere in Turkey and at Arxan northeast Nei Menggu [Inner Mongolia]). Mantou (in Turkish mantı) is a famous local food from Kayseri. Kayseri and around Kayseri was the main basement of Mongolian army. (If I am not wrong) the word man (may be men) occurs for the first time in Uigurica I (F. W. K. Müller, 1. Die Anbeutung der Magier).
Brian Spooner:
I've always assumed that the word was Persian, even if the form of bread may be older.  I have not seen any earlier words for it.
Maria Fasolo:
According to the etymological research I've done, the term "naan", meaning flat bread, goes back to PIE "neogw", having the sense of "naked, unclothed", via Old Persian *nagna, also meaning "unclothed". Naan bread was apparently so called because of its beige skinlike colour and due to the probability that, at least originally, it was eaten as is, without any kind of "dressing": plain naked bread, so to speak. Another explanation of the name is that it was baked uncovered, without ashes being placed on it.
Compare OP "nagna" with Avestan "magna", Sanskrit "nagnà", all meaning "naked, unadorned".
The Hittite form of the word for bread was "ninda".
Nicholas Sims-Williams:
Bailey writes as if *naγna- is somehow derived from *nikana-, but this would contradict everything we know about the historical phonology of the languages concerned. So far as I can see, forms such as Armenian nkan and Sogdian nγn- cannot be connected (except perhaps as a result of some secondary association). Is it possible that *naγna- 'bread' is a specialised use of *naγna- 'naked'? Maybe that's what Harmatta suggested — I don't remember exactly and don't have the article to hand.
It's also worth noting Skt. nagnáhu- 'yeast', which Mayrhofer, EWAiA, II, 6, regards as an Iranian loanword.
Leopold Eisenlohr:
I would be interested to hear how this discussion develops, but I don't think I can contribute much. I looked at some old Persian and Avestan dictionaries, as well as works on Turkic-Iranian contact, and did find some references to naan in its various forms (such as nagan, nagn). I quickly skimmed the Anbetung der Magier in Uigurica but did not see man or men (I was half expecting it to appear as Jesus's body, since it is in the story of the Magi visiting Jesus). I looked in a few other Uyghur lexicons but to no avail.
This probably isn't useful, but there are two entries for 'bread' in Douglas Adams's dictionary of Tocharian B. The possible connection of kanti with 'knead' might mean that it could tend to an initial n- sound like in naan, but that's pure speculation. I don't think the m in mantou could ever become the k in kanti, though.
kanti* (n.) '± bread'
[-, -, kanti//] kr[e]nta śwatsanma kanti tänktsi ārwer yāmormeṃ 'having made ready good things to eat, even bread' (375b5), [ka]ntiś yikṣye masa o[k] t[o]m'flour for bread went, eight tom]' (433a2). ∎Etymology uncertain. VW (187) suggests a connection with PIE *gnedh– 'press together' [: Old English cnedan 'knead,' OCS gnesti 'press,' Old Prussian gnode 'trough for kneading bread' (P:371)] but the semantics are hardly compelling.
śro-kanti* (n.) a kind of bread
[-, -, śro-kanti//] śro-kant[i]ś yikṣye 'flour for śro-kanti' (433a16). ∎A compound of śro, of unknown meaning, and kanti '± bread,' q.v.
In the Irq Bitig, the word "mäŋ" appears in the sense of "food (generally); game; prey." That is mentioned in one of the entries below. You might be interested to see the Chinese derivation from mian. I am also including Clauson's entry for ban-, 'to dip,' which often occurs with breads. The most common Turkic word for bread is etmek. I did see the form n'n in Manichaean Turkic glossaries as well.
Here are two potentially interesting entries in Clauson, An Etymological Dictionary of pre-thirteenth-century Turkish (Oxford, 1972):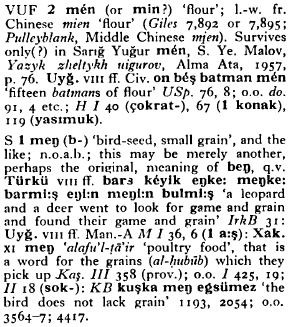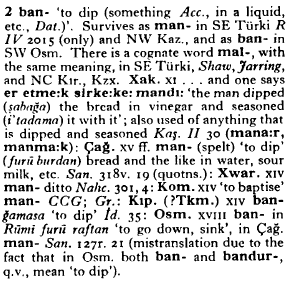 Peter B. Golden:
It has been an interesting discussion. Naan, of course, is completely outside of the Turkic sphere, although a convincing Iranian/Indo-Iranian etymology has yet to be produced.
On Turk. mantı : E. Turkistan (Uyghur and dialects), Central Asia (Uzbek, Qara Qalpaq and Ughur dialects brought to the region, Qazaq, Kyrgyz), Volga-Ural Turkic (Tatar, Bashkir), Oghuz (Turkey Turkish Turkmen, but not Azeri) and one Siberian Turkic language (Tuvan manchı, probably a loanword there from Mongol). There is a good entry on this term in A.V. Dybo (ed.), Etimologicheskii slovar' tiurkskix iazykov. Obshchetiurkskie i mezhtiurkskie leksicheskie osnovy na bukvy L.M.N.P.S. (Moscow: Vostochnaia literatura RAN, 2003): 30-31, which also points to its presence in Manchu-Tungusic (see V.I. Tsintsius (ed.), Sravnitel'nyi solver' tunguso-min'chzhurskikh iazykov (Leningrad: Nauka 1975), I:528-529, which mentions a "Proto-Mongol" [Kitan form, perhaps Janhunen's "Para-Mongolic" would be better] mantan. Clauson (Etym. Dict. Pre-Thirteenth-Century Turk.) does not know it, but has (p. 766) Uyghur mén (min?) < Chin. 麵 (miàn or other characters?).
I recently published an article on "comestibles" in Mahmud al-Kashghari, which notes several types of breads or bread-like foods. [VHM:  I can send the pdf to those who are interested.]
Alexander Vovin:
Russ. mandy is a dialect form, we do not use it in the literary standard. It is a Turkic loan, although the ultimate source is, of course, Chinese. The standard Russian word is pel'meni (nom. plur.), nom. sing is pel'men' (practically never used except in situations like: 'Eat the last pel'men'!'. The word is borrowed either from Komi-Permyak or Udmurt pel'n'an', which is a compound consisting of pel' 'ear' + n'an' < Ir. nan 'bread' that you also cite. This etymology you can find in Vasmer's etymological dictionary of Russian vol. III, p. 230 of the Russian translation, I don't have the German original), or with more details in V. I. Lytkin and E. I. Guliaev's Kratkii etimologicheskii slovar' komi iazyka, Moscow: Nauka, 1970, p. 219.
Although I don't have any substantial Tocharian lexicographical materials at home, like Adams' dictionary of Tocharian B, I think that Marcel is right: the word nan must have an Iranian origin. Certainly it cannot be Turkic because of the initial n-, and cannot be Chinese, either, for obvious reasons.
Francesco Brighenti:
The Middle Persian word nān 'bread' and its Iranian cognates do not seem to have been originally borrowed from Tocharian. Bailey, in his Dictionary of Khotan Saka (p. 179), lists a word nāṃji (hapax) which he translates as 'bread'. Bailey derives both Khotanese Saka nāṃji (< *nānači-) and Middle Persian nān from Old Iranian *naγna– < *nak(a)na-, older *nikana-, from ni– and kan– 'to put down (into the ashes)'. If there had been any possibility to derive the Khotanese Saka word from the neighboring Tocharian languages as a loan, I think Bailey would have mentioned it.
J. Harmatta, "Three Iranian Words for 'Bread'", Acta Orientalia Academiae Scientiarum Hungaricae 3 (1953): 245-283, available here, has a lengthy discussion of this Iranian etymon. He concluded there might be two different Old Iranian words, *nikana-/*nikāna– 'covered bread' and *nagna– 'naked bread', which would refer to two different early methods of baking. Here is the summary of Harmatta's linguistic hypothesis found in the article 'Bread' (by H. Desmet-Grégoire) in the Encyclopædia Iranica (see here):
In the Iranian languages the words for 'bread' inherited from Old Iranian seem to reflect two different early methods of baking (Harmatta). Harmatta suggests that the practice of baking bread 'covered', that is, in ashes, is reflected in the word naγan, found especially in the eastern Iranian languages (Sogdian, Baluchi, Pashto, etc.) and Armenian nkan, a loanword from Iranian (Parthian), which must be derived from Old Iranian *nikana– (lit., that which is buried or covered) […]. On the other hand, the practice of baking bread 'uncovered', in an oven, seems to be reflected in the common Persian word nān (Mid., NPers., and western Iranian dialects), probably derived from Old Iranian *naγna– 'naked'.
P.O. Skjærvø, "An Account Tablet from Eighth-Century Khotan", Bulletin of the Asia Institute 15 (2001): 1-8, available here (see pp. 3-4), considers it more likely that all the words for 'bread' discussed by Harmatta derive from a Middle Iranian form *nigan-, "which was borrowed widely in various local forms – an Iranian Wanderwort."
A further complication is represented by the existence of an Old Indo-Aryan word, nagnahu 'yeast, ferment', which has long been regarded as an Old Iranian loan in Vedic Sanskrit. The old theory, according to which the Sanskrit word was borrowed from Iranian *nagnaxvād– 'bread seasoning' (see Mayrhofer, KEWA II: 126 and EWAia II: 6), is questioned by A. Lubotsky in his article "The Indo-Iranian Substratum", in C. Carpelan, A. Parpola & P. Koskikallio (eds), Early Contacts between Uralic and Indo-European: Linguistic and Archaeological Considerations (Helsinki: Societé Finno-Ougrienne, 2001), 301-317, available here (see pp. 3, 6, 7 and 10 in the pdf).
Lubotsky hypothesizes the existence of a Proto-Indo-Iranian word, *nagna– 'yeast, bread' from which both Sanskrit nagnahu (< *nagnajhu-, with unusual suffixation) 'yeast, ferment' and Proto-Iranian *nagna– 'bread' would have derived. According to him, the Proto-Indo-Iranian word in question would be an item of agriculture borrowed from the BMAC* language(s) of southern Central Asia in the late third – early second millennium BCE. Thus, an origin of this word in (southern) Central Asia is not ruled out even in Lubotsky's linguistic hypothesis.
VHM:  *Bactria–Margiana Archaeological Complex
See also the following post for foods made of wheat (noodles, breads, dumplings) in Central Asia and their analogs in China:
"Pulled noodles: Uyghur läghmän and Mandarin lāmiàn" (8/8/14) (the comments are particularly valuable)
A note on mántou 饅頭 / 馒 头 ("steamed bun / bread / roll").  As late as the Ming period (1368–1644), this term still referred to a meat-filled dumpling.  See, for example, the 27th chapter of the novel Shuǐhǔ zhuàn 水滸傳 (Water Margin; All Men Are Brothers).  It already had this meaning as early as the Tang period (618-907), where we find it being used as a metaphor for a tumulus in the vernacular poetry of Wáng Fànzhì 王梵志 (Brahmacarin Wang).  The word mántou 饅頭 also occurs in the Dunhuang vernacular story misleadingly given the title "Hán Qínhǔ huàběn 韓擒虎話本" ("Prompt book for the Tale of 'Catch-tiger' Han") by modern scholars (see Victor H. Mair, T'ang Transformation Texts (Harvard, 1989). The second syllable of the word, –tou (lit., "head"), is a vernacular noun-forming suffix which would probably not have been present in Sinitic much before the time of Wang Fanzhi, at least not in written sources.
Late addition:
Already in the Song (960-1279) and Yuan (1271-1368) periods, we have the word bāozi 包子.  As mántou 饅頭 over the centuries evolved from being a dumpling with meat filling to merely being steamed bread, bāozi 包子 has come to serve as the word indicating a steamed stuffed bun.
2.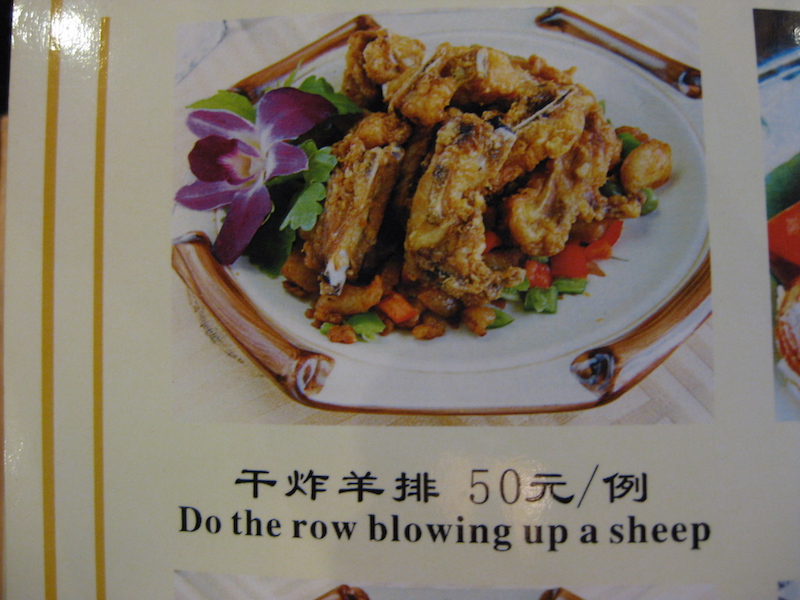 gānzhà yángpái 干炸羊排 ("crispy [deep-]fried lamb chops")
They mistakenly got "Do" from reading 干 as gàn instead of as gān ("dry").
They got the notion of "blowing up" from zhà 炸, which can mean "fry; bomb; explode; blow up; burst; blast; flare up".  Gànzhà 干炸 literally means "dry-fry", but — as we know from previous encounters — the simplified character gān / gàn 干 (which collapses the three traditional characters gān 干, gān 乾, and gàn 幹 into one) can mean so many different things that often get mixed up:  "dry; stem; do[ing]; trunk of a tree; dried food; shield; village; manage; work; have to do with; be implicated in; oppose; offend [against]; bank of a river; lay; put; concern; be concerned with; empty; hollow; able; f*ck"; etc., etc. — see also here).  At least they didn't say "f*ck-explode".
Yáng 羊 is "sheep", "goat", "lamb", so they couldn't mess that up too badly.
Pái 排 is "row; line; platoon; series; discharge; expel; arrange; exclude; rehearse; put in order" and part of the words for "spareribs; pork / lamb chops; steak").
3.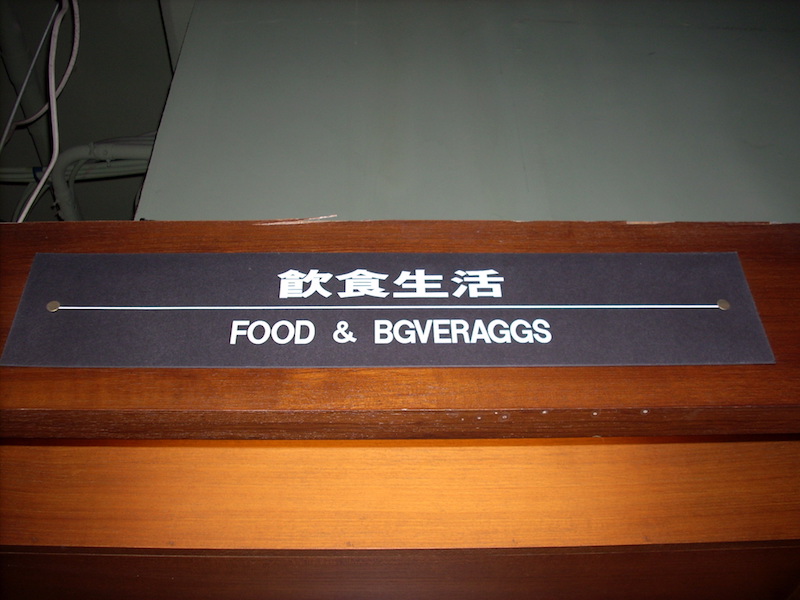 The Chinese says simply:
yǐnshí shēnghuó 飲食生活 ("food and beverage life")
It's hard to imagine how or why "beverages" threw them for such a loop, especially since the sign is so well made and the woodwork is so nice.  You'd think they'd be more careful with the lettering too.
[Thanks to Fangyi Cheng, Maiheng Dietrich, Rebecca Fu, and Erika Gilson]
---