« previous post | next post »
From Matthew Duggan:
As a Tokyo resident, I take an interest in the failing ability of those in China and Japan to write and distinguish characters due to computer use. [VHM:  See, inter alia, here, here, here, here, and here.]
I could write 1,000 characters at my peak, but with constant computer use I'm down to my address and a few other common ones.
 In that spirit, I thought you might like this news story.
The story Matthew linked to is in Japanese, but it features these two (perhaps not so) revealing photographs: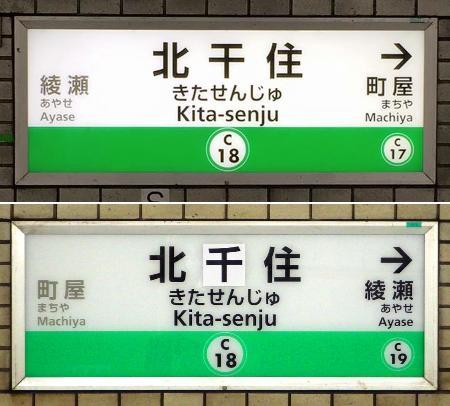 Matthew continues:
A fairly well known metro station in Tokyo, 北千住 (Kitasenjuu) got new signs that clearly read 北干住 (kitakanjuu??).  It's hard to work out how this happened – anyone who types the place name will be given the right characters.  Did they specify the signs via handwriting over fax?  How did no one notice all the way up to getting the signs on the wall? Even *I* could probably write this one correctly!
A Tokyo Metro spokesman said "If you glance at it, it's hard to notice, but when you compare it to the other signs you notice.  It's very embarrassing."  Indeed.
This error is particularly amusing in light of the fun we've had with 干 in the past.  See, among other posts:
---