« previous post | next post »
On Facebook, Bert Vaux posted about a fascinating bit of Danish loanword phonology.
While watching the Danish show Borgen last night I noticed that Kasper, when talking about ordering a smoothie, first said [smu:di] and then later said [smu:ði]. The first form in particular but also the variation pleased me, so I asked Anna Jespersen about it and look at this bonanza she came up with! (What follows is a paraphrase of what she sent me.)
Smoothie is a newly borrowed word, and I think it's the only one we have encountered with a non-initial [ð]. Consequently, there's a lot of variation. [ð] and [d] would be the most common variants but there are lots of other options. Check out these two ads from McDonald's:
i. In the attached print ad, the line below the smoothies reads "Try our new, refreshing smoothies (no matter how you pronounce them)".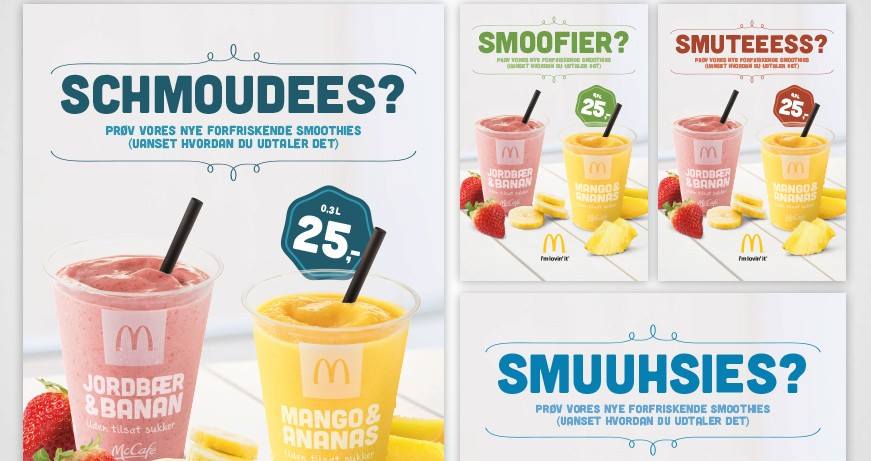 ii. And here's the video to go with it: (also note the annoying breathy-voiced announcer at the end of the commercial).
There's some further interesting discussion in the comments to Bert's post.
Joe Perry: I thought most Danish /d/s ended up being pronounced [ð]. Or am I thinking of another language [Faroese?]?
Anna Jespersen: That's right, Joe, but our own [ð] is lowered to an approximant, so the pronunciation is quite different from the English fricative.
Joe Perry: So the ð-pronouncers in smoothies have a contrast between [ð] and [ð̞]? That's pretty cool…
Bert Vaux: is this that L-ish retracted sound you were telling me about, Anna? Now I hear it whenever they say <tid> on Borgen.
Anna Jespersen: Yep, that would be the one, Bert. And yup, Joe!
And Patrick Taylor notes that Danish smoothie variation is a good example of how "all bets are off in loanword phonology (even more so in literate populations)."
John Wells has some relevant observations about Danish phonetics in this blog post:
All the plosives are voiceless, but with a contrast of aspiration, often verging on affrication. Postvocalically they are strikingly lenited, sometimes disappearing completely. There's a suburb of Copenhagen called Amager which is ˈɑmɑːˀ. It must once have had a velar consonant corresponding to the written g. Someone who comes from Amager is an amager (uncapitalized), which is ˈɑmɑːˀɑ. Clear? Furthermore, the word mad 'meal' is supposed to be /mað/, i.e. [mɛð̞]. But that final approximant sounds to me awfully like a lateral.
It's trickiness like this that leads Wells to say that Danish has "the most difficult phonetics (for the outsider)" of all the European languages. (If you'd like to read a charming story about an American confronting these difficulties for courtship purposes, check out Lane Greene's essay for Schwa Fire, "Wooing in Danish.") But it appears that Danish speakers can be just as stymied by English phonology, at least when it comes to ordering smoothies.
---