« previous post | next post »
Yvonne Treis sent in this photograph of a sign at an "America English" language school in Addis Ababa/Ethiopia that she took in May 2009: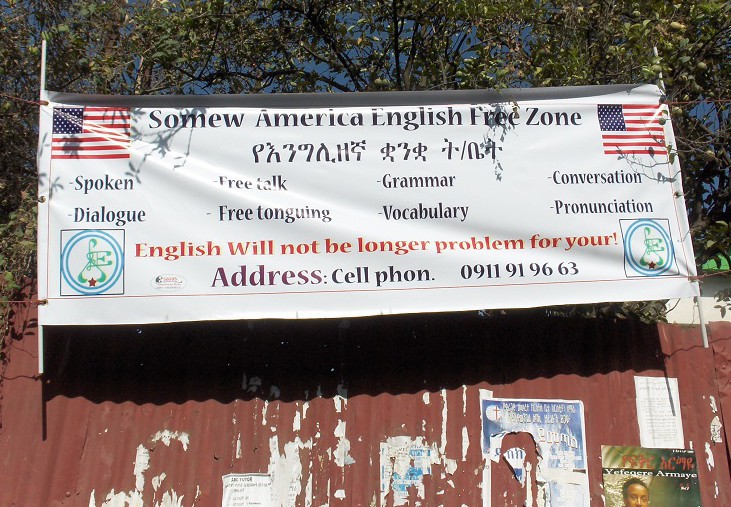 Yvonne has been to Ethiopia a dozen times or more for linguistic fieldwork on two Ethiopian languages (Kambaata & Baskeet) and has some conversational competence in Amharic –- not very much, but enough to find her way around the country — and can read it a bit. So she transliterates the 2nd line of the sign as:
የእንግሊዘኛ ቋንቋ ት(ምህርት)\ቤት
yä-ənglizäña* k'wank'wa tə(mərt) bet
literally: of_English language learning house, i.e. 'English language school'
(*There is a typo in the Amharic version, too: It should be የእንግሊዝኛ yä-ənglizəña)
Comments by Yvonne:
I am not sure what "Somew" in the first line is supposed to mean. Possibly it is a name. (Although I have never heard this name in Ethiopia before….)
I also wonder about the "Free Zone": Are there no fees to be paid? Or is it because it allows free conversations? I can't really tell.
I especially wonder how the "free tonguing" (and the unintended sexual innuendo) can be explained…. Do you have any ideas?
When I googled around to find an explanation for "Somew", I came across another version (even with a typo in "Engilsh") of the same sign here: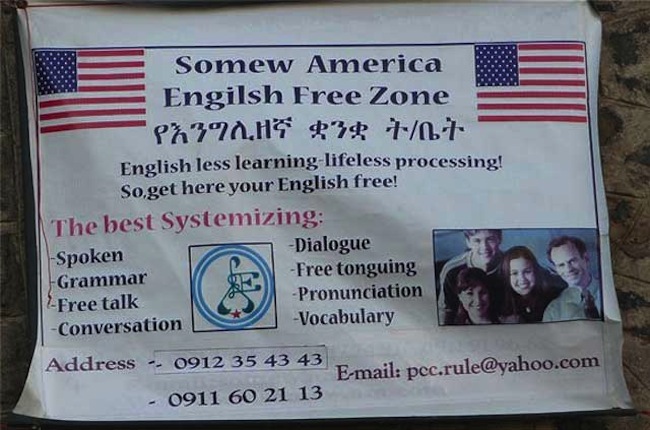 English is the medium of instruction in Ethiopia starting from grade 7 (if not earlier) and also taught as a subject early on (in some schools starting from grade 1 or 3). I am often shocked about the low level of English competence among university students in Ethiopia, but maybe that's no surprise if not even English language schools know the basics of English grammar.
Given what Yvonne says about the level of English competence among university students in Ethiopia, it is astonishing that it can function as the medium of instruction.
---