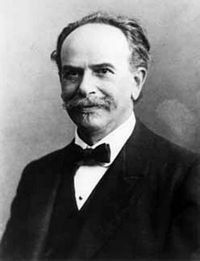 Franz Boas has a facebook page, whose contents suggest that his acumen is undimmed by death. A couple of weeks ago, one of his facebook friends asked this:
When Freud gave his famous "introductory lectures" at Clark University in 1909, Boas was a faculty member at the same university. I wonder if he attended the lectures? I have read some off-hand comments in Franz Boas's writing indicating that apparently he didn't think much of Freud. But does anyone know of any more in-depth historical accounts of this (missed?) encounter between papa Freud and papa Boas? Thank you hive mind!!!
Boas responded:
When I read Totems and Taboos I thought it was one of the most brilliant parodies ever written. You can imagine my surprise when I learned that Sigmund was serious about all that elders urinating on the fire nonsense. Such flights of fancy, imposing Victorianism on the human subconscious as a human universal. He has not fared well here in the afterlife, last time I saw him he was living in a van down by the river with L. Ron Hubbard.
Read the rest of this entry »